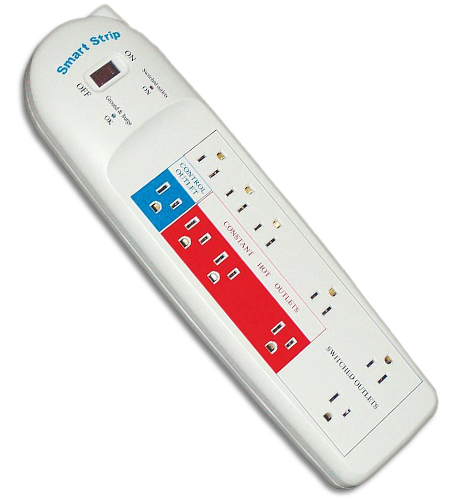 SMART STRIP POWER STRIP, Standard
With Autoswitching Technology
Ten outlets work together, autoswitching your devices on/off automatically, to save you money on your electric bills. 2225 joules of surge protection keep your equipment safe from even the harshest power spikes. Conveniently-spaced outlets and a 45-degree, angled space saver plug make the Smart Strip a friendly addition to your electronic systems.
Use with all computers, home entertainment centers, and more.
---
Smart Strip Specifications:
Surge Protection Specs
Recessed, lighted power switch
Patent pending status indicator
4 way wall mountable
6-Foot, 14 gauge, heavy-duty power cord
45 degree angled space saver plug
Ten outlets total:

1 Control - Always Hot
3 Constant Hot:

1 Transformer, 2 Standard

6 Switched:

3 Transformer, 3 Standard

UL 1449 Rating 120 Volt 50/60 Hz
2225 joules three-way protection:

1000 joules live to neutral
775 joules live to ground
450 joules neutral to ground

84,000 Amp, three-way protection:

36,000 amps live-neutral
24,000 amps live-ground
24,000 amps neutral-ground

130 volt, three-way protection
15 amp circuit breaker
2 Thermal/Current & 2 trace land fuses
Superior EMI/RFI filtering:

2 Spike Blocking Bar coil chokes
.1ufd film box capacitor

Up to 60db line noise reduction
Energy Saver Specifications:
Ultra Safe Passive Current Sensor
Patent-Pending Protective Hysteresis Circuit
2 RC Filters Eliminate False Switching
Uses ZERO POWER When The Switched Outlets Are Off
Uses Less Than 1 Watt When Fully Energized