Audio Interface/Controller in a compact wah-style pedal
Real Sound, Real Feel
The StealthPedal not only allows you to get the sound of your favorite guitar and bass rigs, but it gives you the feel of a classic rugged metal wah pedal all in one package.
---
StealthPedal™ is the first USB-powered guitar audio interface/software controller in a compact wah-style pedal, allowing users to record, play and control the included "Powered by Amplitube" software, or any other MIDI controllable software, with the same feel and ease of use as a traditional guitar pedal.
StealthPedal allows anyone to record guitar or bass with their Mac/PC at the highest possible quality, with 24-bit A/D and D/A conversion and 44.1/48 kHz operation. Two separate inputs are provided for Hi-Z or line level instruments as well as two separate outputs, plus a convenient headphone output.
StealthPedal also works as a software floor controller: the built-in expression pedal and switch can be associated with any parameter of "Powered by Amplitube" software, or any other amp and FX modeling software with MIDI control capabilities. The StealthPedal controls can also be expanded with an additional expression pedal and two extra switches for building a mini-pedalboard rig with preset and single effects control capabilities for full live/recording usage. Users are not limited to controlling amp-simulator software with StealthPedal, as it can control any effects plug-in, virtual instrument or DAW with MIDI control capabilities.
StealthPedal sports a rugged, metal, classic-wah style, compact enclosure with a volume knob and three LED indicators that operate as a status display, tuner or level indicator when used with any "Powered by AmpliTube" software.
StealthPedal's circuit design has been derived from IK's StompIO high-end stage controller, ensuring the highest fidelity in the recording of for your guitar and bass with software configurable input gain level, 109dBA low noise input stage and optimal audio quality throughout.
StealthPedal also comes with a must-have assortment of software including AmpliTube 2 Live guitar and bass amp and fx modeling software, standalone and plug-in, Ampeg® SVX UNO, standalone and plug-in bass amp and fx modeling software, AmpliTube X-GEAR for further expandability with all "Powered by Amplitube" software, Sonoma Riffworks™ T4 for immediate recording/composing/online sharing with your Mac or PC and AmpliGrooves Loops from Sonic Reality. The StealthPedal and the included plug-in is also compatible with all popular DAW software supporting ASIO and Core Audio drivers on PC and Mac.
All of this makes the StealthPedal the most convenient, complete and expandable solution on the market, for playing/recording guitar and bass with the computer.
---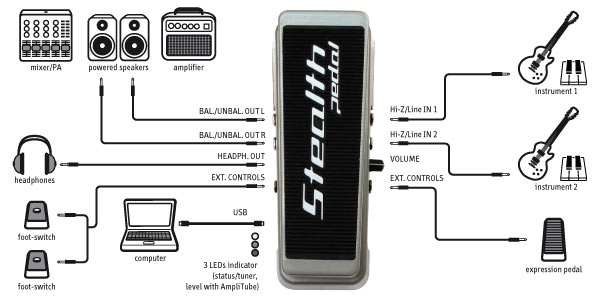 The smartest solution to plug into and control your Mac/PC
The StealthPedal is both an audio interface and a software controller in one compact device. It is the smartest solution for plugging your guitar and bass into your computer and immediately controlling the included software or any of your preferred MIDI controllable effects, instruments or DAWs.
The built-in expression pedal and switch can be quickly associated with Wah, Volume, or any effects parameter and effects on/off. The additional inputs on the StealthPedal allow the connection of an external expression pedal and a double switch, allowing users to extend their software control capabilities and build a complete mini-rig with preset-switching capabilities.
When used with any Powered by AmpliTube software the 3 LED indicators also operate both as a Tuner or a level control completing the functionalities that a guitar or bass player need for using their computer in a live situation.
---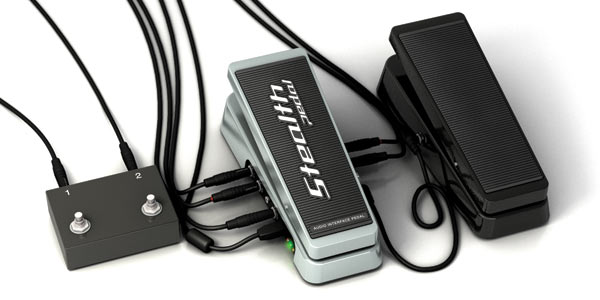 A USB powered interface with a big sound
The StealthPedal sounds amazingly good, especially when compared to other USB powered interfaces.
This has been achieved by implementing various high-end electronic design techniques not commonly found in other USB bus-powered interfaces, including a sophisticated multiple power supply section that allows the StealthPedal to run at internal higher voltages that what are usually found in other bus powered devices. In short the StealthPedal sounds as good as the best non-USB powered devices available, and much better than any USB powered device on the market.
This device is a handy, USB powered audio interface, with a serious sound. It's clean, punchy, detailed, quiet, and provides the sort of solid sound quality that you can expect from interfaces costing three or four times its price, ensuring the best possible signal reproduction for your guitar,
bass or line level instrument.
---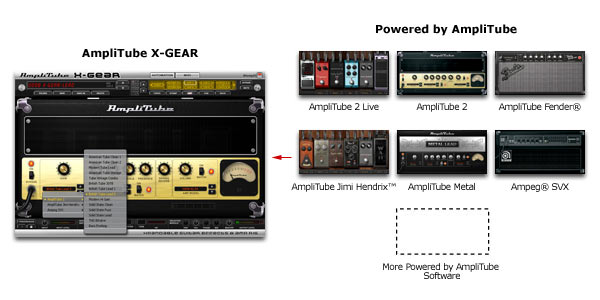 A must-have software collection with the greatest expandability on the market
The included AmpliTube 2 Live and Ampeg® SVX UNO, standalone and plug-in, allows users to immediately access the award winning guitar and bass tones of AmpliTube and Ampeg® SVX for live playing and recording.
The included Sonoma Riffworks™ T4 allows users to create songs easily using a riff-based workflow, loop recording, automatic track creation, drums and effects. Collaborate online with musicians around the world. Cast tunes to an enthusiastic online community. All without putting down your guitar!
Additionally the included AmpliTube X-GEAR allows to expand the included AmpliTube 2 Live to nearly 200 gear models using AmpliTube 2 or any other "Powered by AmpliTube" package like the style-based AmpliTube Metal or the all-time classics like Ampeg® SVX, AmpliTube Jimi Hendrix™ and the just announced AmpliTube Fender® edition. Any of these packages can be seamlessly integrated in X-GEAR and immediately controlled by the StealthPedal for a degree of expandability and modularity that is unequalled in the market.
---