OWC DIY Bundle:
240GB

2.5" OWC Solid State Drive 9.45mm
OWC Mercury On-The-Go Pro Quad Kit,
OWC 5 Piece Toolkit
Mac / PC / USB 3.0 & 2.0 / FireWire 800 (FireWire 400 Backwards Compatible)
Everything you need in one package, immediately ready to assemble and:
Backup and store your data with style and confidence.
Take your data with you - small enough to keep in a pocket!
Easily add additional laptop storage with no AC adapter required.
Examples of how this bus-powered On-The-Go
bundle can be used in real world situations:


Power Users / Travelers:
Relocate your "home folder"
to your Express and have your files with you at home, at work or on the road without the need to synchronize your machines.
Laptop Owners:
Clone your current internal SATA hard drive in your laptop to the new drive.
Then install the new, larger drive in your laptop and keep the smaller drive in your Express for additional storage space.
iTunes Aficionados:
Keep a copy of your
iTunes library on your external drive
to play on multiple machines.
Gamers:
Add additional storage to your XBox 360 or PS3 game console
to store music, media, and other downloads. PS3 even includes a backup utility to protect your internal drive's data.
For Everyone:
Have the peace of mind of
a complete backup plan.
Create a bootable clone of your hard drive at regular intervals so if your computer goes down, your productivity doesn't go down with it. Boot to another computer and keep on working!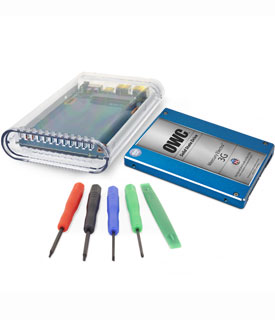 OWC's A Closer Look
OWC's Step-by-Step Install Video