SanDisk
Used | OWC Tested | Very Low Power Cycles
2.5-inch | SATA 6.0Gb/s
Breathe Life Back Into Your Computer
Upgrade Computer Performance with Fast Data Speeds
With its consistently high read speeds, the SanDisk Ultra Plus SSD is an ideal upgrade for an older PC. This 256GB SSD can achieve read speeds of up to 530MB/s. You'll experience faster operating system bootup, quicker program loading, and improved response times when running memory-intensive multimedia applications.
Reliable Solid State Design Extends Your System's Lifespan
Featuring reliable solid state architecture from a global leader in flash memory storage solutions, the SanDisk Ultra Plus SSD boasts a mean-time-before-failure (MTBF) of up to two million hours. The drive features no mechanical parts to wear down and break, allowing it to store data much more reliably than a traditional hard-disk drive (HDD). The SSD is also designed to withstand shock, making it even more durable.
Low Power Consumption for Cooler, Quieter Operation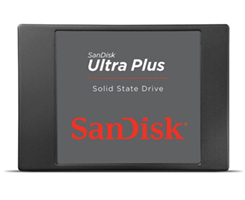 Highlights
Fast read speeds enable accelerated bootup and program loading
Durable SSD design offers more reliable performance
Lower power consumption and cooler operation than an HDD
Free Installation Videos
Ideal For:
Photo editors
Music-production software
Other multimedia applications
With its low-power architecture, the SanDisk Ultra Plus SSD places minimal strain on your system's resources. The drive consumes less power and produces less heat than a traditional HDD, easing the burden on your PC's power supply and cooling system. It also runs quietly, so you can enjoy videos and games without distracting background noise.
Generous Storage Capacity
With a capacity of 256GB, the SanDisk Ultra Plus SSD offers enough space to accommodate games, applications, and your operating system. It also provides ample room for backing up important data, including photo albums, videos, and personal documents.
Compatibility, Testing, and Warranty Information
The SanDisk Ultra Plus Solid State Drive is compatible with SATA Revision 3.0 (6Gb/s) interfaces and is backwards compatible with SATA Revision 2.0 (3Gb/s) and SATA Revision 1.0 (1.5GB/s) interfaces. All drives have been thoroughly tested by OWC and found to have very low power cycles reported. They are backed by a three-year limited warranty of which more than a year remains.
256GB SanDisk Ultra Plus SSD Specifications:
Specifications
Form Factor
2.5″ SSD
Interface
SATA 6Gb/s
Capacity1
256GB
Formatted Capacity2
238GiB
Manufacturer Model Number
SDSSDHP-256G-G25
RoHS Compliant
Yes
Format
Physical
Height (max)
7.0mm (0.280″)
Width (max)
69.85mm (2.750″)
Length (max)
100.50mm (3.957″)
Weight (typical)
75g (0.165 lbs.)
Reliability3
MTBF (Mean Time Between Failures)
2,000,000 hours
Warranty
3 Year SanDisk Warranty
1+ Year remaining
Performance
Sequential Read (up to)
530 MB/sec (SATA 6Gb/s)
Sequential Write (up to)
445 MB/sec (SATA 6Gb/s)
Random 4K Read
82,000 IOPS
Random 4K Write
39,000 IOPS
Power
Read Power
120 mW
Write Power
120 mW
Environmental (Operating)
Shock
1500G / 0.5ms
Temperature (°F)
32°F to 158°F
Temperature (°C)
0°C to 70°C
Vibration
10-2000Hz at 5G
Environmental (Non-Operating)
Shock
1500G / 0.5ms
Temperature (°F)
-40°F to 185°F
Temperature (°C)
-40°C to 85°C
Vibration
7-800Hz at 4.9G
Acoustics
Idle (Typical)
0.0 bels
Seek (Typical)
0.0 bels
Manufacturer provided specifications for SanDisk p/n SDSSDHP-256G-G25 UPC#: 619659089245
Warranty
The best warranty is one you never have to use - but should the need occur - we're proud to provide a superior level of support and service coverage to our customers.
90 Day OWC Replacement Warranty
OWC is proud to offer an extended replacement window of 90 days on new internal hard disk drives. Once a return authorization number has been issued and we receive the problematic drive back, you will get a brand new replacement drive, rather than a factory refurbished drive.
SanDisk 1+ Year Warranty Remaining
After 90 days, the drive is fully backed by the manufacturer to be free from defects in material and workmanship for the remainder of the three year warranty period through January 2016.