OWC Upgrades for:
iMac Mid/Late 2011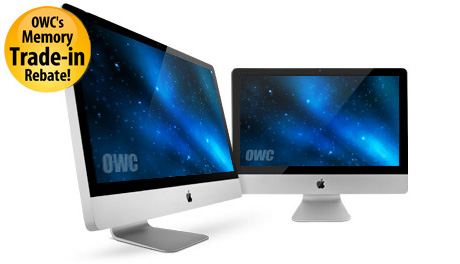 For iMac Mid/Late 2011 models with Model ID: iMac12,1; iMac12,2
How to find Model ID | Model ID not listed? Click here!

For iMac Mide/Late 2011 models with processors:

• 21.5" i5 2.5GHz

• 21.5" i5 2.7GHz

• 21.5" i7 2.8GHz

• 27" i5 2.7GHz

• 27" i5 3.1GHz

• 27" i7 3.4Ghz

• 21.5" i3 3.1GHz Education Model
(Up to 16.0GB total.)
OWC RECOMMENDED MEMORY UPGRADES
• iMac comes with 4 memory slots supporting up to 8GB per slot
• iMac supports 32GB total memory
• Install in pairs (2 modules at a time) for the best performance


8
GB
Kit 4GB x 2
$61.79
ADD TO CART

16
GB
Kit 8GB x 2
$119.00
ADD TO CART

32
GB
Kit 8GB x 4
$237.99
ADD TO CART
View all memory options for iMac Mid/Late 2011 models
Why do I need more memory? | Warranty Safe Upgrade | Performance Tests
Featured Hard Drives





Power and data via one cable for
an ultra clean look and portability.

All OWC Memory is covered by an OWC Memory Lifetime Limited Warranty including the OWC Lifetime Advanced Replacement Program and 30 Day Money Back Guarantee! This warranty shows our commitment and confidence in the product we sell. OWC certifies and tests ALL OWC memory to ensure that this memory meets or exceeds the specifications for those systems a module is listed as being correct/compatible with. Unlike the competition, OWC owns and maintains our own lab that includes nearly every Apple/Mac model we list compatibility for.

In addition to the long testing every OWC module undergoes before shipping (most just short test if they test at all), we also continuously batch test modules in the actual machines. You can count on OWC to consistently deliver the top quality memory products you need, correct for your system for a lifetime of reliable operation.

Click here for Warranty/Guarantee Details
Exceptional selection of the best in Thunderbolt for your Mac.

Load Time: 0 seconds, Guest ID: 195396773