ATTO
Mac / PC / Linux / Thunderbolt 2 / Fiber Channel
20Gb/s Thunderbolt 2 (2-port) to 8Gb/s FC (2-Port) Desk link Device
High-speed Thunderbolt 2 to
Fiber Channel solution
Industry Proven Technology
ATTO has over 15 years of experience developing first-to-market high performance and reliable Fiber Channel storage connectivity solutions for customers. ATTO Thunder-Link Fiber Channel products now provide creative professionals using Thunderbolt technology-enabled hosts, cost effective access to storage not previously available using FireWire or USB. The integrated family of ThunderLink products boasts an extensive list of customer design wins and certifications with respected industry partners.
Flexible Connectivity Solutions
The ATTO ThunderLink FC 2082 acts as an external Thunderbolt 2 to Fiber Channel adapter, connecting all-in-one systems and laptops to 8Gb/s Fiber Channel storage devices. With dual channel configuration, and support for load balancing and failover, the 8Gb/s Fiber Channel Desklink Devices are an ideal solution for users looking to achieve the highest I/O and data throughput for advanced video and access to IT applications. ThunderLink 8Gb/s Fiber Channel Desklink Devices can support both local and storage area networks for Mac OS X 10.9 and later and Windows 7 and 8.1 platforms (Linux when Thunderbolt-enabled platforms become available), providing a single connectivity solution for customers with heterogeneous operating system environments.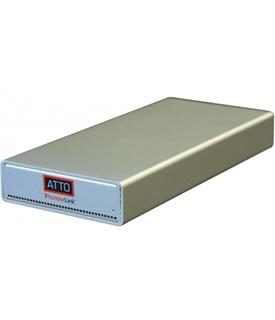 Highlights
Dual 8Gb Fiber Channel ports
2 x SFP+ LC optical modules included
Supports 4K video file transfer and display simultaneously with dual 20Gb/s Thunderbolt 2
Daisy chain up to 5 additional Thunderbolt technology-enabled devices
Backwards compatible with 10Gb/s Thunderbolt
Complete SAN connectivity when combined with ATTO FibreConnect Fiber Channel switches
Performance Engineered
Fiber Channel Desklink Devices are designed to provide fast, redundant and highly available connectivity to Fiber channel storage, and are engineered to manage latency for real-time applications. ATTO's exclusive Advanced Data Streaming (ADS™) technology provides controlled acceleration of data to deliver the highest consistent performance and reliable data transfers for video editing, digital audio, video on demand, or database applications. ATTO pays close attention to detail in board design and signal integrity to minimize transmission errors and data corruption. Specialized Fiber Channel drivers with support for multipathing make ATTO the premier choice for high-performance Fiber Channel SAN connectivity.
Advanced Management Tools
ATTO's easy-to-use ConfigTool features an intuitive GUI that simplifies the installation, management and monitoring of the Desklink Device. With advanced troubleshooting and performance tuning capabilities, ConfigTool provides users with sophisticated diagnostics and the flexibility to control settings for specific applications.
Product Specifications:
ATTO Part Number
Throughput
Interface
2 x Fiber Channel ports
2 x Thunderbolt 2 ports
Interface Max Transfer Rate
SFP+ LC Optical modules - 8Gb/s
Thunderbolt 2 - 20Gb/s
System Monitoring
External LEDs for on-line and speed status for each port
LED Indicators:

Link - solid
Activity - blinking
Link speed - ON = 8Gb, OFF = 4Gb, 2Gb
Management Tools
ATTO ConfigTool (w/ GUI) management and configuration utility
Power Adapter
100-240VAC, 50-60Hz, 0.6A Max
12VDC
Operating System Support
Mac OS X 10.9 and later
Windows 7 and 8.1
Key Features
Auto Negotiation to 8Gb, 4Gb and 2Gb devices
Supports arbitrated loop, point-to-point and direct fabric/switch attach
ANSI Fiber Channel: FC-FS, FCP, FC-AL, FC-AL2, FC-PLDA, FC-FLA
Flash ROM for easy field upgrades
FC Class 3 Support
Buffer Credits: 81
Software RAID support with ATTO's Power Center software
Supports FDMI and WMI
Supports NPIV and Virtual Fabric
Operating Temperature
32°F - 104°F (0°C - 40°C)
Storage Temperature
-40°F - 158°F (-40°C - 70°C)
Operating Humidity
10 - 90% (non-condensing)
Storage Humidity
Dimensions
4.5" x 9.0" x 1.5" (11.4 x 22.9 x 3.8 cm)
Warranty
Manufacturer provided specifications for ATTO p/n TLFC-2082-D00 UPC#: 603175008354
Includes
Atto ThunderLink FC 2082
Power adapter
Getting started guide
Installation CD

Desklink Device drivers
Configuration utilities
Manual