Areca
ARC-8050


8-Bay Thunderbolt to 6Gb/s SAS RAID Storage
Mac / PC / Linux / Thunderbolt
Compact 8 Drive RAID
Unparalleled Performance
ARC-8050 is the most complete 6Gb/s SAS 8-bay Thunderbolt box with RAID control capabilities solution for both PC and Mac. Thunderbolt host interface make ARC-8050 RAID box well suited for SOHO group professional who work at home and or in the office. Thunderbolt technology developed for high speed data transfer at the speed of 10Gbps per channel. Thunderbolt port is shared by multiple devices and can transfer data equally distribute to all connected devices. The ARC-8050 incorporated on-board high performance dual core 800Mhz ROC storage processor and with 1GB DDR3-1333 SDRAM memory on-board to deliver true high performance hardware RAID for the demands of serious HD media creators needs. For example, the benefit for video editor by using ARC-8050 to unleash their professional creativity work in real-time, with the high-bandwidth allow large amount of audio and video capture/mixing devices transferred faster with low latency and high-accurate synchronization at 10Gb/s. Data can be backed up and restored more quickly, so there's less waiting for achieved content to transfer or copy.
Thunderbolt Technology
Thunderbolt technology is a revolutionary high-speed, dual protocol I/O technology designed for performance, simplicity and flexibility. Thunderbolt I/O technology lets you move data between high-resolution displays and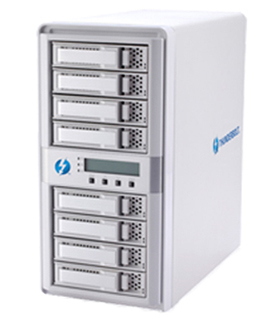 Highlights
Thunderbolt host connection
Dual core 800Mhz RAID-On-Chip
SAS & SATA
8 x 6Gb/s 3.5" Drive Bays
RAID 0/1/1E/3/5/6/10/30/50/60/Single Disk or JBOD
high-performance data devices on a single, compact port. Both data and display signals can be sent and received at the same time through dual 10 Gbps channels. A single cable attached to one of the ports provides 2 channels able to achieve the 10 Gbps speeds flowing both ways simultaneously. A single Thunderbolt port supports hubs as well as a daisy chain of up to seven Thunderbolt devices. To improve bandwidth transmission, Thunderbolt has implemented two duplex (PCIe and DisplayPort) channels into the controller and each channel can provide full bi-directional performance
Unsurpassed Data Availability
Designed and leveraged with Areca's existing high performance solution, the RAID storage deliver high-capacity at the best of cost performance value. It supports the hardware RAID 6 engine to allow two HDDs failures without impact the existing data and performance. Its high data availability and protection derives from the many advance RAID features. ARC-8050 Thunderbolt RAID box allows easy scalability from JBOD to RAID. It can be configured to RAID levels 0, 1, 1E, 3, 5, 6, 10, 30, 50, 60, Single Disk for JBOD. With innovative new ROC 6Gb/s SAS feature and support for SATA, SAS and SSDs, the ARC-8050 provides powerful small-workgroup server, power users and consumers with superior levels performance and enterprise level data protection for external storage.
Easy RAID Management
Configuration and monitoring can be managed either through the LCD control panel, McBIOS setup or Ethernet port. Firmware-embedded web browser-based RAID manager allows local or remote to access it from any standard internet browser via a out-of-band 10/100Mbit LAN port or in-band Archttp utility. ARC-8050 Thunderbolt RAID storage also provides API library for customer to combine with its own monitor utility. The Single Admin Portal (SAP) windows version monitor utility can support one application to manage multiple RAID units in the network. The Disk Stress Test (DST) utility kicks out disks meeting marginal spec before the RAID unit is actually put on-line for real business. The Intelligent cooling continuously adapts to environmental conditions by automatically controlling the speed of the cooling fans. This super silent design, optimizing balance between noise reduction and necessary cooling, make ARC-8050 well suited for audio/video application especially the rapidly growing demand from the video editing markets.
Product Specifications:
Areca Part Number
RAID Features
RAID level 0, 1, 1E, 3, 5, 6, 10, 30, 50, 60, Single Disk or JBOD
Multiple RAID selection
Online array roaming
Online RAID level/stripe size migration
Online capacity expansion and RAID level migration simultaneously
Online volume set growth
Support global hot spare and local hot spare
Instant availability and background initialization
Automatic drive insertion / removal detection and rebuilding
Disk scrubbing/ array verify scheduling for automatic repair of all configured RAID sets
Support intelligent power management to save energy and extend service life
Support NTP protocol to synchronize RAID controller clock over the on-board LAN port
Monitors/Notification
Environment and drive failure indication through LCD, LED and alarm buzzer
Keep silent and adequate air flow and cooling by intelligent cooling fan speed controller
Enclosure management ready
Drive Support
Up to 8 x 6Gb/s SAS/SATA/SSD
Host Connection
Two Thunderbolt Channels- dual 10 Gbps channel per channel

Simultaneous bi-directional, 10 Gbps transfers over a single cable

Dual-protocol support (PCI Express and DisplayPort)
Compatible with existing DisplayPort devices
Daisy-chaining devices
RAID Management
Field-upgradeable firmware in flash ROM
Firmware-embedded RAID manager via McBIOS Setup and LCD
Firmware-embedded browser-based RAID manager, SMTP manager, SNMP agent and Telnet function via out-of-band
10/100Mbit LAN port or in-band Archttp utility
API library for customer to combine GUI with its own monitor utility
Command Line Interface
Software Drivers
Mac OS X 10.6.x/10.7.x/10.8.x
Controller Architecture
800 MHz Dual core ROC for RAID core and SAS microcode
1GB on-board DDR3-1333 SDRAM with ECC protection
Write-through or write-back cache support
Support 8 internal 6Gb/s SAS ports
Multi-RAID storage support for large storage requirements
Support EFI BIOS for bootable from RAID storage volume
NVRAM for RAID event & transaction log
Redundant flash image for adapter availability
Power
270W / 90-256V AC / +12V/26A,
+5V/18A, +3.3V/16A
Operating Temperature
Operating Humidity
5% ~ 95 %, Non-condensing
Fan
2 x 2700rpm / 0.135A Brushless Fan
Dimensions
5.7" x 11.9" x 11.4" (146 x 302 x 290 mm)
Weight
Warranty
Manufacturer provided specifications for Areca p/n ARC-8050