Areca
ARC-8050T3


8-Bay Thunderbolt 3 RAID Storage
Used | Good Condition
macOS / Windows / Thunderbolt 3
Unleash Your Creativity
Faster Than Ever
Thunderbolt™ 3 brings Thunderbolt to USB-C at speeds up to 40 Gbps, creating one compact port that does it all — delivering the fastest, most versatile connection to any dock, display, or data device. ARC-8050T3 is equipped with dual Thunderbolt 3 ports for connecting to any Thunderbolt 3-enabled host and offers an additional Thunderbolt 3 port for daisy-chaining other peripherals, while also supplying power for quick notebook charging.

The Thunderbolt daisy-chaining allows connection of up to six devices, so customers can connect ARC-8050T3 for massive amounts of video storage with a single Thunderbolt connection to their host computer. ARC-8050T3 can meet the demand of users when working with rich, ultra-high resolution media through Thunderbolt 3 interface. The ARC-8050T3 also sports a full sized DisplayPort video output on its rear, allowing for a quick and easy 4K 60Hz display setup.
Unparalleled Performance for 4K Workflow
ARC-8050T3 is the most complete Thunderbolt 3 desktop SAS/SATA RAID storage with RAID control capabilities solution for both PC and Mac. ARC-8050T3 incorporated on-board RAID-On-Chip and ECC SDRAM memory to deliver true high performance hardware RAID protection against drive failure.

This combination helps to provide a high performance storage device perfect for the video editor working with Real time multi-stream HD and 4K workflows. It runs efficiently without disruption or major drops in performance to meet the requirements of 4K data workflow. It is so quick it allows for 4K displays at the same time as daisy chaining ARC-8050T3 and doing a simultaneous 4K output and file transfers while maintaining maximum throughput.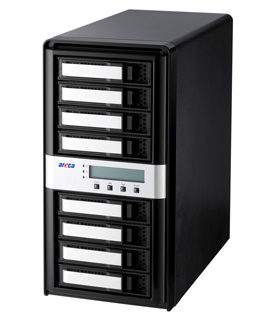 Highlights
High performance 40Gbps Thunderbolt 3 interface
Support simultaneous 4K in/output workflow
Dual Thunderbolt 3 ports for daisy-chaining
Configuration by the Thunderbolt/LAN port/LCD
Advanced configuration for video optimized performance settings
Delivers enterprise-class data protection and security
Controller-level hardware encryption
Support BBM option for cache protection
Intelligent power On/Off function for data integrity
Enterprise-class Data Availability and Security
ARC-8050T3 supports the hardware RAID 6 engine to allow two HDDs failures without impact the existing data and performance. It allows users to hot swap drive in the event of a drive failure with zero downtime. Its high data availability and protection derives from many advanced RAID features on ARC-8050T3 desktop RAID storage design.

Intelligent power On/Off function on storage turns power in unison with the host computer power status. It can intelligently power down the unit after the thunderbolt host shuts down everything for data integrity. ARC-8050T3 also supports a battery backup option that protects all data in cache memory in the event of unexpected power outage. Board-level hardware encryption manages any kinds of drives attached to ARC-8050T3 without impacting the performance for higher levels of security.
Enabling an Easy-to-Manage Storage
Configuration and monitoring can be managed either through the LCD control panel, Thunderbolt interface or LAN port. The ArcSAP quick manager is a multi-language management software specifically designed for managing and configuring the ARC-8050T3 RAID storage.

The intelligent cooling continuously adapts to environmental conditions by automatically controlling the speed of the cooling fans for the rapidly growing demand from the video editing markets. You can even configure ARC-8050T3 to intelligently spin down drives during periods of inactivity to further reduce noise and save energy.
Product Specifications:
Areca Part Number
OS Requirements
macOS 10.12 or later
Windows 8 or later
Interface
(2) Thunderbolt 3
(1) DisplayPort
Includes
Thunderbolt 3 (USB-C) cable
Supported Mechanism
On-Board Cache
Expansion Support
RAID Support
0, 1, 10, 3, 5, 6, 30, 50, 60, Single Disk, JBOD
Power Supply
Cooling fan
Dimensions
Height: 302 mm (11.8 in)
Width: 146 mm (5.7 in)
Length: 290 mm (11.4 in)
Weight
Manufacturer provided specifications for Areca p/n ARC-8050T3-8 UPC#: 4712774411574