Bose
QuietComfort 35
(Series I)
Wireless Noise Cancelling Headphones
Factory Reconditioned
Mac / iOS / PC / Other
It's magical to the ears. But it's not magic.
The best from Bose just got wireless
Free yourself from wires and connect easily to your devices with Bluetooth and NFC pairing. Volume-optimized EQ gives you balanced audio at any level, while a noise-rejecting dual-microphone system provides clear calls, even in windy and noisy environments.
Music sounds better
You turn them on, and noise instantly fades away. Your favorite songs soar to new heights, sounding so rich and clear you might feel like you're hearing them for the very first time. It's magical to the ear—but it's not magic. It's the precise arrangement of microphones inside and outside the earcups. It's proprietary electronics that continuously measure, compare and react to outside noises. And it's the electronics sending an equal and opposite signal to the earcups' speakers to cancel those noises. All so you can enjoy the music you love—or the silence you need.
Exceptionally strong battery life
You now enjoy up to 20 hours while using the headphones wirelessly, a significant duration for wireless headphones. You also get up to 40 hours for wired use.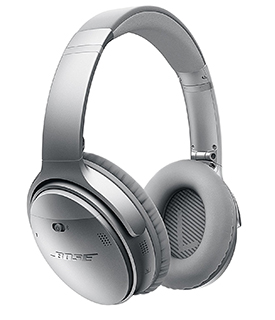 Highlights
Noise cancellation makes quiet sound quieter and music sound better
Wireless connectivity to your devices through Bluetooth and NFC pairing
Up to 20 hours of wireless listening per charge, and 40 hours when wired
Premium materials make them lightweight and comfortable for all-day listening
Bose Connect app helps manage paired devices and gives you a personalized experience
Quiet sounds quieter
A headphones' noise floor is that soft hiss you might hear when listening in quiet environments. Because that noise is measurable, QC35 headphones have been tweaked until that soft hiss became virtually undetectable.
Premium materials for all-day comfort
Materials matter. That's why the QC35 headband isn't just soft, it's luxurious. Wrapped in Alcantara® - the soft covering material used by prestigious international companies in various applications, like yachts and high-end automobiles - it provides a welcome comfort designed for all-day listening. The ear cushions are manufactured from a synthetic protein leather and contain a silicone bead for passive noise reduction.
Lightweight and durable? How?
QC35 wireless headphones use glass filled nylon that provides for a lightweight feel but a high level of durability. These headphones also have strong finishing touches. Stainless steel is used for the headband spring and pivots to ensure the headphones are durable enough for everyday use.
Product Specifications:
Dimensions
Height: 180 mm (7.1 in)
Width: 170 mm (6.7 in)
Length: 81 mm (3.2 in)
Weight
Manufacturer provided specifications for Bose p/n 759944-0020
Includes
QuietComfort 35 wireless headphones
Audio cable for wired connection
Carrying case