G-Technology
16TB G-RAID

with Thunderbolt
Mac / PC / Thunderbolt 2 / USB 3.0
Removable dual drive storage system
Focused on performance
G-Technology's high-performance portable and desktop drives, flexible transfer/edit solutions, and fast RAID systems are all built for professional content creation environments where performance and reliability are paramount. The G-RAID redefines high-performance storage for content creation. Performance that was once only possible on MacPro desktop computers is now available on laptops and iMac systems thanks to Thunderbolt and G-RAID.
Featuring Thunderbolt technology
Fast work-flow is essential for digital media professionals who transfer lots of huge files between their systems and their storage solutions. The Thunderbolt interface has opened the spigot for extreme transfer speeds. Thunderbolt technology enables blazing fast transfers over an interface that is capable of sustaining two data streams at 20Gb/s of throughput in both directions! Now, G-Technology presents the G-RAID with Thunderbolt to take advantage of that extreme performance.
High performance with removable drives
G-RAID with Thunderbolt is a high-performance, removable dual 7200RPM Enterprise-class hard drive storage system featuring both Thunderbolt 2 and USB 3.0 connectivity. For ultimate flexibility, choose between hardware RAID 0, 1 or JBOD to quickly access, browse, edit and backup your digital library. With transfer rates up to 440MB/s, this fast storage solution is designed for demanding creative projects.
Instant visual feedback
G-RAID with Thunderbolt contains a drive activity LED integrated into the front of the enclosure. The indicator light on the unit will glow when power is applied and will flash brighter as data is transferred to or from the hard drive.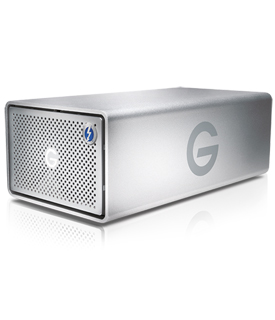 Highlights
High-speed— Up to 440MB/s, perfect for photo & video editing
Quality storage— Pre-installed with Enterprise-Class removable hard drives
Thunderbolt 2 technology— Thunderbolt 2 port with interface speed of up to 20Gb/s
USB 3.0— Super Speed USB 3.0 port with interface speed of up to 5Gb/s
Hardware RAID— Configurable in RAID 0 (performance) or RAID 1 (protection), or JBOD
Smart fan— Smart-cooling fan for quiet operation, long life and data reliability
Durable— Solid, durable and stackable all-aluminum enclosure
Time Machine ready
Your G-RAID can be easily used as a backup drive via Time Machine when connected to a Mac. Time Machine ships with your Mac and provides automatic file backup to ensure all your work is protected. When you attach your G-RAID with Thunderbolt for the first time, the Time Machine dialog box should automatically appear. Set up after connecting your G-RAID is a breeze. One click and you're backing up your data, a lot of data.
Versatile and ready to go
G-RAID with Thunderbolt ties straight into your projects providing instant back up and on-the-fly reviewing and editing. It comes pre-formatted for Mac, which means you can simply plug it in and start using it right away! If you're a Windows user, you can easily reformat the drive for use with Windows. The compact and quiet G-RAID with Thunderbolt features a Thunderbolt 2 port, a Super Speed USB 3.0 port, dual removable HGST 7200RPM SATA Revision 3.0 Enterprise hard drives, an AC power input, and a convenient on/off switch on the rear panel. At the end of the day when someone yells, "Thats a wrap!", the talent may go home, but thats when the real work starts. Thats when the reliability and performance of G-Technology shines.
Product Specifications:
G-Technology Part Number
Standard Mechanism
2 x 8.0TB 7200RPM SATA Revision 3.0 HGST Enterprise-Class Hard Drives

*1GB = 1,000,000,000 bytes. Total accessible capacity varies depending upon operating environment (typically 5-10% less). The actual total capacity will depend on your own defined file settings/preferences.
JBOD / RAID Support1
System Monitoring
Indicator light on front of unit
Interface
1 x Thunderbolt 2
1 x USB 3.0
Interface Max Transfer Rate
Thunderbolt 2 - 20Gb/s
USB 3.0 - 5Gb/s
Transfer Rate
Supported OS
Mac OS 10.9.2 and later
Windows 7, 8, and 8.1 (via reformat)
Color
Dimensions
9.92" x 5.12" x 3.58" (25.20 x 13.00 x 9.09 cm)
Shipping Weight
Warranty
Notes:
Your G-RAID with Thunderbolt is setup from the factory in RAID 0 configuration.
Manufacturer provided specifications for G-Technology p/n 0G04097 UPC#: 705487199581
Includes
G-RAID with Thunderbolt
1 x Thunderbolt cable
1 x USB 3.0 cable (compatible with USB 2.0)
1 x Power cable
1 x AC power adapter
1 x Quick Start guide