GIGABYTE
Radeon RX 580 Gaming 8G


PCIe ATX Graphics Card
PC / DisplayPort / HDMI / DVI-D / PCIe 3.0
1355MHz in OC Mode and 8GB 256-bit GDDR5
Game in Style
Extraordinary performance and efficiency
Get future ready technologies, optimized game performance, and game changing control in the latest Radeon™ RX 580 Series Graphics. Radeon RX 580 Series Graphics features the latest Polaris architecture for enhanced performance and efficiency.
WINDFORCE 2X Cooling System
The WINDFORCE 2X cooling system features 3 pure copper composite heat-pipes with direct GPU contact, a 90mm unique blade fan design, a 3D active fan with LED indicators, a stylish metal back plate. Together, this delivers effective heat dissipation capacity for higher performance at lower temperatures.
90mm Unique Blade Fan Design
The airflow is spilt by a triangle fan edge and guided smoothly through the 3D stripe curve on the fan surface, effectively enhancing the graphics card's airflow.
3D Active Fan with LED Indicators
The semi-passive fans will remain off when the GPU is under a set load or temperature for low power gaming. The LED fan indicator on the top of the graphics card provides an instant display of the fan status.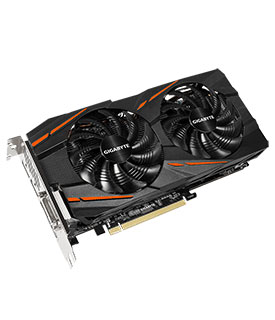 Composite Heat-Pipes
The composite heat-pipes combine both thermal conductivity and phase transition for efficiently managing the transfer of heat between two solid interfaces, raising cooling capacity by 29%.
3 Heat-Pipes Direct Touch
The pure copper heat pipes are shaped to maximize the direct contact area to the GPU.
RGB Fusion 16.7M Customizable Color Lighting
With 16.7M customizable color options and numerous lighting effects, you can now choose the right scheme for your gaming rig through the AORUS Graphics Engine.
Cycling - Smoothly cycles through all colors
Consistent - Choose a color for static light
Flash - Choose a color for flash effect
Dual Flash - Choose a color for double flash effect
Breathing - Choose a color to fade in and out
Stylish Metal Back Plate
The metal back plate offers rigidity and protection to the GPU's structure, while adding a sleek, clean look to the product.
Ultra Durable Materials
Engineered with the highest-grade chokes and capacitors, this graphics card delivers outstanding performance and a durable system lifespan.
Built for Overclocking with 6+2 Power Phases
Compared to reference design(6+1), the 6+2 power phases on the card make the MOSFET work at a lower temperature and provide more stable voltage output.
Smart Power LED Indicators
Be alerted when PCI-E voltage is unstable with the smart power LED indicator.
LED ON - Power cable disconnected
LED OFF - Stable power supply
Blinking LED - Abnormal power supply
Product Specifications:
GIGABYTE Part Number
System Requirements
Interface
Resolution
DisplayPort 1.4: 7680 x 4320 maximum resolution
Dual-link DVI: 2560 x 1600 maximum resolution
HDMI 2.0: 4096 x 2160 maximum resolution
Ports 1
(1) HDMI
(3) DisplayPort
(1) Dual-Link DVI
GPU
1340 MHz Core Clock
1355 OC Mode Clock (MHz)
14 nm Chip
2304 Stream Processors
Video Memory
8GB Size
256-bit GDDR5
8000 MHz Effective
Dimensions
Height: 40 mm (1.6 in)
Length: 232 mm (9.14 in)
Width: 116 mm (4.6 in)
Weight
1. Audio output through HDMI or DisplayPort will not work in a Mac. For PC, use HDMI 2.0 or DisplayPort for best audio quality.
Manufacturer provided specifications for GIGABYTE p/n GV-RX580GAMING-8GD UPC#: 889523009833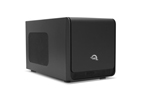 OWC Mercury Helios FX
Thunderbolt 3 PCIe
eGPU chassis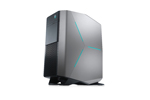 PC Desktops
Compatible with Intel / AMD Processor based PCs running Windows, which meet the specifications listed.
System Requirements
Minimum System Requirements (PC)
Windows 7 or later
Motherboard with one or more PCI-Express x 16 slot
2 GB RAM (4 GB recommended)
Optical drive or internet connection for software installation
Includes
GIGABYTE Radeon RX 580 Gaming 8G
Graphics card quick guide
Driver CD