HGST
8.0TB

Ultrastar® He8 Hard Disk Drive
Enterprise Class
3.5-Inch | SAS 12.0Gb/s | 7200RPM | 128MB Cache
Innovation for Next-generation,
High-density Data Centers
HelioSeal® Delivers Twice the Capacity Using One-Quarter Less Power
One-third more capacity and 23% lower energy consumption. Available today. That's the power of helium. Delivering high capacity at 8TB, Ultrastar He8 is based on the widely accepted and proven HelioSeal platform. HelioSeal technology replaces air with helium inside the drive, reducing air turbulence and enabling 7Stac™, a seven-disk design in a traditional 3.5-inch form factor.

Ultrastar He8 goes beyond what any air-based HDD can do and seamlessly integrates into virtually any mainstream enterprise environment. Cooler and quieter with excellent power efficiency (Watts/TB) and no-compromise performance, the Ultrastar He8 lays the foundation for future growth in massive scale-out environments.
TCOptimized™ — Increasing Storage Efficiency to Drive Down Data Center TCO
HGST recognizes the growing pressures that data centers face. Volume is expanding, operating costs are rising while budgets remain flat. Lowering the total cost of ownership (TCO) has become the focus of data center architects. Ultrastar He8 provides a unique TCO value proposition and delivers greater storage efficiency with breakthroughs in capacity, power efficiency and performance.

This HelioSeal hard drive achieves up to 3X higher random write performance than the prior generation, Ultrastar He6, thanks to HGST media cache architecture, a disk-based caching technology. Designed to handle workloads of up to 550TB per year, He8 offers either a 6Gb/s SATA interface or 12Gb/s SAS interface for easy integration into high performance data centers. Features like Rebuild Assist dramatically reduce RAID rebuild times and maintain system performance during the rebuild process.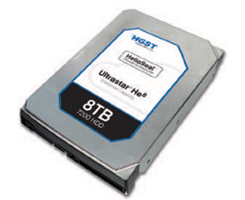 Highlights
Outstanding Idle and Active power efficiency (Watts/TB)
Reliable, field-proven, second generation HelioSeal process and 7Stac design
Compared to 6TB air drives: 33% more capacity; 23% lower idle power; 44% more power efficient (Watts/TB)
Applications
Enterprise and data center applications where capacity density and power efficiency are paramount
Cloud & Hyperscale storage
Massive scale-out High-density data centers
Distributed Files Systems like Ceph™ and Hadoop® to support Big Data Analytics
RAID arrays
Video surveillance & content distribution
Enterprise and data center applications where density and capacity are paramount
Data Security with Industry-Leading Quality and Reliability
Compliance and privacy requirements drive the need for increased data security. Ultrastar He8 offers security and encryption options to protect data from unauthorized use. Instant Secure Erase (ISE) models expedite drive redeployment and retirement. Encryption models protect data with hardware-based encryption, including a Trusted Computing Group (TCG) option with FIPS 140-2 certification, Level 2.

The Ultrastar He8 extends HGST's long-standing tradition of reliability leadership with a 2.5M-hour MTBF rating. HGST's drive reliability and security options also help lower data center TCO.
HGST Quality and Service
HGST's Ultrastar He8 extends the company's long-standing tradition of perfor- mance and capacity leadership. The proven drive design enables high reliability and availability to customer data.

Ultrastar quality, performance and world class technical support and service provides customers with a lower total cost of ownership over previous generations.
A Note on SAS Compatibility
SAS drives are not compatible with SATA interface storage solutions. If you're not sure if you need a SAS, SATA, or any other type of drive, please
contact our Customer Service team
for assistance.
Note: This 8.0TB HDD utilizes a new standardized mounting screw pattern that is not compatible with older Mac Pro models. In a Mac Pro tower, the drive can be installed in an empty optical drive bay using an OWC Multi-Mount Bracket for 2009/10/12 Mac Pro, or an OWC Multi-Mount Bracket for 2006/07/08 Mac Pro.
8.0TB HGST Ultrastar® He8 Specifications:
Specifications
Form Factor
3.5″ HDD
Interface
SAS 12.0Gb/s
Capacity1
8.0TB
Formatted Capacity2
7,840GiB
Rotational Speed
7,200 RPM
Cache / Data Buffer
128MB
Manufacturer Model Number
HUH728080AL5200
Format
Physical
Height (max)
26.1mm (1.027″)
Width (max)
101.6mm (4.0″)
Length (max)
147mm (5.787″)
Weight (typical)
650g (1.433 lbs.)
Areal Density
664Gb/in2
Reliability3
MTBF (Mean Time Between Failures)
2,000,000 hours
Contact Start-Stops
600,000
Nonrecoverable Read Errors
1 per 1015 bits read
Warranty
5 Year HGST Warranty
Performance
Transfer Rate (Max)
12.0Gb/s
Average Seek Time
8.5ms
Power
Maximum Start Current, DC
2.0 Amps
Read Power
9.1 Watts
Write Power
9.1 Watts
Idle Mode
5.7 Watts
Environmental (Operating)
Shock
70 G max at 2ms
Ambient Temperature (°F)
41°F to 140°F
Ambient Temperature (°C)
5°C to 60°C
Vibration
0.67 G (5 to 500 Hz)
Relative Humidity (non-condensing)
8% to 90%
Altitude
-304.8 m to 3,048 m (-1,000 ft to 10,000+ ft)
Environmental (Non-Operating)
Shock
350 G max at 1ms
Ambient Temperature (°F)
-40°F to 158°F
Ambient Temperature (°C)
-40°C to 70°C
Vibration
1.04 G (5 to 500 Hz)
Relative Humidity (non-condensing)
5% to 95%
Altitude
-304.8 m to 12,192 m (-1000 ft to 40,000+ ft)
Acoustics
Idle (Typical)
2.0 bels
Seek (Typical)
3.6 bels
Manufacturer provided specifications for HGST p/n HUH728080AL5200 UPC#: 829686004221
Warranty
The best warranty is one you never have to use - but should the need occur - we're proud to provide a superior level of support and service coverage to our customers.
90 Day OWC Replacement Warranty
OWC is proud to offer an extended replacement window of 90 days on new internal hard disk drives. Once a return authorization number has been issued and we receive the problematic drive back, you will get a brand new replacement drive, rather than a factory refurbished drive.
5 Year HGST Warranty
After 90 days, the drive is fully backed by the manufacturer to be free from defects in material and workmanship for the remainder of the five year warranty period.