HGST
12.0TB

Ultrastar® SATA Series Hard Disk Drive
Enterprise Class
Used|System Pull
3.5-inch | SATA 6.0Gb/s | 7200RPM | 256MB Cache
Drive to endure.
More Value to the Data Center with Maximum Capacity, Power Efficiency and Reliability
Ultrastar® hard drives feature up to ten times the workload rating1 of desktop drives and employ advanced technologies for enterprise- class reliability, power efficiency and performance. Designed from the ground up to be an ultra-robust storage device, Ultrastar drives are the perfect choice for your business.
High Workload Rating
Delivering dependable performance to any storage environment, Ultrastar hard drives are designed with a workload rating up to 550TB per year, among the highest of any 3.5-inch hard drive.
Vibration Protection
Enhanced Rotational Vibration Safeguard (RVS) technology uses sophisticated electronics to monitor the drive and correct linear and rotational vibrations in real time for improved performance versus traditional desktop drives in high vibration environments.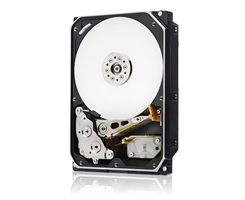 Highlights
Up to 12TB capacity
6Gb/s SATA interface
Sustained transfer rate up to 255MB/s
High workload rating supports enterprise-class environments
Applications
Enterprise servers and storage systems
Business-critical applications needing reliable, robust high-capacity storage
Surveillance analytics and industrial applications
HelioSeal® Technology
Featured in over 20 million shipped Western Digital hard drives, HelioSeal technology enables the highest capacities and less turbulence on large storage arrays. And now on its 4th generation design, HelioSeal technology is field-tested and proven to deliver high capacity, reliability, and power efficiency you can trust.
Dual-stage Actuator Technology
Ultrastar drives feature a dual-stage actuator head positioning system for a high degree of accuracy. The primary stage provides course displacement while the secondary stage uses piezoelectric motion to fine tune the head positioning to a higher degree of precision.
Enterprise-class Storage to Rely On
With up to 2.5 million hours MTBF rating, Ultrastar hard drives deliver reliability and durability, are built for yearly operation (24x7x365) within the most demanding storage environments.
Dynamic Fly-height Technology
Each read-write head's fly height is adjusted in real time to ensure consistent performance for reduced errors and optimized reliability.
7200 RPM Class
This 7200 RPM-class hard drive delivers the fastest performance with the highest workload rating of any high-capacity drive from Western Digital. Ensure you have the most capable hard drive regardless of the application with Ultrastar hard drives.
Note:

This HDD utilizes a new standardized mounting screw pattern that is not compatible with older Mac Pro models. In a Mac Pro tower, the drive can be installed in an empty drive bay using an OWC Hard Drive Bracket for Mac Pro (2009-2012), or into an empty optical drive bay using an OWC Multi-Mount Bracket for Mac Pro (2009-2012) or an OWC Multi-Mount Bracket for Mac Pro (2006-2008).
12.0TB HGST Ultrastar® SATA Series Specifications:
Specifications
Form Factor
3.5″ HDD
Interface
SATA 6.0Gb/s
Capacity1
12.0TB
Formatted Capacity2
11,176GiB
Rotational Speed
7,200 RPM
Cache / Data Buffer
256MB
Manufacturer Model Number
HUH721212ALE604
Format
Physical
Height (max)
26.1 mm (1.027″)
Width (max)
101.6 mm (4.0″)
Length (max)
147 mm (5.787″)
Weight (typical)
715 g (1.58 lbs.)
Bytes per Sector
512
Areal Density
864Gb/in2
Reliability3
MTBF (Mean Time Between Failures)
2,500,000 hours
Contact Start-Stops
600,000
Annual Failure Rate
0.35%
Nonrecoverable Read Errors
1 per 1015 bits read
Performance
Transfer Rate (Max)
600MB/s
Power
Read Power
6.9 Watts
Write Power
6.9 Watts
Idle Mode
5.0 Watts
Environmental (Operating)
Shock
70 G max at 2ms
Ambient Temperature (°F)
41°F to 140°F
Ambient Temperature (°C)
5°C to 60°C
Altitude
-304.8 m to 3,048 m (-1,000 ft to 10,000+ ft)
Environmental (Non-Operating)
Shock
300 G max at 2ms
Ambient Temperature (°F)
-40°F to 158°F
Ambient Temperature (°C)
-40°C to 70°C
Altitude
-304.8 m to 12,192 m (-1000 ft to 40,000+ ft)
Acoustics
Idle (Typical)
2.0 bels
Seek (Typical)
3.6 bels
Manufacturer provided specifications for HGST p/n 0F30146