Kanex
iAdapt 20


Mini DisplayPort to HDMI Adapter with 2 Channel USB Audio
Mac / Mini DisplayPort
Simple plug and play HDMI adapter
Watch your media on an HDMI Display
Connect the Kanex iAdapt 20 to your Mac and enjoy both video and audio from any Mac that has a Mini DisplayPort and USB. The iAdapt 20 is a versatile and simple plug and play solution that allows you to watch your favorite movies or media on an HDMI enabled display.
High Definition Video
View your movies and pictures in crisp clear high definition. The iAdapt 20 fully supports 1080p digital video from your Mac to your HDTV.
Automatic EDID and HDCP compliant
This cable has an auto-EDID feature built-in that adapts to maximum resolution depending on users display. If a user has a 720p HDTV, it will read the EDID and adjust Mini DisplayPort output automatically and vice versa for 1080i/1080p displays. The iAdapt 20 combines the Mini DisplayPort video and USB audio signal from the Apple Macbooks. This adapter works by integrating the Mini DisplayPort video source and the USB audio source into HDMI output through a special USB Audio Decoding Chip.
Transform Your USB Port Into Audio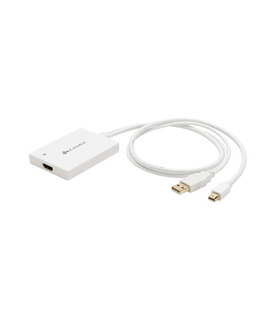 Highlights
Combines Mini DisplayPort video and USB audio signal
Enjoy video and audio from any pre-2010 Mac with a Mini DisplayPort and USB
Simple plug and play solution that allows you to watch your media on an HDMI display
The iAdapt 20 is capable of drawing audio from your USB port via its USB Audio Decoding chip. This means that even though your device has no audio out port as long as it has a USB port then you can listen to your favorite songs and movies on your display.
From Mini DisplayPort to HDMI
Convert your Mini DisplayPort into HDMI and view your content on any HDTV, projector, or monitor with HDMI. Mirror or extend your desktop onto a second display to increase performance. Share your presentations for work and school with ease with the iAdapt 20.
Product Specifications:
Kanex Part Number
Data Rate
Supports up to 2.25Gbps per channel
Max Resolution
Interfaces1
1 x HDMI
1 x USB
1 x Mini DisplayPort
Color Depth
Audio Support
Supports uncompressed 2 channel audio such as LPCM
Power Source2
Cable Length
Dimensions
3.1" x 2.2" x 0.5" (7.9 x 5.6 x 1.3 cm)
Warranty
Notes:
This product is designed for Apple computers before April 2010 that have only video signal coming out of the mini DisplayPort port.
The adapter will not allow your Mac to enter sleep mode unless the USB port on the adapter is disconnected.
Manufacturer provided specifications for Kanex p/n IADAPT20 UPC#: 094922305169