LaCie
Bolt3
2TB Professional SSD Storage
Mac / PC / Thunderbolt 3
Unmatched Speeds for Unlimited Creativity
design by neil poulton
The very fastest I/O
For the Bolt3, LaCie harnessed the breakthrough performance potential of the Thunderbolt 3 I/O and paired it with the absolute fastest SSDs on the market. With a pair of M.2 PCIe SSDs striped together into a 2TB volume, the result is astonishing speeds of up to 2800MB/s.
For transfers in minutes, not hours
That kind of speed slashes time off nearly every task in your post-production workflow. Ingest RAW footage from RED® or Blackmagic® cinema cameras in a fraction of the time. Transcode 4/5/6K footage much faster using Adobe® Premiere® Pro or DaVinci Resolve. Then transfer a terabyte of footage from the Bolt3 to RAID storage in minutes instead of hours.
Thunderbolt 3 — the USB-C that does it all
Thunderbolt 3 brings Thunderbolt performance to USB-C connectivity at electrifying speeds of up to 40Gb/s, creating a single compact port that does it all. Thunderbolt 3 permits daisy chaining and provides four times the data and twice the video bandwidth of any other cable, while also supplying power.
To level up your workspace
This means you can daisy chain one USB-C (USB 3.1) or up to five Thunderbolt 3 devices, connect dual 4K displays, and even power a compatible laptop—all through a single USB-C cable connected to your computer.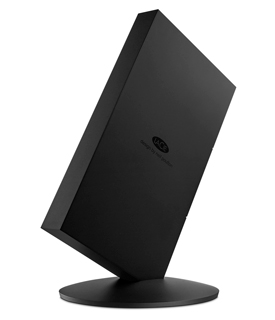 Highlights
Up to 2800MB/s speeds for 6K video editing
Dual Thunderbolt 3 ports for daisy chaining
Power your laptop while using the drive
Reliable industrial design for video professionals
With two 4K displays, you can spread out your workspace by dedicating one display to your timeline and the other to previewing 4K footage, for example. Thunderbolt 3 delivers double the performance and versatility of any other interface.
Built for dependability, from the outside in
The LaCie Bolt3 is brilliantly engineered for the long term—from the enclosure to the internal components—to endure intensive storage tasks.

Each product is individually Computer Numerical Control machined from solid aluminum blocks for rigid durability and heat dissipation.
Engineered down to the last detail
Magnetized cable doors stay closed during normal use to conceal interface and power supply ports, but swings open to enable easy access.

The removable display stand securely docks the product with powerful neodymium magnets—and detaches for easy transport.
Product Specifications:
LaCie Part Number
Software Requirements
OS X 10.10.5 or later
Windows 8.1 or later
Hardware Requirements
Mac or PC featuring Thunderbolt 3 interface
Bootability
Any Mac that supports booting via Thunderbolt
Interface (Chipset)
Capacity
Standard Mechanisms
Performance
2800MB/s read
Note(s)

Speeds will vary based on drives used, setup, and other factors
Daisy Chain Support
Yes: up to five Thunderbolt 3 or one USB 3.1 device or a high-resolution display
Security
AES 256-bit software encryption
Note(s)

Encryption software is only available via download and is not available in Russia
Height
Width
Length
Weight (without stand)
Warranty
Manufacturer provided specifications for Lacie p/n STFF2000400 UPC#: 763649114438
Includes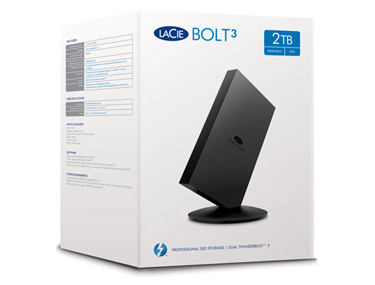 Bolt3
Magnetic display stand
USB-C (Thunderbolt 3 40Gb/s) cable
Power supply
Cleaning cloth
Quick Install Guide