This 6' Power Cord connects your desktop computer or AC adapter to wall outlets in North America.

The standard 3 prong wall plug (NEMA 5-15p) to PC connector (IEC C13) cable was made commonplace by PC power supplies. Today, they can be found providing power connections for many different products such as computers, monitors, printer, projectors and HDTV's.

18AWG is a standard gauge cable and will work perfectly in most applications. These cables are designed to carry up to a 10 amp, 125 volt load. They are safe, strong and reliable.
This cable end fits this type of outlet: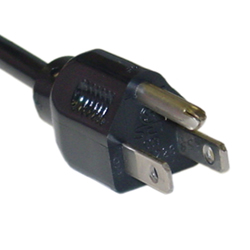 This cable end fits this type of port: