Monster
iSport


Black Superslim Bluetooth Wireless In-Ear Headphones
Bulk Packaged
High Performance Sport Audio
Monster iSport Superslim Superslim Bluetooth Wireless In-Ear Headphones
The best in ear headphones for sports, these wireless earphones are sweat-proof, stay put and feature unrivaled Pure Monster Sound to power you through your most intense workouts. Wireless in ear sport headphones for athletes or any sport activity. Slim profile, sweat resistant clips, for comfort and stays firmly in place throughout your activity.
Wireless Bluetooth Headphones Starring Pure Monster Sound
They're here. Wireless Bluetooth In Ear Headphones that offer the clarity, dynamics, punch and power of Pure Monster Sound. Now, you can listen to the music that gets you pumped with sports earphones that don't require you to lug around your smartphone. Be free. Be active. Be strong.
Finally, a Slim Earphone for Wearing Head Gear Comfortably
Whether you're speeding down a slope in fresh powder or biking up a grueling trail, iSport SuperSlim Wireless Bluetooth In Ear Headphones are the perfect companion thanks to their SuperSlim profile that lets you wear goggles, helmets, beanies or other head gear in supreme comfort, while wirelessly pumping in Pure Audio Adrenaline. If you want sports earphones that give you both freedom and comfort, look no further.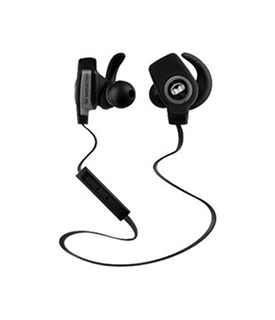 Ultra Lightweight
These featherweight wireless sports earphones are as airy as the wind on your face as you cross the finish line.
5+ Hours of Constant Playback
With an impressive five hours of audio, you can listen to an hours-long motivational playlist to get you through your marathon run or ride ... and never run out of juice.
30-Foot Wireless Range, and Sounds as Good as Wired
Feel free to roam a bit with your iSport Bluetooth earphones. Not only do they give you the freedom to move from machine to machine at the gym, they sound every bit as good as wired headphones.
Sweat-Resistant Ear Clips Keep Earphones in Place
The more you sweat, the better you feel. Don't let your wireless earphones get between you and your workout. iSport SuperSlim Wireless Bluetooth In Ear Headphones are built to withstand even the most drenching activities yet stay firmly in place thanks to water-resistant ear clips.
Product Specifications:
Monster Part Number
Color
Audio Connection
Transducer Principle
Maximum Working Range
Microphone
Headphone Style
Battery Type
(1) Lithium ion Rechargeable Battery
Battery Life
Replaceable Earpads
Headphone Type
Dimensions
Length: 60.9 cm (24.0 in)
Weight
Manufacturer provided specifications for MONSTER p/n 137035
Includes
(1) Monster iSport Superslim Superslim Bluetooth Wireless In-Ear Headphones - Black
(1) Pair of earbuds
(1) Micro USB cable
(1) User Manual