Microsoft
Windows 10


Home 32/64-bit with Fall Creators Update
PC
USB Flash Drive
The Best Windows Yet
Windows 10 is your partner in making things happen. Get fast start-ups, a familiar yet expanded Start menu, and great new ways to get stuff done even across multiple devices. You'll also love the innovative features like an all-new browser built for online action, plus Cortana, the personal digital assistant who helps you across your day.

Windows 10 is designed to go with you seamlessly from one device to another. It's fast and responsive. You even get free chat or phone support from real people. With Windows 10, it's easier than ever to do great things.
It just works
Windows 10 combines the Windows you already know and adds great improvements you'll love. Technologies like InstantGo1 let you boot up and resume quickly. And Windows 10 has more built-in security features than ever to help protect against malicious software.
Multi-doing
Multi-task like a master with the ability to snap four things on the screen at once. Screen getting crowded? Create virtual desktops to get more space and work with just the items you want. Plus, all your notifications and key settings are collected on one easy-to-reach screen.
Microsoft Edge
It's the all-new browser designed to make the web work the way you do. Write or type directly on webpages and share your mark-ups with others. You'll like the reading view that clears away distractions. There's also an improved address bar to help you find things faster.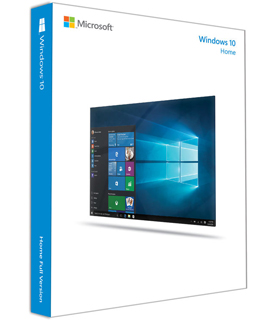 Continuum
The best screen is always the one you're on, because Windows 10 optimizes your experience for your activity and device. Onscreen features adapt for easy navigation and apps scale smoothly from the smallest to the largest displays.2
Uniquely yours
Your Windows 10 device recognizes you and acknowledges your presence in truly personal ways. With Windows Hello, your device greets you by name and lights up in recognition, waving you through log-in and freeing you from having to remember or type in a password.3
Gaming & Xbox
Play your Xbox One games on your Windows 10 PC, laptop, or tablet. Use the Game DVR feature to record your greatest hero moves and send to your friends instantly, without leaving your game.4
Cortana
Cortana is your truly personal digital assistant who works across all your Windows 10 devices to help you get things done. By learning more about you over time, Cortana becomes more useful every day, staying transparent and keeping your trust.5
New with the Windows 10 Creators Update Windows 10 keeps getting better - the Creators Update includes new innovations, features and security capabilities. To ensure the best experience the update rolls out via auto-updates when your PC is ready.
Packed with features:
Let your imagination take shape In Paint 3D its a snap to create 3D objects from scratch or modify someone elses creation. Easily change color, texture or turn a 2D picture into a 3D object with a click. When youre ready, share to your favorite social sites or the Remix 3D community.
Find your inspiration Remix 3D is your online home for 3D content and community. Connect with creators, get inspired or compile a curated board of favorite content.
Cortana remembers so you dont have to Cortana integrates with other apps within Windows to help you stay on track. Create, add to and access your Wunderlist lists from Cortana with voice or text.
Built-in broadcast gaming Watch and play alongside game broadcasters with Mixer, the interactive livestreaming platform where you can interact with streamers in real-time.
Books now in Windows Store With Books in Windows Store and Microsoft Edge discover and read e-books from your favorite authors across the genres you love. Books is available across all Windows 10 devices.
Sleep better with blue light reduction Now reduce the blue light emitted from your screen at night get your brain ready to power down for a good nights sleep.
Say goodbye to tab chaos Microsoft Edge now allows review, grouping and saving web page tabs. Quickly find, manage and open tabs you set aside without leaving the page youre on.
1. Hardware-dependent.
2. App experiences may vary.
3. Windows Hello requires specialized hardware, including fingerprint reader, illuminated IR sensor or other biometric sensors.
4. Broadband Internet required for some features. Xbox Live features only available with supported games in Xbox Live-supported countries.
5. Cortana available in select markets at launch, experience may vary by region and device.
System Requirements
Minimum System Requirements
1 GHz processor or faster
1 GB RAM for 32-bit; 2 GB for 64-bit
Up to 20 GB available hard disk space
800 x 600 screen resolution or higher. DirectX® 9 graphics processor with WDDM driver
Internet access (fees may apply)
Microsoft account required for some features. Watching DVDs requires separate playback software
Notes
You must accept the enclosed License Terms, also at microsoft.com/useterms. Activation required, Single license.