NEC MultiSync
24" Widescreen Color-Critial Desktop Monitor
Two DisplayPort | Two DVI-D | 1920x1200 Resolution
Tackle even your most demanding color-critical projects with the 24" NEC MultiSync PA241W, a widescreen LCD display ideal for graphics/photography applications. This model touts a dynamic design, wide color gamut, 14-bit 3D LUT, eco-conscious features, high brightness and many cutting-edge technologies.
It also features the SpectraViewII Color Calibration Solution, which combines a customized wide color gamut measurement sensor with sophisticated software, resulting in a highly accurate, reliable, repeatable and feature-rich display calibration and profiling solution.
MultiProfiler
This free application download provides an easy-to-use, intuitive interface for complete control over the powerful and sophisticated technology in MultiSync PA Series models.
XtraView+™
Delivers wide viewing angles of up to 178° horizontally and vertically (up to 89º up, down, left and right) with less color shift and without any glare, reflection or distortion.
ColorComp
This electronically improves screen uniformity and compensates for differences in color/grayscale and luminance using newly designed signal processing circuitry.
Ambix™
Allows up to 3 inputs VGA, DVI-I and DVI-D to be connected to a single monitor. Allows for each of the three signals to be displayed with the press of a button.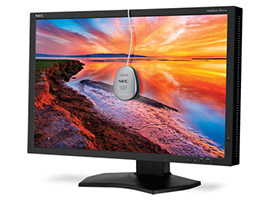 Highlights
SpectraViewII Color Calibration Solution, which includes software and colorimeter, helps the display achieve accurate, consistent and repeatable color performance
98.1% coverage of AdobeRGB color space
Superior screen performance (1000:1 contrast ratio, 1920 x 1200 native resolution, 360cd/m2 brightness)
Supports internal programmable 14-bit 3D lookup tables (LUTs) for calibration
DisplaySync Pro™ controls two computers with only one keyboard and mouse
Color Vision Emulation for type P/D/T supporting Color Universal Design
AmbiBright™ ambient light sensor automatically adjusts the display's brightness based on lighting conditions
Wide connectivity includes DisplayPort, two DVI-D inputs and USB hub
AmbiBright™
Automatically adjusts the backlight depending on the brightness of ambient lighting conditions. Also allows the monitor to be set to automatically enter a power-saving mode when the ambient lighting falls below a predetermined value (i.e.when office lights are shut off at the end of the day), which can significantly reduce energy expenses.
Rapid Response™
Provides for uninterrupted display of full motion video with response times as quick as 4ms. It delivers streaming video without noticeable ghosting or blurring, while achieving as many as 250 frames per second (fps). This remarkably quick motion makes displays better than ever for gaming and video applications such as presentations and streaming web video.
ECO-Mode
Eco-Mode conserve energy by allowing you to define a setting for the backlight at a 50 or 75% brightness level. Also calculates power saving in Watts Per Hour.
NaViSet
This software offers an expanded and intuitive graphical interface allowing you to more easily adjust display settings via mouse and keyboard. The administrator version utilizes the monitor's advanced control and diagnostics capabilities to provide IT professionals with remote access to monitor settings over their existing network.
TileMatrix
Allows you to build video walls of various configurations (up to 5 x 5) through the advanced OSD.
TileComp
Designed to work in tandem with Tile Matrix on NEC monitors. TileComp automatically adjusts for the width of the monitor bezels to compensate for geometrical distortions. However some data on the screen will be lost in the area of the bezels.
NTAA
No Touch Auto Adjust allows the monitor's image settings to be automatically adjusted to optimal settings upon intial power on.
SpectraView II
Featuring state-of-the art calibrator and software, the Spectraview II color calibration solution helps deliver accurate, consistent and repeatable color performance. Performs hardware monitor calibration and generates ICC profiles that can be used with graphics software.
sRGB
A recommended default color setting that helps achieve a consistent color environment for PC-based applications. With sRGB, the image colors seen by the user on his/her screen can be reproduced elsewhere, such as printers.
OSD
On Screen Display controls allow users to quickly and easily adjust all elements of their screen image via simple-to-use on screen menus.
Picture-by-picture
Picture-by-picture splits the standard frame into two frames.
PIP
Picture in Picture allows for a second frame within the screen area.
Product Specifications
Manufacturer Part Number
Type
Display Area
Housing Color
Maximum Resolution
Aspect Ratio
Pixels Per Inch
Pixels Pitch
Brightness
Contrast Ratio
Response Time
Viewing Angle (H/V)
Color Gamut (Coverage / Size)
Adobe RGB: 98.1% / 107.0%
NTSC: 93.2% / 102.2%
sRGB: 100% / 144.3%
Input
1x DisplayPort
1x DVI-D Dual Link
Audio Output
Speaker Type
Vesa Mounting
Tilt
Swivel
Pivot
Height Adjustable
Base Detachable
Agency Compliances / Certifications
Warranty
Physical
Power Consumption
Standby Power
Operating Temperature
Operating Humidity
Operating Altitude
Storage Altitude
Storage Temperature
Storage Humidity
Dimensions (With Stand)
21.9" x 14.9" x 9.0" (556.8 x 378.0 x 227.6 mm)
Dimensions (Without Stand)
21.9" x 14.3" x 3.3" (556.8 x 362.4 x 85.0 mm)
Weight (With Stand)
Weight (Without Stand)
Manufacturer provided specifications for NEC p/n PA241W-BK-SV UPC#: 805736034837
Package Includes
MultiSync 24" Monitor
SpectraViewII Color Calibration Solution
Power cord
DVI cable
USB cable
Mounting Screws
Includes SpectraView II Color Calibration Solution
Software and Colorimeter help the display achieve accurate & consistent color performance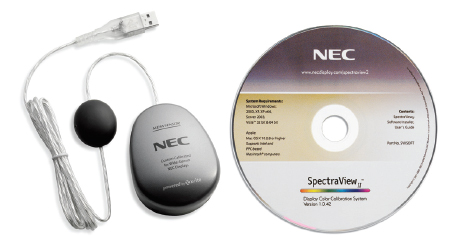 The SpectraView II Color Calibration Solution combines a customized wide color gamut measurement sensor with sophisticated software, resulting in a highly accurate, reliable, repeatable and feature-rich display calibration and profiling solution.

This monitor also touts an ultra-wide color gamut, allowing you to view photographs and graphics in optimum color. With its multitude of leading-edge capabilities, combined with groundbreaking design, this display could easily be considered the most intelligent visual displays solution to date.

The Calibrator can only be used on other NEC monitors due to the software used is proprietary to NEC.
Software Requirements
Apple Mac OS X v10.5 or higher.
Microsoft Windows 2000, Windows XP (Home and Professional editions), Windows XP x64, Windows Vista 32 bit and x64 versions, and Windows 7 32 bit and x64 versions.
Suse Enterprise Desktop 10 and higher.
At least one available USB port for MDSVSENSOR3 color sensor.