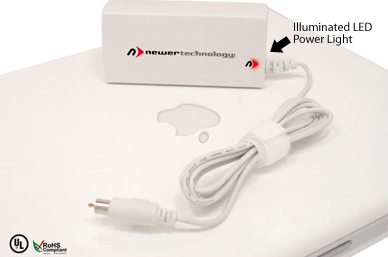 Newer Technology 65W Power Adapter
New Condition | Open Box
Compatible with the following iBook systems:

• iBook G3 (Dual USB)
• 12" - All Speeds
• 14" - All Speeds
• iBook G4
• 12" - All Speeds
• 14" - All Speeds

Compatible with the following PowerBook systems:

• PowerBook G4 "Titanium"
• 15" - All Speeds
• PowerBook G4 "Aluminum"
• 12" - All Speeds
• 15" - All Speeds
• 17" - All Speeds
Features:
Illuminated Cool Red "Arrow" Power LED
4" velcro wrap keeps power & connector cords organized when traveling
Wire clip keeps cord attached to itself during storage
65W power output - properly reported by Apple System Profiler (see screenshot)
100 ~ 240V AC input @ 50/60Hz
Auto-switching power for use outside U.S.A.
13 foot long cord (combined length of AC power cord, adapter, and computer power input cord)
RoHS Compliant - lead free
UL listed Auto-switching power supply for the latest PowerBook® and iBook® models from Apple®
Power cord included.
Do you need a 2nd power adapter for your laptop? Or do you want to have one at your place of business so you don't need to tote it back and forth everywhere? This power will work perfectly with every model of PowerBook G4 or iBook (G3 Dual USB or G4) made! Unlike some of the competition, this power adapter pumps out a full 65W of power to charge your battery at the fastest rate possible. And, it's extra long cord will allow you the freedom to not be tethered quite so close to your desk if you wish.