NewerTech
0GB miniStack Classic
USB 2.0 & 1.1 / FireWire 800 (FireWire 400 Backwards Compatible)
Classic Style With Cutting-edge Storage and Backup Capabilities. Add more capacity to your 2009 or earlier Mac mini!
The NewerTech miniStack Classic can instantly turn your 2009 or earlier Mac mini into a lean, mean data storage/backup machine. The versatile miniStack features a three port USB 2.0 powered hub for connecting digital devices as well as FireWire 800/400 capabilities. The miniStack classic is perfect for video, audio and photo libraries. It can act as a boot drive as well. That's quite a bit of bang for your computing buck.
Style (and Room) to Spare
The miniStack Classic was designed to perfectly complement 2009 or earlier Mac minis. It has a durable aluminum finish and a glossy white top that make it easy to stack with your Mac mini without sacrificing any more desktop space. It's an easy way to improve your workflow without losing elbowroom.
Versatility and Efficiency
The miniStack Classic has plenty of room for extended storage, and makes a great home for your music, photo and video library. What makes the miniStack special is how well it streamlines access to your stored data.

You can choose between USB 2.0/1.1 and FireWire 800/400 to reach data speeds up to 100MB/s. It has a three-port integrated USB hub which helps reduce clutter and makes the miniStack Classic convenient for connecting iPhones, mice, keyboards and other common devices.
High Expectations; Higher Performance
The miniStack Classic offers more than just convenient high-high speed data transfer and storage. It also has several other features sure to improve your workflow. You can add the miniStack Classic to an Airport Extreme wireless network via USB to wirelessly shared files, perform Time Machine backups as well as sharing other devices, such as printers. Not only that, it's AV rated for high-performance home entertainment systems and sharing content with Apple TV.
Bundle of Joy
The miniStack Classic is ready to improve your workflow and data security as soon as you take it out of the box. It comes pre-loaded with freeware, shareware and public domain software, including InTech Hard Disk SpeedTools Utilities, ProSoft Engineering Data Backup and NovaStor Nova BACKUP. In addition, it comes with an integrated Kensington Security Slot for theft prevention.
Hard Drive Not Included - Needs 3.5" Serial ATA (SATA) Hard Drive

OWC NOTE: This drive enclosure requires a 3.5" Serial ATA (SATA) drive mechanism. Most computers produced since 2006 use Serial ATA (SATA) hard drives. Please make sure that the drive you wish to use with this enclosure is compatible. If you need an enclosure for an ATA/IDE hard drive,
click here.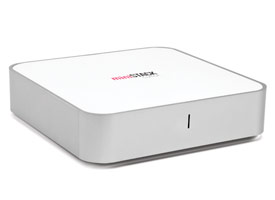 OWC's A Closer Look
OWC's Step-by-Step Install Video