48.0GB

OWC Memory Upgrade Kit
3 x 16.0GB PC10600 DDR3 ECC 1333MHz 240 Pin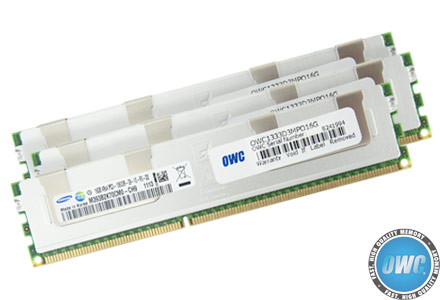 Product Specs:
Size:

16GB (16384MB)
240-pin SDRAM DIMM
1024M x 72, Dual Rank ECC Memory Module
Data Rate = 1066MHz*
Module Bandwidth 8.5GB/s
CAS 7-7-7-20
Voltage 1.5V
Apple Specified Thermal Sensor**
Please Note: Memory modules may differ in appearance from those pictured.
RoHS Certified
Free Installation Videos & Manuals
OWC Memory for Mac Pro Quad Xeon fully meets Apple's specifications with special attention to proper thermal specifications.
IMPORTANT OWC NOTES:
OWC p/n OWC8566D3MPQ16GB 16GB modules require that all installed modules be of this same matching part. Other existing Apple or 3rd party 1GB, 2GB, 4GB and 8GB modules are not supported for use with this kit and need to be removed when this kit is added.

48GB is the maximum and only OWC Certified & Recommended 16GB Module based config for 4-Core and 6-Core Mac Pro models. Although other memory configurations are possible, these provide maximum performance. Other memory configurations utilizing this OWC 16GB module are NOT supported for these Mac Pro models and use of such may result in impaired system performance.

From the purchase date of qualifying memory from OWC, you have 60 days to trade-in your old memory for a cash rebate!
Just fill out
OWC's online rebate form
or contact
OWC Customer Service
after you receive and install your new memory.
* About 16GB Modules:
Although devices are capable of 1333MHz, due to the module density and rank(16GB / 4-Rank per module), Mac Pro 2009 & 2010 models and other Xeon Nehalem/Westmere based systems are limited to a maximum addressing of 1066MHz. This set enables Triple-Channel addressing for maximum data throughput for real world use.
** About the Apple Specified Thermal Sensor:
Ensuring maximum performance, reliability, and operational feedback -this DDR3 ECC Modules for the Apple Mac Pro 'Nehalem' process models feature utilization of Apple qualified components including the inclusion of the Apple qualified Thermal Sensor EEPROM.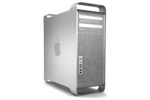 Mac Pro 6-Core
(Mid 2010-2012)
(July, 2010 / June 2012)
3.33GHz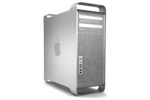 Mac Pro (Mid 2010 Quad-Core)
(July, 2010)
2.8GHz, 3.2GHz, 3.33GHz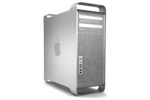 Mac Pro (Early 2009 Quad-Core)
(March, 2009)
2.66GHz, 2.93GHz, 3.33GHz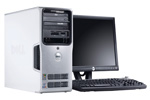 PC Desktops
Compatible with Intel / AMD Process based PCs capable with the specifications listed above. Memory complies with JEDEC Specifications, document JESD79-3B.