The Right Tools for the Job
Before attempting to perform this installation, please watch the following instructional video in its entirety to determine your ability to perform this complex procedure. OWC assumes no responsibility for damage that may occur during the install. Technical support for this DIY product consists only of this video: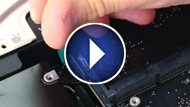 NOTE: Before you begin, you will want to determine the configuration of your Mac mini's drives. To do this, open Applications/Utilities/Disk Utility.app and click on the grey drive icon at the left-edge of the window. If you see "Lower" after the "Connection ID" at the bottom-left corner of the window, you may proceed using the standard installation instructions. If you see "Upper" then you have a special configuration which will need additional components, and you will need to also refer to the Addendum video.
Yes, You Can Do-it-Yourself
OWC is committed to your success. If you need a bit more guidance, simply contact
OWC's award-winning U.S. based Technical Support
. We'll be happy to answer any questions you may have.