OWC Mercury
Elite Pro Dual mini
Add your own drives enclosure kit
Bus-powered, multi-interface, external drive
User switchable to RAID-0, RAID-1, or span drive modes.
New Condition | Open Box
USB 3.0 & 2.0 / FireWire 800 (FireWire 400 compatible) / Mac / PC
Portable Dual-Drive Performance
This portable, bus-powered drive is perfect for backup, audio/video, photography, music, graphics, data management and more. Large storage capacity and selectable RAID-0, RAID-1, or span drive modes let you choose the best combination of speed, capacity, and redundancy. Get dual-drive high-performance and capacity with easy access to your data at the office, on the road, or at home.
Install Two 2.5" Drives
The best portable dual drive case has room to pack two identical 2.5" hard drives or SSDs up to 12.5mm tall. Add up to 3.0TB of hard drive capacity or go ultra fast with two SSDs up to 960GB. Pick the RAID mode that best suits your needs, and get up to 500MB/s of performance in RAID-0, use RAID-1 for instant data backup, or create a large drive with span.
Portable. Practical. Durable.
A rugged aluminum enclosure provides great looks with durable protection for the Elite Pro Dual mini's two internal drives. A sleek and slim design makes it practical and rugged enough to be tossed into your gear bag at a moment's notice while taking up minimal desktop space. You can also stack multiple drives together to easily add more storage capabilities.
Dual-Drive Plug & Play Convenience
Simply use the included FireWire or USB cables to connect the Elite Pro Dual mini to your Mac or PC to enjoy plug-and-play convenience and take advantage of it's capacity and up to 500MB/s performance.
Your Choice of RAID Modes
RAID-1 Mirror
Both drives are used to write two "mirrored" copies of your data at the same time to provide an instant backup copy of your data.
RAID-0 Performance Stripe
Both drives are combined together to create a single drive volume that's much faster and provides larger capacity.
NRAID (Span)
Creates a larger drive by combining the capacity of two or more drives of the same or varying sizes into a larger drive volume.
Uses two
2.5" SATA drives
(not included)
Requires two identical model drives for RAID-0 and RAID-1.
Non-matched drives can be used only in span drive mode.

This drive enclosure requires two 2.5" Serial ATA (SATA) drive mechanisms with a maximum height of 12mm. Please make sure that the drive you wish to use with this enclosure is compatible. The amount of power provided by a computer bus can vary, and the use of the optional AC adapter may be required for proper operation of hard drives and solid state drives the have high power requirements.
Please note that the 480GB Electra 6G, 960GB Mercury Electra MAX 3G SSD and 1.0TB Mercury Electra 6G SSD are not recommended for use with this enclosure.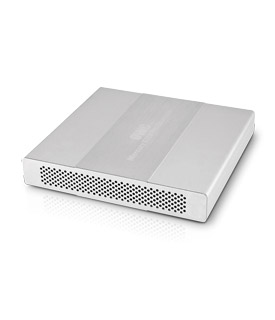 OWC's A Closer Look
OWC's Step-by-Step Install Video