OWC Mercury Rack Pro
0GB

1U 4 Bay
Rack Storage Solution Kit
New Condition | Open Box
External mini-SAS / Mac / PC
OWC affordability, reliability, and ease of use in a single 1U rack space.
Need massive amounts of storage?
The OWC Mercury Rack Pro features a single external mini-SAS interface, to not only reduce cable clutter, but to provide four full channels of data (one per drive) through a single external mini-SAS cable. It's like having four separate eSATA/SAS cables but in a single package.
Designed specifically to meet the demands of server, audio production, and video production environments, the OWC Mercury Rack Pro four Bay 1U Solutions provide data transfer rates of up to 24Gb/s data rates¹! Using the highest capacity SATA hard drive mechanisms available, and offering Plug & Play simplicity, the possibilities are endless!
Note: OWC Mercury Rack Pro solutions do not include rack rails. If rails are required for your rack setup,
OWC has them available. Click Here.
Outstanding Features
Great Performance
Using the fastest SATA drive mechanisms available gives the OWC Mercury Rack Pro mini-SAS 4 Bay 1 U Solutions a solid, performance focused base. Adding a high-speed external mini-SAS card (not included) further enhances the OWC Mercury Rack Pro providing some of the fastest drive transfer rates possible, up to 24Gb/s¹!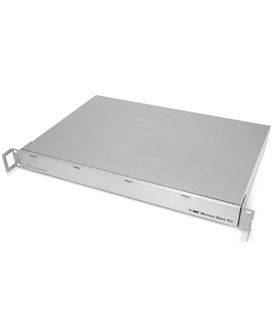 OWC's Step-by-Step Install Video
A Top-Notch design using the best components gives the OWC Mercury Rack Pro an industry leading one year warranty and ensures the series is built to last!
The OWC Mercury Rack Pro can easily be converted to a desktop form-factor via a Phillips screwdriver by simply removing the rack ears and installing the included anti-skid, vibration dampening feet.
From day one, the OWC Mercury Rack Pro Series has been designed to be everything you'd hope for and more!