OWC
2.0TB




Mercury Electra™ 3G SSD


2.5" Serial-ATA 7mm Solid State Drive
For High Speed Personal Computing, Home Office, Gaming, and Personal Photography.
3 Year OWC SSD Limited Warranty
When only the fastest and most reliable Solid State Drive on the market today will suffice for your data storage and backup, look no further than the OWC 2.0TB Mercury Electra 3G SSD.
The Mercury SSD line features a suite of industry leading controller technologies for performance and reliability:
Global wear leveling algorithms automatically distribute data evenly and manage program/erase count, maximizing SSD lifespan.
StaticDataRefresh manages free space, gradually refreshing data across the SSD over time, preventing data corruption.
Hardware BCH ECC corrects errors up to 66-bit/1KB for superior data retention and drive life.
Advanced security protocols support 128/256-bit-AES disk encryption.
No Risk, No Hassle 30-Day Money Back Guarantee.
For more information on OWC return policies,
click here.
This internal 2.5" SATA SSD delivers outstanding transfer speeds, endurance, and reliability. With sustained reads up to 250MB/s and writes up to 230MB/s, the OWC 2.0TB Mercury Electra 3G SSD line delivers unbeatable performance. A 7% over provisioning set-aside further ensures exceptional long-term reliability, performance consistency, and durability with an amazing 960GB of visible storage capacity after over provision. Built to perform, and backed by a 3 Year OWC SSD Limited Warranty.
High Performance Internal Storage
Replace your conventional hard drive with a reliable solid state drive. Unlike traditional hard disk drives, OWC SSDs have no moving parts, resulting in a quiet, cool, highly rugged storage solution that also offers near instantaneous system response.
Includes 7 mm to 9.5 mm Adapter / Spacer
Attach this adapter to the top of any 7mm, 2.5-inch drive for installations that require a 9.5mm drive height for proper use, whether you need a 9.5mm drive height for a dock, camera, server, device, PC, or external drive. This adapter is not needed for 2.5-inch drive installations that use the standard side or bottom mounting positions to secure the drive in place, and is not needed for any installation of a 7mm drive in Apple Macintosh computers.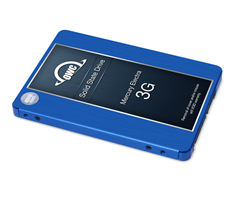 Highlights
One of the fastest Internal SATA 2.5" SSDs available.
3 Year OWC SSD Limited Warranty
OWC's SSD vs HDD Shootout!