OWC
240GB Aura SSD / Flash Internal Drive Upgrade


for Mid-2013 and Later MacBook Air and MacBook Pro with Retina display
Demo Unit | Open Box
Upgrade Kit with Drive, Install Tools, + Envoy Pro
for Easy Data Transfer/Original Drive Reuse
New Possibilities
For the first time, upgrade the PCIe-based flash SSD in your mid-2013 or later MacBook Pro with Retina display or MacBook Air with up to eight times the original capacity. The new Aura SSD continues OWC's dedication to giving you more from your Mac.
The Ultimate Storage Upgrade
Replacing the PCIe-based flash drive in your MacBook Air or MacBook Pro with Retina display is as simple as removing a few screws with the compact Torx T5 and Pentalobe P5 drivers included with your upgrade kit. Our free comprehensive video installation guides mean an OWC expert is with you every step of the way.
Your Mac's Flash Drive, Reimagined
Your upgrade should be a seamless experience. That's why Aura SSD upgrade kits come with Envoy Pro, the beautifully designed, high-performance SSD enclosure to reimagine your Mac's factory PCIe-based flash drive. When you remove your original flash SSD, it fits perfectly into Envoy Pro so you can transfer all of your data to the new Aura inside your laptop. Once the file transfer is complete, enjoy using your Mac's factory-installed flash SSD as a fast USB external drive with transfer speeds up to 355MB/s.
No Hassles or Hacks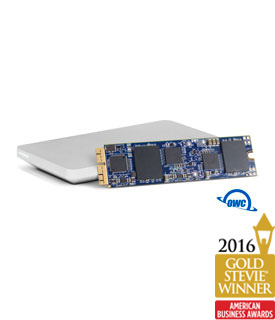 Aura PCIe-based flash storage upgrades are precisely engineered for your Mac, so you'll never need to compromise your data by relying on complicated software hacks or TRIM-enablers to get the most from your upgrade. Just install, migrate your data, and enjoy the great performance of flash storage with up to eight times the capacity of the factory-installed drive.
Quality in Every Bit
Aura SSDs are designed from the ground up for reliable performance and complete compatibility with your Mac. It begins with choosing the highest-quality components, and then engineering a perfect-fit solution that simply works with your computer.

Tier-1 Flash — Aura SSDs use only top-rated flash for superior performance and dependability.

Superior Error Correction — Aura SSDs provide three levels of error correction for improved reliability and RAID-like protection for your data.

Cell-Level Data Refresh — Aura's SSD controller monitors data blocks and maintains correct charge at the cell level, improving the integrity of your data, and extending the life of your drive.
7% Over Provisioning
OWC SSDs perform maintenance tasks in the background that optimize the health, performance, and endurance of your flash drive. These jobs take advantage of available, unwritten areas on the SSD. Aura PCIe-based flash storage reserves 7% of the overall capacity as free space. Always. With this allocated free space, Aura SSDs can perform these normal maintenance tasks making your drive more stable, dependable, and ultimately a safer place to store your data.
Experience the OWC Difference
Aura SSDs for Mid-2013 and Later Macs are proudly designed in Austin, TX, and are backed by a 3-year limited warranty as well as a lifetime of free, award-winning USA-based support.
240GB Aura SSD Specifications:
Specifications
Flash Controller
Silicon Motion 2246XT
RAID Controller
Marvell 9230
Capacity
240GB useable capacity
Total Flash Memory Components – 256GB
32GB allocated to real-time data redundancy & error correction
Formatted Capacity
223.5GiB
SMART Attributes
Not Supported
Native Command Queuing
up to 32 commands
Manufacturer Model Number
SSDAB2MB02
RoHS Compliant
Yes
Format
Mac OS Extended (Journaled)
Physical
Height (max)
3.7mm (0.1″)
Width (max)
24mm (0.9″)
Length (max)
89mm (3.4″)
Weight
21 grams (0.7 oz)
Reliability
Security
Chip Based Data Encryption: 128-bit AES-compliant
TRIM Support
Not Supported
Performance
Sustained
Reads (up to)
712MB/s
Sustained
Writes (up to)
301MB/s
Read Incompressible
Data Rate (up to)
704MB/s
Write Incompressible
Data Rate (up to)
292MB/s
Environmental (Operating)
Temperature (°F)
32°F — 158°F
Temperature (°C)
0°C — 70°C
Environmental (Non-Operating)
Temperature (°F)
−40°F — 185°F
Temperature (°C)
−40°C — 85°C
Acoustics
Idle (Typical)
0.0 bels
Seek (Typical)
0.0 bels
Envoy Specifications:
Software Requirements
OS

OS X 10.3 or later
Windows XP or later
Linux OS with support for USB 3.0

Driver
Hardware Requirements
Mac or PC featuring USB 3.0 interface
Bootability
Any Mac that supports booting via USB
Interface (Chipset)
(1) USB 3.0 Micro-B (PLX USB 3380)
Performance
Up to 500 MB/s Read and Write
Note(s)

Speeds will vary based on drives used, setup, and other factors.
Power
Operation
Note(s)

Requires USB 3.0 standard powered port. USB 2.0 use not supported or recommended.
Environment
Environmental (Operating)

Altitude -304.8 m to 3,048.0 m (-1,000 ft to 10,000 ft)

Environmental (Non-Operating)

Ambient Temperature Non-Operating: 41°F to 104°F (5°C to 40°C)
Altitude -304.8 m to 12,192.0 m (-1,000 ft to 40,000 ft)
Dimensions
Height: 0.4 in (1.0 cm)
Width: 2.1 in (5.3 cm)
Length: 4.5 in (11.4 cm)
Weight (without drive)
Important Note: The OWC Envoy enclosure has been specifically designed for use ONLY with the factory SSD found installed in Apple MacBook Air and MacBook Pro with Retina display mid-2013 and later models. Do NOT attempt to install or use the OWC Aura SSD in the Envoy as you can damage the Aura drive, the Envoy enclosure or both and such damage is not covered under warranty.
Manufacturer provided specifications for Other World Computing p/n SSDAB2MB02K UPC#: 812437023466
Please Note: The OWC Envoy Pro is not compatible with stock Apple Toshiba drives.
Includes
OWC Aura (2013+ MacBook Pro and MacBook Air models)
Torx T5 driver
Pentalobe P5 driver
OWC Envoy Pro enclosure for Apple Original SSD