OWC
240GB

Aura Pro 6G
Solid State Drive and Envoy Pro Storage Solution
for 2012-Early 2013 MacBook Pro with Retina™ display
Demo Unit | Open Box
The Aura Pro 6G SSD features industry leading SandForce® DuraClass™ Technologies:
DuraWrite™ extends the endurance of your Solid State Drive (SSD).
Intelligent Block Management & Wear Leveling automatically distributes data evenly across the entire SSD.
Intelligent Read Disturb Management spreads the active read/write across the flash components eliminating data corruption caused by constant use.
Intelligent "Recycling" for advanced free space management gradually re-writes data across the SSD over time to ensure data never gets corrupted.
RAISE™ (Redundant Array of Independent Silicon Elements) protects the data on your drive similar to having a RAID setup.
Best-in-Class ECC Protection for longest data retention and drive life.
The Only Complete 2-in-1 Upgrade Solution:
Upgrade your rMBP's factory installed SSD with greater performance and capacity via the Aura Pro.
Retask the replaced factory SSD as a bus-powered*, pocket-sized external storage solution via the Envoy Pro.
First and Only Complete Storage Upgrade
Once again, OWC provides Mac users the only upgrade solution that delivers higher performance, functionality, and reliability! When first introduced, the MacBook Pro with Retina display base model offered a 256GB SSD configuration with no upgrade option. And current base models start from 128GB to 256GB. Now, instead of being "factory locked", the OWC Aura Pro 6G gives you the freedom to upgrade your capacity to meet your storage needs. Just like other OWC upgrades, we include the installation tools you need plus a free 'how-to' video to make this an easy and money-saving DIY upgrade.
Synchronous Interface NAND
To achieve the higher bandwidth potential of the SATA 6Gb/s bus standard, the OWC Aura Pro 6G SSDs utilize Tier-1 Synchronous NAND instead of commonly utilized Asynchronous NAND. Synchronous NAND enables reads and writes to be "synced" with the SSD processor's clock signal for maximum data throughput.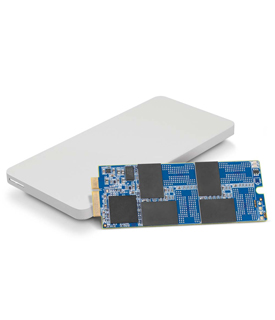 Highlights
One of the fastest Internal SSDs available.
Includes sleek, anodized aluminum Envoy Pro storage solution, Torx T-5 screwdriver, and a Pentalobe compatible driver
Install Videos
Ultra-portable, bus-powered* external storage solution designed to complement the MacBook Pro with Retina display
The OWC Envoy Pro combines elegance and functionality into a sleek, portable external storage solution that complements the design and finish of the MacBook® Pro with Retina display. Its anodized aluminum body protects your drive and data, while its minimal size allows for simple stowing in coat pockets, backpacks or briefcases.

The USB 3.0 interface offers speedy transfer rates of up to 500MB/s and the Envoy Pro requires no AC power.
Better by Design
"Mean Time To Failure" – We all know that nothing lasts forever. But that doesn't mean you shouldn't get the most out of your investment. OWC SSD with DuraWrite™ Technology, optimizes writes to the flash memory over conventional controllers increasing the overall endurance and reliability of the complete SSD. Highly intelligent block management and wear leveling also extends the overall endurance. This adds up to a MTTF that is higher than most SSDs and enterprise class hard drives on the market today.
OWC Note: Compatible with the Flash SSD module used in 2012-2013 13" and 15" MacBook Pro with Retina Display models.
Not for use with Late 2013 MacBook Pro with Retina Display with model ID: MacBookPro11,x
Includes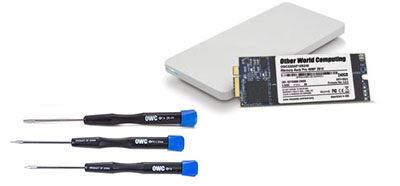 OWC Aura Pro 6G SSD
OWC Envoy Pro USB 3.0 bus-powered* storage solution
Carrying case
High-quality double-shielded connecting cable:

USB 3.0 (Micro-B to Standard-A)

Pentalobe compatible driver
Torx T-5 Screwdriver
240GB Aura™ Pro 6G Specifications:
Specifications
Capacity1
240GB useable capacity
Total Flash Memory Components – 256GB
16GB allocated to real-time data redundancy & error correction
Formatted Capacity2
223GiB
NAND
Tier 1 Major Multi-Level Cell (MLC) High-Performance Sync-NAND Flash
Controller
SandForce 2281 Series Processor with 7% Over Provisioning
SMART Attributes
Standard
Native Command Queuing
up to 32 commands
Manufacturer Model Number
OWCSSDAP12R240
RoHS Compliant
Yes
Format
Reliability3
Data Reliability
ECC Recovery: Up to 55 bytes correctable per 512-byte sector
Security
Chip Based Data Encryption: 128-bit AES-compliant
TRIM Support
OS Dependent
Nonrecoverable Read Errors
Less than 1 sector per 1016 bits read
Performance
Sustained
Reads (up to)
501MB/s
Sustained
Writes (up to)
503MB/s
Random 4K Read4
Up to 60,000 IOPS
Random 4K Write4
Up to 60,000 IOPS
Read Latency
less than 0.1ms
Write Latency
less than 0.1ms
Power
Active Power
Less than 3000mW (3.0W) expected maximum draw
Idle Power
Less than 1200mW (1.2W)
Power Nap compatible
Environmental (Operating)
Temperature (°F)
32°F to 158°F
Temperature (°C)
0°C to 70°C
Environmental (Non-Operating)
Temperature (°F)
-67°F to 302°F
Temperature (°C)
-55°C to 150°C
Acoustics
Idle (Typical)
0.0 bels
Seek (Typical)
0.0 bels
OWC Envoy Pro Specifications:
Chipset
High-performance ASMedia 1053e chipset
Interfaces Supported
Port Configuration
USB 3.0 interface (Micro-B port)
Max Data Transfer Rate
One Micro-B USB 3.0 port, up to 500MB/s
Features
Bus-powered* via USB 3.0 port (no AC adapter required)
Complements rMBP design, anodized aluminum finish
Super-quiet, fanless operation
Non-skid rubber feet
System Requirements
Mac® Requirements: Mac OS 10.3 or later and an available and supported USB 3.0 port.
PC Requirements: Windows XP or later and an available and supported USB 3.0 port.
Linux® Requirements: Linux OS versions and an available and supported USB 3.0 port.
Cooling
Silent, fanless operation
Power Supply
Bus-powered* via USB port (no AC adapter required)
Drive Requirements
Compatible with the stock Apple Flash SSD module for the 13" or 15" MacBook Pro Retina model.
External Case Dimensions
2.125 in (W) x 4.5 in (D) x .4375 in (H)
53.98 mm (W) x 114.3 mm (D) x 11.11mm (H)
Enclosure Weight (no accessories)
3.4 ounces (empty case, no drive installed)
Product Manual
Operating Environment:
Temperature
Dependent on mechanism installed
Relative Humidity
Dependent on mechanism installed
Shock
Dependent on mechanism installed
Vibration
Dependent on mechanism installed
Warranty
1 Year OWC Solution Limited Warranty
The best warranty is one you never have to use, but should the need occur – OWC is proud to provide a superior level of support and warranty coverage to our customers. Even when not used, we understand the peace of mind afforded by a longer warranty period. OWC's industry leading coverage is a testament to our confidence in the reliability of the solutions that we offer. OWC solutions are engineered to demanding quality standards in order to deliver the most reliable, highest performance available on the market in each storage category.
View more information about the 1 Year OWC Solution Limited Warranty
IMPORTANT NOTE: The OWC Envoy Pro enclosure has been specifically designed for use ONLY with the factory SSD found installed in 2012-Early 2013 Apple MacBook Pro with Retina™ display models. Do NOT attempt to install or use the OWC Aura SSD in the Envoy as you can damage the Aura drive, the Envoy enclosure or both and such damage is not covered under warranty. To transfer data from the Apple SSD in the Envoy to the Aura SSD in the computer, please click here.
Manufacturer provided specifications for Other World Computing p/n SSDAP12K240 UPC#: 794504324457
*Requires USB 3.0 standard powered port. USB 2.0 use not supported or recommended.