OWC
1.0TB Aura Pro 6G SSD


Flash Internal Drive Upgrade
for 2012 MacBook Air
Designed for Mac
Once again, OWC provides Mac users an upgrade path that delivers higher performance, functionality, and reliability! With the 2012 base model 11" MacBook Air only offering a 64GB flash module and the base 13" model offering just a 128GB flash module, installing an Aura Pro 6G flash module can increase storage capacity up to 16X higher! Plus for the upgradeable models, unlike an upgrade from the factory at the time of purchase, this OWC bundle includes an Envoy to keep that factory flash module working for you as a super fast, external storage solution.

Now thanks to OWC and the Aura Pro SSD line, you can buy the MacBook Air you want today and enjoy higher performance whenever you're ready to upgrade. OWC's Aura Pro SSD provides up to nearly 16x the capacity of your MacBook Air's factory SSD, while offering faster performance.

Unlike the factory pre-configured models with no other SSD choices offered, the OWC Aura Pro 6G gives you the freedom to choose from a variety of sizes to meet your storage needs.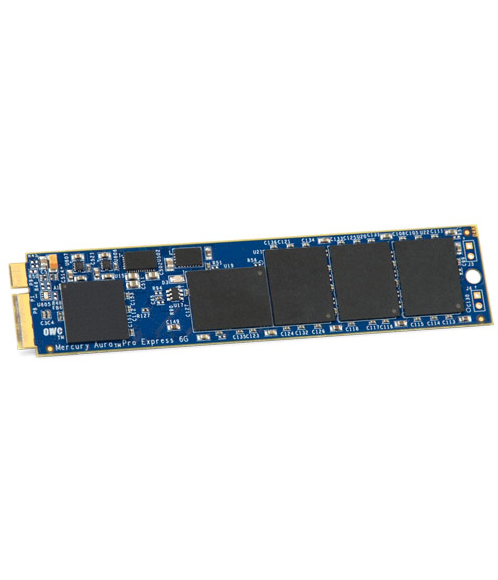 Better by Design
Aura Pro 6G SSD for MacBook Air 2012 is designed and built with premium tier-1 NAND flash. OWC SSDs are engineered to be the best for Mac, undergoing a rigorous 7-stage lab testing process to deliver absolute reliability at maximum performance long into the future.
Synchronous Interface NAND
To achieve the higher bandwidth potential of the SATA 6Gb/s bus standard, the OWC Aura Pro 6G SSDs utilize Tier-1 Synchronous NAND instead of commonly utilized Asynchronous NAND. Synchronous NAND enables reads and writes to be "synced" with the SSD processor's clock signal for maximum data throughput.
1.0TB Aura™ Pro 6G Specifications:
Specifications
Capacity1
960GB useable capacity
Total Flash Memory Components – 1024GB
64GB allocated to real-time data redundancy & error correction
Formatted Capacity2
894GiB
NAND
1GB DDR3
Controller
Tier 1 Major Multi-Level Cell (MLC) High-Performance Sync-NAND Flash
SMART Attributes
Silicon Motion SM2246EN Processor with 7% Over Provisioning
Native Command Queuing
Standard up to 32 commands
Manufacturer Model Number
OWCSSDA2A6G960
RoHS Compliant
Yes
Format
Reliability3
Data Reliability
Built-in BCH ECC: Up to 66 bits correctable per 1024 bytes
Security
Chip Based Data Encryption: 256-bit AES-compliant
TRIM Support
OS Dependent
Nonrecoverable Read Errors
Less than 1 sector per 1016 bits read
Warranty
Performance
Sustained
Reads (up to)
560MB/s
Sustained
Writes (up to)
460MB/s
Random 4K Read
Up to 74,000 IOPS
Random 4K Write
Up to 73,000 IOPS
Read Latency
less than 0.1ms
Write Latency
less than 0.1ms
Power
Active Power
2 Watts
Idle Power
.7 Watts
Power Nap compatible
Environmental (Operating)
Temperature (°F)
32°F to 158°F
Temperature (°C)
0°C to 70°C
Environmental (Non-Operating)
Temperature (°F)
-40°F to 185°F
Temperature (°C)
-40°C to 85°C
Acoustics
Idle (Typical)
0.0 bels
Seek (Typical)
0.0 bels
Manufacturer provided specifications for Other World Computing p/n SSDAP2A6G960 UPC#: 812437023497
Video
13" 2012 MacBook Air SSD install
11" 2012 MacBook Air SSD install
Warranty
The best warranty is one you never have to use - but should the need occur - we're proud to provide a superior level of support and service coverage to our customers.
5 Year OWC SSD Limited Warranty
OWC is proud to provide a superior level of support and warranty coverage to our customers. Even when not used, we understand the peace of mind afforded by a longer warranty period. OWC's industry leading coverage is a testament to our confidence in the reliability of the solutions that we offer. OWC solutions are engineered to demanding quality standards in order to deliver the most reliable, highest performance available on the market in each storage category.