OWC
1.0TB Aura Pro 6G SSD / Flash Internal Drive Upgrade


for 2012 MacBook Air
Upgrade Kit with Drive, Install Tools, + Envoy Pro
for Easy Data Transfer/Original Drive Reuse
Designed for Mac
Once again, OWC provides Mac users an upgrade path that delivers higher performance, functionality, and reliability! With the 2012 base model 11" MacBook Air only offering a 64GB flash module and the base 13" model offering just a 128GB flash module, installing an Aura Pro 6G flash module can increase storage capacity up to 16X higher!
Plus for the upgradeable models, unlike an upgrade from the factory at the time of purchase, this OWC bundle includes an Envoy to keep that factory flash module working for you as a super fast, external storage solution.
The Aura Pro 6G SSD features a suite of industry leading controller technologies for performance and reliability.
Global wear leveling algorithm automatically distributes data evenly and manages program/erase count, maximizing SSD lifespan.
StaticDataRefresh technology manages free space, gradually refreshing data across the SSD over time, enhancing data integrity.
Hardware BCH ECC corrects errors up to 66-bit/1KB for superior data retention and drive health.
Best-in-class power consumption
Advanced security protocols support AES 128/256-bit full-drive encryption
Everything you need in one package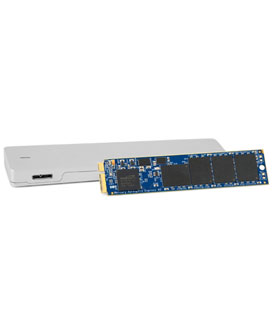 Highlights
One of the fastest Internal SSDs available.
Includes sleek, anodized aluminum Envoy Pro storage solution
Reuse the factory SSD via the OWC Envoy Pro as an external storage solution.1
Take your data with you — Small enough to keep in a pocket or laptop case
Easily add additional laptop storage with no AC adapter required.
Now thanks to OWC and the Aura Pro SSD line, you can buy the MacBook Air you want today and enjoy higher performance whenever you're ready to upgrade. OWC's Aura Pro SSD provides up to nearly 16x the capacity of your MacBook Air's factory SSD, while offering faster performance.
The Envoy Pro offers the perfect companion storage solution for your MacBook Air
Get the ultimate combination of elegance and functionality in a sleek, portable external storage solution designed to complement the MacBook Air - in both appearance and performance. Its super-speed USB 3.0 interface is capable of speeds up to 500MB/s to ensure your workflow moves as fast as you do, and is backwards compatible with USB 2.0. Its bus-powered design means no AC power adapter is required making it an ideal portable plug and play solution - just plug the USB cord into your computer and the Envoy Pro is ready to go.
Better by Design
Aura Pro 6G SSD for MacBook Air 2012 is designed and built with premium tier-1 NAND flash and backed by a 5-year warranty. OWC SSDs are engineered to be the best for Mac, undergoing a rigorous 7- stage lab testing process to deliver absolute reliability at maximum performance long into the future.
Important Note: The OWC Envoy Pro enclosure has been specifically designed for use ONLY with select Apple Flash SSDs from most 2013 to 2015 Mac models. Do NOT attempt to install or use an OWC Aura, Aura Pro, Aura Pro X or Aura Pro X2 SSD in the Envoy Pro as you can damage the OWC SSD, enclosure, or both. Such damage is not covered under warranty.

Please Note: The OWC Envoy Pro enclosure is not compatible with stock Apple Toshiba drives. Please see the Knowledge Base article on Envoy Pro (PCIe): Apple Stock Drive Compatibility for further details.
1.0TB Aura™ Pro 6G Specifications:
Specifications
Capacity1
960GB useable capacity
Total Flash Memory Components – 1024GB
64GB allocated to real-time data redundancy & error correction
Formatted Capacity2
894GiB
NAND
1GB DDR3
Controller
Tier 1 Major Multi-Level Cell (MLC) High-Performance Sync-NAND Flash
SMART Attributes
Silicon Motion SM2246EN Processor with 7% Over Provisioning
Native Command Queuing
Standard up to 32 commands
Manufacturer Model Number
OWCSSDA2A6G960
RoHS Compliant
Yes
Format
Reliability3
Data Reliability
Built-in BCH ECC: Up to 66 bits correctable per 1024 bytes
Security
Chip Based Data Encryption: 256-bit AES-compliant
TRIM Support
OS Dependent
Nonrecoverable Read Errors
Less than 1 sector per 1016 bits read
Warranty
Performance
Sustained
Reads (up to)
560MB/s
Sustained
Writes (up to)
460MB/s
Random 4K Read
Up to 74,000 IOPS
Random 4K Write
Up to 73,000 IOPS
Read Latency
less than 0.1ms
Write Latency
less than 0.1ms
Power
Active Power
2 Watts
Idle Power
.7 Watts
Power Nap compatible
Environmental (Operating)
Temperature (°F)
32°F to 158°F
Temperature (°C)
0°C to 70°C
Environmental (Non-Operating)
Temperature (°F)
-40°F to 185°F
Temperature (°C)
-40°C to 85°C
Acoustics
Idle (Typical)
0.0 bels
Seek (Typical)
0.0 bels
OWC Envoy Specifications:
Chipset
High-performance ASMedia 1051e chipset
Interfaces Supported
USB 3.0 interface Backwards compatible
Port Configuration
USB 3.0 interface (Micro-B port)
Max Data Transfer Rate
One USB 3.0 (Micro-B) port, up to 500MB/s
Drive Requirements
Compatible with the Flash SSD module used in 2010-2011 11.1" and 13.3" MacBook Air models.
Features
Integrated power/activity LED light
Non-skid rubber feet for secure placement on any surface
Durable painted aluminum body complements Mac aluminum finish
System Requirements
Macintosh: Mac OS 8.6 or later and an available and supported USB 3.0 port.
PC: Windows 98SE or later and an available and supported USB 3.0 port.
Linux: Linux OS versions and an available and supported USB 3.0 port.
UASP (USB Attached SCSI Protocol) Compliant
Cooling
Silent, fanless operation
Power Supply
Bus-powered via USB port (no AC adapter required)
External Case Dimensions
1.79 in (W) x 5.9 in (D) x tapered 0.279 in to 0.466 in (H)
Enclosure Weight (no accessories)
2.8 ounces (empty case, no drive installed)
Product Manual
Manufacturer provided specifications for Other World Computing p/n SSDAP2A6K960 UPC#: 812437024128
Video
13" 2012 MacBook Air SSD install
11" 2012 MacBook Air SSD install
Envoy SSD Install
Includes
OWC Aura Pro 6G SSD
Envoy Pro USB 3.0 bus-powered storage solution
Carrying case
USB 3.0 (Micro-B to Standard-A) connecting cable
Pentalobe compatible driver
Torx T-5 driver