OWC
ThunderBay 6 RAID


60TB 6-Drive HDD Storage Solution with Dual Thunderbolt 3 Ports
Mac / Windows PC / Thunderbolt 3 / DisplayPort 1.2 / RAID
Storage Maximizer for Multimedia Workloads
When it comes to big jobs and tight deadlines, you don't want anything to slow your workflow down. The content you create and edit tends to grow the more you work with it; your equipment needs to keep up. The OWC ThunderBay 6 provides an exceptional level of performance to help you meet the demands of your most complex projects.
Room to Move
Whether you're working with tons of small files or editing and streaming the latest 8K or VR footage, ThunderBay 6 enables you to complete your products faster, giving you more time to create. And with dual Thunderbolt 3 ports and a DisplayPort, integrating it into your workstation has never been easier.

ThunderBay 6 features six bays for hot-swappable hard drives or SSDs — or a combination — all housed in a rugged aluminum enclosure with an integrated power supply. Drives run quietly and are kept cool via a fan that operates quieter than a whisper
Want even more storage?
To keep your workflow on the cutting edge, we've included an additional slot for an M.2 NVMe SSD to help future-proof your storage needs. NVMe is an incredibly efficient communications interface protocol to properly take advantage of SSD technology and high-performance connection buses. The result is exponentially faster and more efficient SSD storage, ideal for additional storage or a scratch disk.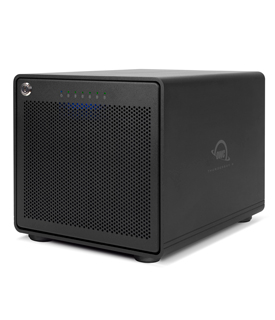 The better and simpler way to RAID
The RAID version of ThunderBay 6 comes configured for RAID 5, giving you the best combination for maximizing disk space, the fastest access speeds plus protection against disk failure. While other RAID levels may give you faster data access, or fail-safe data protection, no other RAID level combines speed, space, and safety so well. SoftRAID is also packed with features from active predictive disk failure monitoring to multiple array volume spanning. SoftRAID from OWC brings technology typically found only in data centers to your workstation or editing bay. It constantly monitors your disks, alerting you when a disk is becoming unreliable and is likely to fail. Replacing a failing disk before it fails saves you precious uptime.
Storage pools
ThunderBay 6, coupled with Windows Storage Spaces (available in Windows 10), allows you to create storage pools and simple, mirror or parity spaces based on the mix of data protection and performance you need. If you run low on capacity, just add more ThunderBay units to the storage pool.
Expand and connect as needed
Link up to six Thunderbolt units together with Thunderbolt's daisy-chaining capabilities. Combined with our SoftRAID technology, you can configure a storage solution tailored to your unique workflow. SoftRAID can create volumes that span multiple arrays or generate a nested RAID configuration for even greater performance and protection.

As a member of the OWC external storage line, ThunderBay 6 eliminates bottlenecks in accessing, transferring or archiving your work. Use it with your Thunderbolt 3 equipped Mac or Windows PC to take your workflow to the next level.
Certified, Tested and Backed by OWC
From the seamless aluminum enclosure and slip-resistant feet to the multi-hour drive "burn-in" performance certification procedure ThunderBay 6 is designed and built to the highest standards or reliability and performance. This ensures your ThunderBay 6 arrives operating properly, ready for demanding use.
Quality You Can Trust
Our commitment doesn't end there. Along with our OWC Limited Warranty, you can rely on OWC's award-winning, U.S.-based support for your ThunderBay 6.
Product Specifications:
Software Requirements
macOS 10.12 or later1
Windows 10 or later
Hardware Requirements
Mac or PC featuring Thunderbolt 3 interface
Mac or PC featuring Thunderbolt or Thunderbolt 2 interface1
Interface (Chipset)
(1) Thunderbolt 3 (JHL6540)
(1) DisplayPort
Max Transfer Rate
Thunderbolt 3: 40 Gb/s (5000 MB/s)
JBOD / RAID Support
JBOD: Utilize each of the six drives independently
Includes SoftRAID XT with support for RAID 5, 4, 0, 1, and 10
RAID: Use any Software RAID of your choice to setup for multi-drive performance or data redundancy
Initial Configuration
Standard Mechanism
*1GB = 1,000,000,000 bytes. Total accessible capacity varies depending upon operating environment (typically 5-10% less). The actual total capacity will depend on your own defined file settings/preferences.

**OWC reserves the right to replace or upgrade to equivalent or better components.
Drive Interface
Power
Power Supply

Internal UL-listed universal auto-switching
AC input: 100 ~ 240V
Kensington Lock Slot
LED
Yes (Power and disk activity)
Environmental
Ambient Temperature

Operating: 41°F to 107.6°F (5°C to 42°C)
Non-Operating: −40°F to 149°F (−40°C to 65°C)

Humidity

Operating: 8% to 90% non-condensing
Non-Operating: 5% to 95% non-condensing
Dimensions
Height: 18.4 cm (7.2 in)
Length: 24.1 cm (9.5 in)
Width: 19.7 cm (7.8 in)
Weight
1. If using an optional NVMe M.2 drive with a 512-byte block size, macOS 10.13 or later is required.
2. For units purchased prior to 12/24/18, please see the OWC ThunderBay 6 Support Page for instructions on how to update your ThunderBay's firmware.
Manufacturer provided specifications for Other World Computing p/n TB36SRT060 UPC#: 810586030786
Benchmarks
Click any of the benchmarks below to view the results.
macOS RAID 0 Test Results
macOS RAID 4 Test Results
Includes
OWC ThunderBay 6
(1) Thunderbolt 3 cable
(1) External power cable
(2) keys for front panel lock
ThunderBay 6 User Guide
SoftRAID XT User Guide
Videos