OWC
Mercury Pro LTO


2.0TB SSD LTO-8 Thunderbolt Tape Storage/Archiving Solution
Preserve Huge Volumes of Data
M&E professionals, corporations, government branches, and small businesses are all facing the same challenge: how to manage an ever-increasing amount of more complex data. Higher resolution, complex audio, and diverse formats are the project norm. Organizational content is projected to grow 50-70% annually as more data is digitalized. Licensing, regulatory, and compliance requirements are becoming more stringent.
The OWC Mercury Pro LTO is the answer to this challenge. This easily integrated tape backup and archiving solution is a mission-critical requirement for protecting and preserving huge volumes of data for longer periods with familiar drag-and-drop operation, and better economies of scale than disk-based storage. Ruggedly small with a built-in handle, the Mercury Pro LTO is able to go on-set or move among studio, department, or office computers for a shared data protection solution.
Archiving Made Drag and Drop Easy
There's a priceless convenience of familiarity in using the OWC Mercury Pro LTO to protect your data. By using archiving industry standard Linear Tape Open (LTO) tapes formatted with the Linear Tape File System (LTFS), the tapes can be accessed on your computer just like a hard drive or SSD. Files appear in folders and moving them to and from tape is drag-and-drop easy. Compatibility has never been simpler. Thanks to LTFS, LTO tapes can be read from a Mac, PC, or Linux system so there's no extra software to buy or proprietary hardware concerns.
Advanced Yet Future-Ready
Because LTFS is an open, cross-platform system, and LTO tape is the dominant archiving medium that has continued to advance since being introduced in 2000, you can be confident knowing you'll be able to access your data with any brand of LTO hardware for decades to come. The Mercury Pro LTO uses the latest 12TB LTO-8 tapes, the previous generation 6TB LTO-7 tapes, and is designed to use future release LTO-9 drives.
Plus, the pre-installed SSD enables you to copy data and projects as a staging area and then transfer to the LTO tape for efficient, consolidated large single copies.
Instant ROI
Compared to using hard drives for archival storage, the OWC Mercury Pro LTO offers an instant ROI, and pays for itself in no time by continually and dramatically lowering project and production costs.
120TB of Footage Data from One Action Movie Shot
10 x 12TB HDDs @ $300/drive = $3000
10 x 12TB LTO-8s @$135/tape = $1350 (55% lower cost)
20 x 6TB HDDs @ $120/drive = $2400
20 x 6TB LTO-7s @$56/tape = $1120 (53% lower cost)
That's over 50% savings vs HDD-based archive storage on just one project!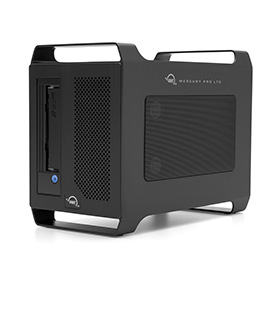 Highlights
Store more: up to 12TB native, up to 30TB1 compressed storage capacity per tape cartridge
Flexible: built-in IBM-LTO-8 drive reads and writes LTO-8 and LTO-7 tapes
Store longer: up to 30-year tape longevity
Instant ROI: Lowest cost storage format; as low as $0.02/GB and up to 50x less costly than online storage
LTFS compatible: archive files/folders with drag and drop ease
Simple interface: mount, format, and backup to an LTO tape and hard drive simultaneously via included myLTO® app
Secure: supports AES 256-bit encryption for sensitive data
Compliance ready: supports WORM cartridges required by legal/regulatory record keeping
Fast tape creation: up to 360MB/s native, up to 900MB/s

1

compressed transfer rates
Expansive: second Thunderbolt 3 port 3 for adding up to five additional Thunderbolt devices or your choice of a USB-C or DisplayPort device
See more: DisplayPort 1.4 for connecting up to an 8K display2
Charge while working: 85W of notebook charging
Transportable: Compact form factor with built in handles for moving between set and studio
Complete: Includes LTO-8 12TB data tape, cleaning tape, and Thunderbolt cable
Lower Lifetime Costs with Far Greater Life Expectancy
A 10-year Total Cost of Ownership (TCO) Study performed by the Enterprise Strategy Group comparing the costs of long-term storage on disk, LTO tape, and cloud had a staggering revelation. LTO tape-based archiving offers a 577% ROI! That's because LTO-tape offers the lowest cost per TB storage format combined with the longest life expectancy among all storage options.
Meets Stringent Regulations
Whether you need to keep sensitive data secure during transportation, or ensure irreplaceable data will be archive protected, the OWC Mercury Pro LTO enables healthcare, financial, and related industries to meet strict legal and regulatory procedures for data confidentiality and integrity. Advanced Encryption Standard (AES) 256-bit encryption conceals your data from unauthorized access by making it readable only by the Mercury Pro LTO. By using a WORM (Write Once, Ready Many) LTO tape, you can store your data in a non-erasable, non-rewritable format to prevent accidental overwrite or malicious data alteration.
The Perfect Solution for A Variety of Industries
LTO Tape archiving is used by a wide variety of industries for diverse needs:
Anyone seeking offsite data storage that is separated from the read/write host.
Businesses desiring database and content backup protection against ransomware, cyber-attacks, and operations disruption due to natural disasters.
Local/State/Federal Government agencies with ISR (Intelligence, Surveillance, Reconnaissance) workflows; video and files related to law/ordinance passage and day-to-day operations.
Healthcare providers and organizations with medical records and imaging data.
Educational institutions needing to keep a myriad of data - including research - produced by students, teachers, and professors accessibly protected while freeing up more costly storage options for short term use and backup.
Video surveillance operations with increasing number of higher resolution colorized cameras.
Motion Picture industry production companies needing to meet bondable and insurable archive requirements
Digital media companies can free up production disk capacity and shorten production windows by reusing and editing existing footage for new productions.
Simple Workflow Integration and Expansion
The Mercury Pro LTO enables you to archive data seamlessly in your workflow via the included Thunderbolt 3 cable connected to your Mac or PC. You can also optionally enhance your workflow by:
Connecting a USB 3.0, USB-C, or Thunderbolt 3 device to the Mercury Pro LTO's second Thunderbolt 3 port for added functionalities.
Adding a second display with up to 8K resolution via the DisplayPort 1.4 interface.
Keeping your notebook charged with the 85W Thunderbolt 3 port.
Use Case Spotlight: Netflix Data Management Requirements
LTO solutions like the Mercury Pro LTO have become a workflow requirement for production companies like Netflix to safeguard original camera footage, provide off-site backup, and fulfill long-term archiving of series and films.
Employing a 3:2:1 rule, Netflix specifies its partners must:
Hold at least 3 copies of all Original Camera Footage (OCF) and audio at all times.
Store the copies on 2 different types of media.
Maintain at least 1 backup offsite.
In every "rule" and well as in their acceptable archival formats, Netflix lists LTO tapes as a critical component in meeting their partner data management requirements.
Secure Your Workflow with OWC ClingOn
Greatly reduce, if not eliminate, cable strain and accidental disconnects in active, heavy traffic flow workspaces with the OWC ClingOn. These custom cable stabilizers (sold separately) screw into the Mercury Pro LTO's housing and secure your Thunderbolt 3 and USB-C connections to prevent work session interruption and possible data loss.
Certified for Demanding Use
We understand having confidence in gear reliability is paramount to creative professionals. That's why every Mercury Pro LTO solution undergoes a multi-step performance certification prior to shipping. This ensures your archiving solution arrives operating properly and immediately ready for demanding use.
Completes the OWC Solution
Thanks to the Mercury Pro LTO, OWC now offers the film industry, corporations, government branches, and even small businesses a trustworthy "ingest to archive" single source. With portable data capture options like the
Thunderblade
,
Express 4M2
, and
Envoy Pro EX
; desktop options like
ThunderBay line-up
; and internal drive options like the
Accelsior 4M2
and
Mercury Extreme Pro 6G
2.5-inch SSD, OWC is the one project source that does it all for all those that create data.
30TB / 900MB/s with 2.5:1 data compression.
Full DisplayPort 1.4 capabilities depends on host computer support of DisplayPort 1.4 specification through its Thunderbolt 3 connection, host computer GPU capabilities, and connecting cable capabilities.
Apple Mac models with Thunderbolt and Thunderbolt 2 ports can connect to the OWC Mercury Pro LTO by using the Apple Thunderbolt 3 (USB-C) to Thunderbolt 2 Adapter (sold separately).
Product Specifications
Specifications
LTO Mechanism
LTO Speed (Max)

LTO-8: Up to 360MB/s native (900MB/s compressed)

LTO Media Supported
LTO Media Included

Fujifilm LTO-8 12TB data cartridge

LTO Cleaning Media
LTO Software Included

myLTO (Imagine Products Inc.)

Mechanisms Supported

2.5 inch SATA drives
3.5 inch SATA drives
2.5 inch SAS drives
3.5 inch SAS drives

Total Storage Capacity
Standard Mechanism

(1) 2.0TB OWC Mercury Extreme Pro 6G SSD
*1GB = 1,000,000,000 bytes. Total accessible capacity varies depending upon operating environment (typically 5-10% less). The actual total capacity will depend on your own defined file settings/preferences.
**OWC reserves the right to replace or upgrade to equivalent or better components.

Display Support

Up to one 8K display @ 60Hz,
or one 4K display @ 120Hz,
or one 5K display @ 60Hz,
or two 4K displays @ 60Hz,
or one 4K display @ 60Hz and one 4K display @ 30Hz,
or one 4K display @ 60Hz,
or one 4K display @ 30Hz

Display Support by Port

Thunderbolt 3: Up to 5K @ 60Hz via a native Thunderbolt 3 display or 4K @ 60Hz via a Thunderbolt display or a USB-C display adapter
DisplayPort 1.4: Up to 8K @ 60Hz or 4K @ 120Hz

Bootable
Chipset

Thunderbolt: Intel JHL7440

Certifications
Data Transfer Rate (Maximum)

Thunderbolt 3 : 40 Gb/s (or 5000 MB/s)
Reliability
MTBF (Mean Time Between Failures)

Varies depending on drive mechanism installed

Contact Start Stops

Varies depending on drive mechanism installed
Compatibility
Mac OS Compatibility

macOS 10.14 Mojave
macOS 10.15 Catalina

PC OS Compatibility

Windows 10 64-bit Edition

Other Requirements

Requires macOS 10.14.6 or later.
Mercury Pro LTO will work in Windows 10, but does not support hot plug/unplug during sleep/hibernate modes and may encounter issues.

Host Port Requirements
Driver Required

Download Driver Installation of the myLTO application, the Mercury LTO SAS driver, and related components are required before use and require a restart.
To learn more about myLTO please visit the online manual.
Power
Power Supply

Internal UL-listed universal auto-switching power supply

AC Input

90-264V, 47-63Hz, 1.0A-1.8A

DC Output
Wattage
External Power Adapter
Power Delivery

Two Thunderbolt 3 ports, one with 85W Power Delivery, one with 15W Power Delivery.
Physical
Number of Bays
Device Ports

(2) Thunderbolt 3 (USB-C) Ports
(1) DisplayPort Port

Cooling
Security Slot
Power Button
Power/Activity LED
Housing Color
Housing Material
Dimensions

Height: 23.2 cm (9.1 in)
Length: 29.2 cm (11.5 in)
Width: 15.5 cm (6.1 in)

Weight
Environmental
Ambient Temperature

Operating: 41°F to 95°F (5°C to 35°C)
Non-Operating: -4°F to 140°F (-20°C to 60°C)

Altitude

Operating: -304.8 m to 3,048.0 m (-1,000 ft to 10,000 ft)
Non-Operating: -304.8 m to 12,192.0 m (-1,000 ft to 40,000 ft)

Humidity

Operating: 8% to 90% non-condensing
Non-Operating: 5% to 95% non-condensing

Shock

Operating: Varies depending on drive mechanism installed
Non-Operating: Varies depending on drive mechanism installed
Acoustics
Noise

Varies depending on drive mechanism installed
Notes
Installation of the myLTO application, the Mercury LTO SAS driver, and related components are required before use and require a restart.
To learn more about myLTO please visit the online manual.
To prevent data loss on the LTO drive when the computer goes into sleep mode, the LTO drive and HDD/SSD will stay powered on as long as the power switch is in the ON position. For this reason, you may occasionally hear sounds from the LTO drive during computer sleep.
To understand the various status codes the drive may display, visit this page.
For additional usage notes including notes on data protection, please review the full Assembly Manual & User guide (linked in the Includes section).
Manufacturer provided specifications for OWC p/n OWCTB3LT8S02B
Includes
(1) OWC Mercury Pro LTO
(1) LTO-8 tape (12TB native, 30TB compressed)
(1) 1TB Extreme Pro 6G SSD
(1) Cleaning Cartridge
(1) myLTO Software
(1) Thunderbolt 3 cable
(1) Power Cable
(1) Quick Start Guide
5 Year OWC Limited Warranty