OWC
ThunderBay 4 mini


8.0TB Professional Grade 4-Drive SSD Thunderbolt 3 Solution For Mac and Windows PC
Featuring SoftRAID Lite XT
The Perfect Combination of Speed, Size, and Convenience for Permanent Access to Your Data
Big RAID System Performance in a Compact Design
The ThunderBay 4 mini is perfect for repurposing or maximizing 2.5-inch drives for a compact data storage solution. It's big on performance and flexibility, yet ThunderBay 4 mini is about the length of a pencil and can weigh as little as 3.1 pounds with drives.
The rugged heat-dissipating aluminum enclosure features two Thunderbolt 3 (Thunderbolt 2/Thunderbolt backward compatible) ports for up to 1556MB/s speeds, so you have more than enough bandwidth to handle personal and business backups — all the way up to today's highest resolution audio, photo, and video formats. If you are seeking big RAID performance that's small enough to fit on a desk, in a rack, or on a DIT cart, your wish is now a reality.
A New World of Drive Flexibility
With four drive bays, you can mix or match different brand and capacity 2.5-inch SSDs and HDDs. Use mixed drives independently or combine drives as a RAID with the included SoftRAID setup and management software. You can order as an empty enclosure and populate with your own drives, or choose a variety of pre-configured capacity solutions to achieve your desired balance of storage, performance, and data redundancy.
Install or Swap in Minutes
Want to access another drive or expand your storage capacity? Simply open the front panel security lock to access the four individual bays. Drives mount to a tray that slides back in and automatically plugs into a drive connector so you can get back to work in minutes.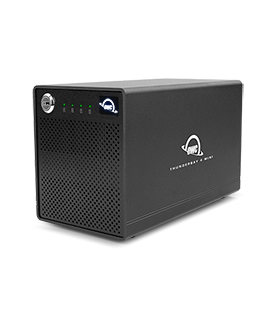 Store More, Go Faster
With the ability to daisy-chain you can add up to five additional ThunderBay 4 mini solutions to create massive storage capacities. Merge them with SoftRAID for even more flexibility, capacity, and capability. Or if speed is what you're after, connect multiple ThunderBay 4 mini solutions to multiple Thunderbolt 3 ports on your Mac or PC to achieve exponential speed capabilities.
Includes SoftRAID: Easy and Complete Drive Management
Now you can quickly access and robustly protect your data with SoftRAID XT. SoftRAID easy setup makes it a breeze to create RAID volumes by helping you through the entire process. With multiple RAID options, you decide what you're using your RAID volume for and how much space to allocate to it. It's that simple to create your preference of speed and/or redundancy for your data volume.
SoftRAID Highlights
Flexible: create RAID 0 and 1 volumes with SoftRAID Lite XT (Windows and Mac)
Verify: volume validation ensures sectors can be read, parity is correct, and any potential volume failure is minimized
Certified: drives are validated before use to ensure they are safe for data storage
Vigilant: predictive warnings help protect against unexpected drive failure
Cross-platform ready: SoftRAID Lite includes built-in MacDrive technology that lets you  read/write SoftRAID RAID 0 and RAID 1 arrays and use them interchangeably with Windows and macOS computers
Outperforms: up to 86% faster than AppleRAID
Thorough: full TRIM support improves internal and external SSD performance in all RAID levels
For additional RAID levels (4, 5, 1+0 (10)), email notifications and other features you will need SoftRAID XT.
Professional Grade = Ready to Work
We understand having confidence in gear reliability is paramount to creative professionals. That's why every ThunderBay 4 mini SSD solution a multi-step performance certification prior to shipping. This ensures your ThunderBay 4 mini arrives operating properly and immediately ready for demanding use.
Support You Can Trust
Like all OWC products, the ThunderBay 4 mini enclosure is fully backed by OWC's award-winning U.S.-based support team and a 3 Year OWC Limited Warranty.
Speed, size, and convenience — the OWC ThunderBay 4 mini provides everything a demanding workflow requires.
Product Specifications:
OWC Part Number
Mac OS Compatibility
PC OS Compatibility
Other Requirements
Driver Required
Ports
Number of Bays
Housing Color
Housing Material
Security Slot
Cooling Fan
Chipset
Thunderbolt 3: Intel JHL6540
SATA Controller: ASMedia ASM-1062
Standard Mechanism
*1GB = 1,000,000,000 bytes. Total accessible capacity varies depending upon operating environment (typically 5-10% less). The actual total capacity will depend on your own defined file settings/preferences.

**OWC reserves the right to replace or upgrade to equivalent or better components.
RAID Capable
RAID Levels Supported
RAID 0
RAID 1
Raid 0+1
Raid 4
Raid 5
Data Transfer Rate (Max)
Thunderbolt 3 : 40 Gb/s (or 5000 MB/s)
Bootable
Independent volumes bootable in macOS
Power Supply
External UL-listed universal auto-switching power supply
AC Input
DC Output
Wattage
Certifications
Environment
Environmental (Operating)

Temperature 41°F to 95°F (5°C to 35°C)
Altitude -304.8 m to 3,048.0 m (-1,000 ft to 10,000 ft)

Environmental (Non-Operating)

Temperature  -4°F to 140°F (-20°C to 60°C)
Altitude -304.8 m to 12,192.0 m (-1,000 ft to 40,000 ft)
Dimensions
Height: 11.7 cm (4.6 in)
Width: 9.6 cm (3.8 in)
Length: 19.1 cm (7.5 in)
Weight
Manufacturer provided specifications for Other World Computing p/n TB3QMLRS08TP UPC#: 810586032353
Benchmarks
Click any of the benchmarks below to view the results.
macOS RAID 0 Test Results
Windows RAID 0 Test Results
Includes
(1) ThunderBay 4 mini
(1) Thunderbolt 3 cable
(1) External power supply
(2) Keys for front panel lock
(1) Quick start guide
(1) SoftRAID Lite XT (Mac and Windows)
Videos