OWC Slim
USB 2.0 optical drive external solution
New Condition | Open Box | Mac / PC / USB 2.0 & 1.1
Add bus-powered, portable, Plug and Play CD,
DVD, and/or Blu-ray disc burning* to any
USB-equipped computer.
Outstanding Features
Express your digital life with style, convenience, and value!
The OWC Slim optical drive kit makes CD, DVD, and/or Blu-ray disc creation Plug and Play easy. A fast USB 2.0 interface and a lightweight design provides portable convenience and flexibility for use with both Macs and PCs. Now you can add high performance optical drive functionality with stylish value to notebook or desktop computers.
Compact and versatile — no AC adapter required!
The OWC Slim optical drive kit offers stylish mobile disc read/write ability with a sleek, totally bus-powered design. Just add your own 12.7mm slim tray-loading SATA optical drive** and take your digital life with you wherever you roam!
OWC NOTE:
This drive enclosure requires a 5.25″ SATA (Serial ATA) Slim 12.7mm tall drive mechanism. Please make sure that the drive you wish to use with this enclosure is compatible.
*disc read/write capabilities vary depending on installed drive
**This enclosure is also compatible with 12.7mm slot-loading SATA optical drives, but it is designed with a tray-loading drive in mind. If you install a slot-loading drive, such as an Apple SuperDrive from a 2009-2010 Mac mini or 2009-2011 iMac, the unit will look "naked" due to the lack of a front bezel, but will function correctly.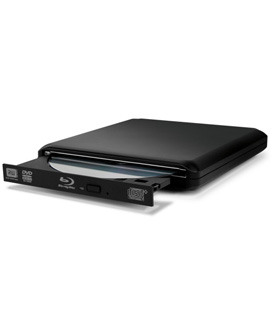 OWC's Step-by-Step Install Video