OWC Mercury Elite Pro RAID
0GB

Multi-Interface Performance RAID
Mac / PC / USB 2.0 & 1.1 / FireWire 800 / FireWire 400 / eSATA
"Add Your Own SATA Hard Drives"
When you want high style in high performance storage, look no further than the Mercury Elite Pro Dual-Bay . With the highest quality chipset and drive mechanisms built into a shock resistant portable aluminum enclosure, the Mercury Elite Pro Dual-Bay is ready to go wherever you need an A/V, Digital Photography, Professional Music, Graphics, General Data, and Time Machine ready storage solution.
Supports two 3.5" SATA hard disk drives
RAID Support: RAID 0, 1, SPAN & Independent Mode*
Up to 64MB data buffer
Up to 10,000RPM speeds
Oxford 946 chipset
Cool Blue drive activity indicator LED
Super quiet operation
Shock resistant aluminum enclosure
All connector cables included
Professional Grade Plug and Play Data Storage/Backup Performance with Superior Convenience and Reliability
With two 3.5" Serial ATA (1.5Gb/s, 3.0Gb/s, and 6.0Gb/s) hard drives offering massive storage capacity with up to 4TB per bay (4.0TB x 2), the latest Oxford chipset, and a Multi-Interface of FireWire 800/FireWire 400/ USB 2.0/eSATA connectivity, the Mercury Elite Pro Dual-Bay Multi-Interface Performance RAID Solution delivers up to 300MB/s data transfer speeds for demanding data storage and backup needs.
Hard Drive Not Included - Needs 3.5" Serial ATA (SATA) Hard Drive

OWC Note: OWC recommends that all drives used in RAID configurations be identical for best performance. For recommended hard drives, please click on the product specs tab below. Please make sure that the drives you wish to use with this enclosure are compatible. If you need an enclosure for an ATA/IDE hard drive,
click here.
*Unit will arrive pre-configured for RAID 0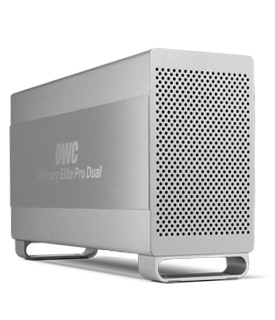 OWC's Step-by-Step Install Video
From day one, the OWC Mercury Elite Series has been designed to be everything you'd hope for and more!