OWC Mercury
On-The-Go™ Pro
100GB

USB 3.0 Storage Solution
Mac / PC / USB 3.0, 2.0 & 1.1
The OWC Mercury On-The-Go USB 3.0 Storage Solution provides maximum storage in an ultra-portable, totally bus powered design!
Stylishly engineered in a sleek, impact-resistant acrylic enclosure, the Mercury On-The-Go Pro incorporates shock-isolation technology to give maximum protection for your precious data inside. The Mercury On-The-Go Pro is a true must-have for users like you who are seeking High-Performance and Highly Reliable storage weighing less than 11 ounces and that is small enough to fit in your pocket.
Outstanding Features
Compact and Versatile
If you're looking for one of the most compatible mass storage solutions made, look no further! The OWC Mercury On-The-Go drive is all you'll need! The OWC Mercury On-The-Go has what it takes to truly work cross platform. The Mercury On-The-Go Pro is bus-powered, so it doesn't require an AC adapter!
Cool and Silent
The OWC Mercury On-The-Go's fanless design offers near silent operation while still keeping your drive cool. The built-in aluminum heatsink underneath the drive and passthrough cooling vents on the top of the case work in tandem to provide optimum results.
SuperSpeed Ready, Yet Backward Compatible
The OWC Mercury On-The-Go can be used with any Macintosh or PC with a USB 3.0/2.0/1.1 port. Now you can have SuperSpeed performance up to 500MB/s and compatibility with legacy machines!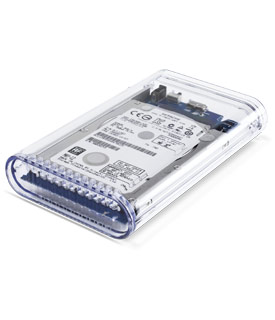 OWC's A Closer Look
Includes
OWC Mercury On-The-Go Pro USB 3.0 & 2.0 storage solution
High Quality Double Shielded USB 3.0 & 2.0 certified connecting cable
Carrying Case
Product Specifications:
Bus Interface
USB 3.0 / 2.0 & 1.1 Backwards compatible port.
Chipset
Standard Mechanism
*1GB = 1,000,000,000 bytes. Total accessible capacity varies depending upon operating environment (typically 5-10% less). The actual total capacity will depend on your own defined file settings/preferences.

**OWC reserves the right to replace or upgrade to equivalent or better components.
Drive Interface
Drive Cache Size
Drive Rotation Speed
Max Data Transfer Rate
USB 3.0 - 500MB/s
USB 2.0 - 60MB/s
Port/Interface Bootability
Can I use this solution as an external startup drive?
USB 3.0: Supported on Macs and PC's meeting minimum requirements. -
USB 2.0: Supported on Macs and PC's meeting minimum requirements. -
Format
System Requirements
Macintosh: Macintosh OS 8.6 to 9.2.2, OS X 10.2.x or later, and including 'Lion' 10.7.x , and an available USB 3.0 port. Time Machine® Compatible: Mac OS X 10.5 (version introduced) and later.
PC: Windows Vista, XP, 2000, NT, 98, and an available USB 3.0 port.
Linux: Linux compatible via supported the USB interface.
Power Supply*
Bus Power via USB on most computers with USB 2.0 port factory stock.
Optional AC Adapter* (available as a separate purchase here)

* AC adapter not required for most applications provided computer bus supplies appropriate power needs.
External Case Dimensions
3.5" (W) x 5.5" (D) x 1" (H)
88.9mm x 139.7mm x 25.4mm
Enclosure Weight (no accessories)
Software Included
Product Manual
Recommended USB 3.0 Cards
Operating Environment:
Temperature
(operating) 5°C - 55°C (41°F - 131°F)
(non-operating) -40°C - 65°C (-40°F - 149°F)
Relative Humidity
(operating) 8% - 90% RH (Non-condensing)
(non-operating) 5% - 95% RH (Non-condensing)
Shock
(operating) 70G 2mS;
(non-operating) 175G 2mS
Vibration
(operating) 1.0G (5 - 300Hz)
(non-operating) 5.0G (5 - 500Hz)
MTBF
More than 300,000 power-on hours
Load/Unload Cycles
Warranty
OWC 3 Year Solution Warranty
The best warranty is one you never have to use - but should the need occur - we're proud to provide a superior level of support and service coverage to our customers. OWC and NewerTech storage solutions come fully backed by an Industry-leading 48-hour turnaround time which includes complimentary Level 1 data recovery for the first year, plus additional data recovery options available throughout the warranty period, for complete peace of mind ownership confidence.
View more information about the OWC 3 Year Solution warranty
Note: Do not disassemble or otherwise open your OWC solution prior to the conclusion of OWC's 3 year Warranty period. Doing so will void the remainder of the OWC warranty.
Manufacturer provided specifications for Other World Computing p/n MSU35100GB8
Software
Prosoft Engineering® Data Backup 3
for OS X v10.2.8 or later
Backup Made Easy. Data Backup makes it easy to backup to FireWire and USB drives, network drives, CDs and even DVDs. Make schedules so you don't need to 'think' about backing up... It does it for you.
A $59.00 Value!
View detailed software info
, or
click here to purchase software
separately from solution

NovaStor NovaBACKUP®
Solution for Windows®
NovaBACKUP has been helping millions of users recover from data loss and disasters for over 18 years. Feature rich, NovaBACKUP provides a powerful backup solution. Built-in support for hundreds of the most popular storage devices and a step-by-step backup and restore wizard makes NovaBACKUP extremely easy to use. Requires Windows 2000 or later.
A $49.95 Value!
View detailed software info

Intech® SpeedTools Utilities™
Intech SpeedTools consists of a suite of utilities managed by an application which controls the launching, documentation and version control of each individual component utility, such as Disk Defrag and QuickBack. An easy-to-use installation and removal application is provided to make installation a snap, yet powerful enough to allow you to customize which utility component set you would like to create.
An $89.95 Value!
View detailed software info
, or
click here to purchase software
separately from solution