Seagate
IronWolf Pro


10.0TB NAS Hard Disk Drive
3.5-Inch | SATA 6.0Gb/s | 7200RPM | 256MB Cache
The Power of Agility for Everything NAS
Tough. Ready. Scalable.
For everything NAS, there's IronWolf and IronWolf Pro. Always on and always working, IronWolf is enhanced with AgileArray technology for optimal reliability and system agility. Multi-user technology and extreme workload rates allow IronWolf to perform and scale up with your enterprise..
IronWolf + the Power of AgileArray
NAS-optimized hard drive for the best-possible user experience.
IronWolf Health Management in Synology NAS1 continuously helps to safeguard the health of your data.
Drive balance with Rotational Vibration (RV) sensors manage multi-bay vibration for long-term consistent performance and reliability.
RAID performance optimized that maximizes responsiveness and uptime with NAS-aware Error Recovery Control.
Advanced power management saves energy and delivers the right power at the right time.
Actively Protect Your NAS with IronWolf Health Management1 in Synology DiskStations
Workload-aware monitoring providing peace of mind with notifications.
Synology DiskStation Manager 6.1 (DSM) notifications on drive health.
Intelligent analysis provides environmental and operational recommendations.
Automatically detects the IronWolf drive, which is DSM-compatible. No additional software or setup required.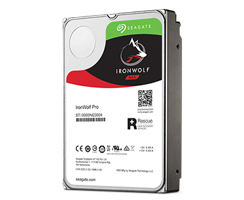 Highlights
SATA Revision 3.0 Interface (6.0 Gb/s)
Enterprise-class reliability & performance for cloud-based storage & NAS applications
1.2 million hours MTBF for enterprise-class reliability
300TB-per-year workload rating
Rescue Data Recovery Services included
Free Installation Videos
Applications
1-bay to 16-bay business network attached storage (NAS)
Backup, archiving and disaster recovery
On-premise private cloud
Virtual storage
Multi-Bay and NAS-Ready With Built-In RV Sensor
First in its class, IronWolf drives are equipped with RV sensors on high capacity drives to maintain performance in multi-bay NAS enclosures. RV sensors on IronWolf Pro come standard, helping business and creative pros to have consistent performance for years to come.
Do More With Multi-User Optimization
Do more with your NAS with multi-user optimization. Enabling user workloads of up to 180 TB/year on IronWolf and 300TB/year with IronWolf Pro, multiple users can confidently upload and download data to a NAS server. Whether you're a creative pro or a small business, IronWolf is on your side.
IronWolf Pro Comes With 2-year Rescue Data Recovery Service2
Your data is important and a Rescue plan provides peace of mind in case of unexpected data loss due to accidents or mechanical damage. The Rescue plan gives you access to a global team of world-class data recovery experts with 95% customer satisfaction rating.

Register your IronWolf Pro drive to activate your free Rescue plan and you are covered for 2 years. Extended coverage options available at registration.
Be Creative Anywhere With IronWolf and Your NAS
Extensible and reliable storage helps keep you and your creative business on schedule. IronWolf and IronWolf Pro are great companions for your NAS for 24x7 remote access, backups and file sharing from anywhere, making sharing ideas easy. For growing agencies and the need for more storage, IronWolf and IronWolf Pro are built to address NAS scalability challenges.
Grow Your Business NAS
A thriving small business needs storage that can thrive with it. IronWolf is optimized for NAS in multi-RAID environments that not only handle the vibration, but also the high user workload rate in a high data traffic network. Enter multi-user technology—up to 300TB/yr for IronWolf Pro.
Dominate The Media
Build your home NAS media empire with IronWolf HDDs. IronWolf and IronWolf Pro lead the class in storage capacity with drives as large as 10TB, and the performance needed to run high definition content with your NAS. Store thousands of full-length HD films and even more photographs on your private server. Think of it as your home cloud.
1. IronWolf Health Management currently in beta. Features subject to change.
2. Rescue recovery services not available in all countries. Please contact your Seagate sales representative for further details.
10.0TB Seagate IronWolf Pro NAS HDD Specifications:
Specifications
Form Factor
3.5″ HDD
Interface
SATA 6Gb/s
Capacity1
10.0TB
Formatted Capacity2
9313GiB
Rotational Speed
7,200 RPM
Cache / Data Buffer
256MB
Manufacturer Model Number
ST10000NE0004
Format
Physical
Height (max)
26.1mm (1.028″)
Width (max)
101.9mm (4.010″)
Length (max)
146.99mm (5.787″)
Weight (typical)
650g (1.4 lbs.)
Reliability3
MTBF (Mean Time Between Failures)
1,200,000 hours
Reliability Rating(@ Full 24x7 Operation (AFR))
0.73%
Sector Size (Bytes per Logical Sector)
512E
Power-On Hours (per year)
8760
Nonrecoverable Read Errors
1 per 1015 bits read
Multi_User Technology (TB/yr)
300
Performance
Max Sustained Transfer Rate OD (MB/s)
214
Average Latency (ms)
4.16
Interface Ports
Single
Rotational Vibration @ 10-1500 Hz (rad/s2)
12.5
Power
Startup Current, Typical (12V,A)
2.0 Amp
Average Operating Power
6.8 Watts
Idle Average
4.4 Watts
Voltage Tolerance (5V)
±5%
Standby Mode (Typical)
0.8 Watts
Sleep Mode (Typical)
0.8 Watts
Power Supply Requirements
+12V and +5V
Environmental (Operating)4
Shock: 2ms (Read/Write) (Gs)
70/40
Ambient Temperature (°F)
41°F to 140°F
Ambient Temperature (°C)
5°C to 60°C
Altitude
-304.8 m to 3,048 m (-1,000 ft to 10,000+ ft)
Environmental (Non-Operating)
Shock: 1ms and 2ms (Gs)
300
Ambient Temperature (°F)
-40°F to 158°F
Ambient Temperature (°C)
-40°C to 70°C
Altitude
-304.8 m to 12,192 m (-1000 ft to 40,000+ ft)
Halogen Free
Yes
Manufacturer provided specifications for Seagate p/n ST10000NE000