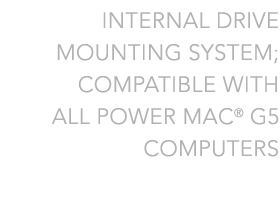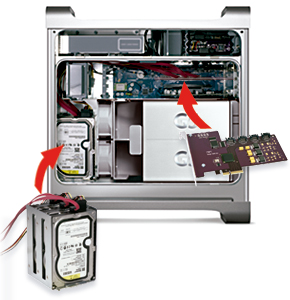 Sonnet's Tempo SATA E4i 4-port SATA host controller card for PCI Express is an ideal companion for the G5 Jive.

Technical Notes:
(1) Western Digital manufactures Desktop edition (WD Caviar, Caviar SE, Caviar SE16, and Raptor X) hard drives and Enterprise (RAID) Edition (WD RE, RE2, and Raptor) hard drives. Each type of hard drive is designed to work specifically in either a desktop computer environment, or connected to a RAID controller (hardware or software-based). If you intend to configure Western Digital drives in a RAID set, Sonnet and WD recommend using only their Enterprise edition hard drives.
Looking to add more drives to your perforated performer? Out of the box, your Power Mac G5 provides mounting support for only two hard drives (and one slot is already occupied), so if your needs are limited, that might work out just fine—but, what if you need more storage space than two drives can muster, and you don't want the added expense or desktop clutter of external storage? Check out the G5 Jive! G5 Jive provides secure anchorage for three additional drives and all the cables necessary to connect them to a Serial ATA host controller card—just add SATA drives to create the most cost-effective solution for adding high-performance storage capacity to a Power Mac G5. Using Mac OS® X Disk Utility or third party software and multiple drives, you can create a striped (RAID 0) set to achieve great read/write performance, or a mirrored (RAID 1) set for data security. For even greater flexibility and performance, an additional drive in the Power Mac G5's second drive bay can be included with the G5 Jive drives in a RAID 0 set—a four drive striped set can achieve data transfer rates up to 274 MB/s!
G5 Jive consists of a custom metal base plate and mounting bracket, mounting screws, three internal SATA data cables, and a custom-designed 3-drive SATA power cable. It mounts in the space at the bottom of the case beneath the optical drive, and its installation has zero impact on PCI slots and adapter cards. When combined with a high-performance Serial ATA host controller card like our Tempo SATA E4i or Tempo SATA X4i, G5 Jive makes it possible for you to add up to three additional internal drives for the best performance on the inside.
Key Benefits
Supports mounting of three Serial ATA hard drives

(1)

inside Power Mac G5
Most cost-effective way to add high-performance storage capacity
Includes all necessary mounting hardware and cables (SATA host controller card, such as Tempo SATA E4i or Tempo SATA X4; sold separately)
Custom-designed 3-drive power cable simplifies installation and reduces clutter
Installation does not interfere with PCI cards
Mac Compatibility
Power Mac G5 (all models)
Technical Specifications
Hardware

Warranty
1 Year Manufacturer Warranty
Cable Connectors
Serial ATA
Drives Supported
1.5 & 3 Gb per second Serial ATA
Bracket Dimensions
4.5 x 6 x 4.125" (114.3 x 152.4 x 104.78mm)
Weight
1.5 lbs
Package Contents
Drive bracket, mounting screws, custom power cable harness, three (3) Serial ATA data cables, Installation Guide
Specifications subject to change without notice.