Sonnet
Presto


10GbE SFP+ PCIe Card
Mac / PC / PCIe
10 Gigabit Wired Networking
Ultra-Fast 10 Gb/s Network Connection
With increasing demands for greater data transfer speeds and more bandwidth over shared networks, and with specialized applications such as HD video editing using high-performance shared storage systems, it's no wonder that 10 Gigabit Ethernet (10GbE) use has skyrocketed—this high-speed wired networking standard offers ten times the performance of Gigabit Ethernet, the common wired network connection included with most computers today. Sonnet offers a powerfully simple way to add dual-port 10GbE connectivity to your Mac Pro® tower or Windows® PC—the Presto™ 10GbE SFP+.
Simple Set-Up. High-Performance Computing.
The Presto 10GbE SFP+ dual-port 10 Gigabit Ethernet PCI Express 2.0 adapter card enables you to connect your computer to high-speed infrastructure and storage without stepping down in speed. Setup is simple—after installing the low-profile card into an available x8 or x16 PCIe slot in your computer, just download and install a driver, connect to the switch or device's 10GbE port via LC fiber optic cables (SFP+ transceivers and fiber cables sold separately), or copper cables (sold separately), and then configure the card through the OS X® Network control panel or Windows Device Manager. This Sonnet solution is perfect for high-performance computing where low latency, high bandwidth, and low CPU overhead are required.

Its increased throughput performance and low host-CPU utilization are achieved through functions such as support for flow control, 64-bit address support for systems using more than 4GB of physical memory; and stateless offloads such as TCP, UDP and IPv4 checksum off2loading, enabling your computer to perform better while large files transfers or high I/O operations take place. With its dual ports, this Sonnet adapter supports transparent failover to keep your computer connected in case a single cable is disconnected or one of the ports fails, and it also supports link aggregation for increased throughput!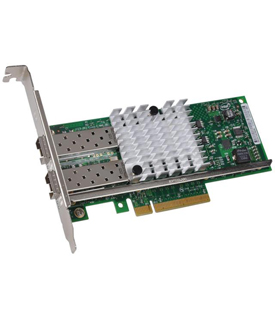 This Card Adds:
Two SFP+ Transciever Interfaces

Requires:
See specifications below for system and/or OS compatibility information
Highlights
Adds 10GbE Connectivity to Mac Pro Towers and Windows PCs
Optimized for Thunderbolt
Connection Flexibility
Simple Setup
Supports Wake-on-LAN
Supports Transparent Failover
Supports Link Aggregation (Teaming)
Flexibility of Short-Range or Long-Range SFP+ Transceivers
Sonnet offers two SFP+ transceiver options (sold separately), a short-range module (up to 300 meters, part number G10E-SFP-SR), and a long-range module (up to 10 kilometers, part number G10E-SFP-LR) that connect the Presto card via LC fiber optical cables (sold separately) to a network switch or storage. Alternatively, you can use cost-effective direct-attached SFP+-terminated copper cables up to 10 meters long (sold separately).
Optimized for Thunderbolt
Got a Thunderbolt connection, but no PCIe slot? Presto 10GbE SFP+ is ideal for use in Thunderbolt-to-PCIe card expansion systems — the combo enables you to add ultra-fast 10GbE network connections to any Mac or Windows PC with a Thunderbolt 2 port.
Product Specifications:
Sonnet Part Number
Transceiver Interface Type
Form Factor
Bus Interface
Network
Controller
Data Rate Supported Per Port
Maximum packet size
15872 bytes (jumbo frames)
Advanced Features
Flow control support
Message Signaled Interrupts (MSI)
RSS (Receive-Side Scaling)
Interrupt coalescing
Multicast filtering
64-bit address support
Stateless Offloads
TCP, UDP and IPv4 checksum offloading
TSO (TCP Segmentation Offload, AKA Large Send Offload)
LRO (Large Receive Offload)
OS Supported
OS X 10.8.5 and later
Windows 7 or later (64-bit edition)
Windows Server 2008 or later
RoHS Compliant
Warranty
Connection requires SFP+ transceiver modules (with LC fiber optical cables; sold separately), or SFP+-terminated "Direct Attach" twinax copper cable (sold separately).
Creating Intel ANS teams and VLANs on Windows 10 is currently not supported. As a result, when created, teams and VLANs do not pass traffic. Sonnet expects that ANS will be supported on Windows 10 client in a future release.
Manufacturer provided specifications for Sonnet Technologies p/n G10E-SFP-2XA-E2 UPC#: 732311011924