Targus Cool & Secure Laptop Kit
Cooling Chill Mat with DEFCON Cable Lock
Maximize notebook performance by keeping the notebook cool during use.
Two fans maximize notebook performance and generate cool air to help prevent the notebook from overheating. The Chill Mat can be used in the office to protect furniture from heat damage, or on the go to protect your lap from notebook heat. Four rubber feet keep your notebook in place on the Chill Mat to avoid slipping and provide a sturdy workspace. The Chill Mat is highly portable for travel and plugs directly into your notebooks' USB port so no AC adapter is required.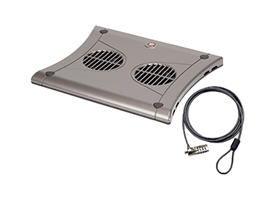 Protect your notebook computer and its valuable data with this affordable security product.
Nearly 1,000 notebook computers are stolen everyday. The Targus DEFCON Combo Lock is 6.5 feet of cut- resistant, vinyl-coated, galvanized steel cable that loops around any secure object and easily attaches to any notebook computer equipped with a lock slot. The DEFCON Combo Lock features a user- settable combination lock with up to 10,000 possible combinations.
Product Specifications
Manufacturer Part Number
Chill Mat Dimensions
Chill Mat Weight
DEFCON Locking Device
Up to 10,000 user-settable combinations
DEFCON Cable Material
DEFCON Cable Diameter
DEFCON Cable Length
DEFCON Weight
Warranty
Manufacturer provided specifications for Targus p/n BCA021 UPC#: 092636711528
Package Contents
Targus Laptop Cooling Chill Mat
Targus DEFCON® Combination Cable Lock
Security Base Plate with install guide
Velcro cord keep
Manual