Ten One Design
Pogo Connect


Bluetooth 4.0 Smart Pen
The Future
Just Got A Little Brighter
The smartest iPad pen
Pogo Connect puts the fun back into sketching or taking notes on iPad. It's a bluetooth pen that allows you to draw with different line widths on an iPad. It's simple to set up, and works with many drawing and note-taking apps. It's also great for handwriting because it can help the iPad ignore your palm and wrist.
Exotic pressure technology
Under its tame exterior, Pogo Connect sports a wild new patent pending technology called a Crescendo Sensor. Here's what the Crescendo Sensor can do:
It's amazingly sensitive, with 0 grams of activation force.
It works at all angles.
It requires no calibration.
It provides hundreds of levels of pressure.
Best of all? No moving parts, making it incredibly reliable.
Turn it on, leave it on
You should never have to think about batteries or charging. Pogo Connect makes it easy. Pogo Connect uses Bluetooth Smart technology to extend the battery to extraordinary levels.

How many hours of continuous use? Perhaps you mean how many months? All from the included AAA battery. Turn it on. Leave it on. Draw whenever you'd like.
Rest easy
Remember what you thought it'd be like to take notes on an iPad? Smart looking glasses, your iPad in one hand, a pen in the other, hastily scribbling down something important in your own handwriting? It's a bit trickier in practice. Your handwriting suffers from trying to pivot off the edge where you won't make accidental marks.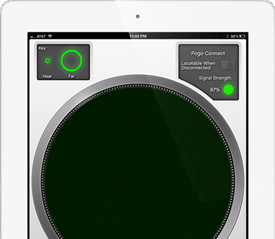 Pogo Connect is engineered to help apps ignore your palm. Compatible applications will let you rest your hand anywhere, and only respond to the pen tip. Phew!
Sudden Attraction
Pogo Connect tips are attached magnetically. Putting a new one in is a snap.
Getting warmer
Pogo Connect transmits a signal that allows you to track down its location. This makes Pogo Connect the first pen that's impossible to lose.
You can use an iPhone or iPad to display your estimated distance to the pen. The distance information is displayed in a radar-style view, transforming finding a lost pen into a fun game.
A free
Pogo Connect app
is available to help you track down your pen.
Product Specifications:
Ten One Design Part Number
System Requirements
Full size iPad 3 or later*
iPad mini (app support coming soon)
iOS 5.1 or later
* Note to owners of iPad (original) or iPad 2: If you have access to an iPhone 4s or the new iPhone 5, use it to download the free Pogo Bridge app from the App Store. Running this app on your iPhone will bridge the connection between your Pogo Connect and apps running on your iPad. Check to see if your favorite apps supports iPad 1 or 2 by clicking the "more" link under each app description in the "Apps" tab. If your favorite app isn't compatible with the bridge, send a quick email to the developer.
App Compatibility
Adobe Photoshop Touch
Paper by FiftyThree
SketchBook Pro
Procreate
GoodNotes
FlipBook
ArtSense
ArtStudio
IbisPaint
Image Blender
You Doodle
SketchClub
Zen Brush
DeepSketch
NoteShelf
SmartNote
PDFPen for iPad
NoteBinder
Dimensions
5.1" x 0.46" (130 x 11.7 mm)
Weight
Warranty
Manufacturer provided specifications for Ten One Design p/n T1-PGCT-302 UPC#: 847643000116
Video