Ulead
VideoStudio DV

Version 5.0
PC Software
VideoStudio 5.0 eliminates the steep learning curve associated with video editing
Movie Making for Everyone
Drag-and-drop control for quick and easy video creation
Ulead VideoStudio DV 5.0 is a complete consumer video editing application that allows users to capture and edit video through USB Instant Video. Designed with an intuitive interface for beginners, VideoStudio also includes powerful functionality such as batch capture, and scene detection for easy video acquisition, and storyboard and timeline modes.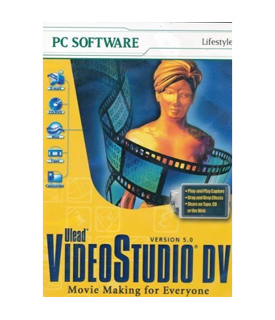 Storyboard and Timeline views allow for enhanced workflow. Over 100 adjustable transitions, such as dissolves and wipes, create seamless and visually appealing edits. Use customizable video filters for stylish effects, and touch up flawed video with contrast and color adjustments. Add professional-looking titles, including 3-D titles, and graphics. You can also have unlimited scrolling titles for end credits.

When you're finished creating your video, there are numerous options for sharing your work with others. You can output directly to a DV camcorder or VCR, video Web page, or electronic greeting card. Popular Web video formats are supported, including QuickTime, RealVideo, and Windows Media. If you have hardware that supports MPEG-2, you can edit frame-accurate MPEG-2 files, or make DVD-compliant video files for DVD-ROM.
System Requirements
Minimum System Requirements (PC)
Platform: Windows Windows 98, 98SE, 2000, Me or NT 4.0 with Service Pack 6
Processor: Pentium 300 or better (optimized for Pentium IV)
RAM: 64MB (128MB recommended)
Storage: 300MB (4GB recommended for video files)
Drive: CD-ROM or DVD-ROM
Sound card
Video capture support: WDM & VFW compliant capture devices, USB capture devices, IEEE-1394 (FireWire) devices
Manufacturer provided specifications for Ulead p/n 99929917