Western Digital
1.0TB

WD Black Hard Disk Drive
3.5-Inch | SATA 6.0Gb/s | 7200RPM | 64MB Cache
Maximum Performance for Power Computing
The Next Generation in Desktop Performance
Western Digital's all new next-generation WD Black drives deliver improved performance that heightens the experience of your PC playground. These performance drives offer enhanced features over the previous generation to maximize system performance, allowing you to have more fun creating while spending less time waiting
Inspiring performance and capacity
For the creators, the gamers and those that demand the best, WD delivered the next generation of hard drives to enlarge your computing playground. The latest WD Black desktop hard drives offer enhanced features that maximize system performance, allowing you to spend more time doing what you love most and less time waiting. WD Black is designed to intensify your experience with generous capacity and incredible performance, pushing the boundaries of personalization.
For the Gamer... Smarter than the average drive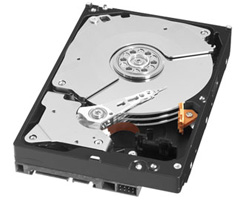 Highlights
Applications
Power computing applications such as multimedia
Video and photo editing
Maxed out gaming computers
Performance and workstation PCs equipped with high-end components often omit vibrations and acoustics that can reduce the precision and performance of your hard drive. Even the best chassis on the market cannot always compensate against this. The new generation of WD Black hard drives feature Vibration Control Technology (VCT) which allows the disks inside the drive to adapt to any mounting problems or vibration conditions that are inside your case, resulting in increased data accuracy, performance and reliability over time. Put simply, this means you can game harder, faster and longer.
For the Enthusiast... Action meets stable traction
In addition to Vibration Control Technology (VCT), WD Black is also equipped with StableTrac Technology, which secures the motor shaft inside the drive at both ends to help reduce additional system-induced vibrations. StableTrac confidently stabilizes the platters inside, resulting in more accurate tracking in a particular sector during read and write operations and delivers increased performance.
For the Creative Pro... High resolution for a high definition world
Underlying its athletic stance of performance and capacity, WD Black features a new High Resolution Controller (HRC) with an improved architectural design, resulting in increased data precision across the hard drive. This translates to superior responsiveness evolving your high definition world to the next level.
Efficient dual processing
When it comes to processing power, more is always better. WD Black features a dual core processor that offers twice the processing power to maximize drive performance. Adding additional value, WD's Dynamic Cache Technology increases performance by improving caching algorithms in real time and optimizing the cache allocation between reads and writes. This results in the drive automatically allocating more cache for read data, which reduces data congestion and increases overall performance.
Protecting your moments
The worst thing that can happen during a rendering process is losing data due to power fluctuation or power failure. The new generation of WD Black hard drives is equipped with Corruption Protection Technology (CPT), which helps to protect and limit the potential problem of data loss during power failure or power loss to the hard drive. Overall, Corruption Protection Technology can save you time and money on your project.
Advanced Format Technology
Advanced formatting optimizes hard drives to take advantage of the capabilities of newer operating systems. This capability enables hard disk drive manufacturers the ability to design larger capacity hard drives, now and into the future.
1.0TB Western Digital WD Black Specifications:
Specifications
Form Factor
3.5″ HDD
Interface
SATA 6 Gb/s
Capacity1
1.0TB
Formatted Capacity2
931GiB
Rotational Speed
7200 RPM
Cache / Data Buffer
64MB
Manufacturer Model Number
WD1003FZEX
Format
Physical
Height (max)
26.1mm (1.028″)
Width (max)
101.6mm (4.00″)
Length (max)
147mm (5.787″)
Weight (typical)
0.69kg (1.52 lbs.)
Guaranteed Sectors
1,953,525,169
Reliability3
Warranty
5 Year Western Digital Warranty
Performance
Transfer Rate (Max)
6 Gb/s
Power
Read Power
6.80 Watts
Write Power
6.80 Watts
Idle Mode
6.10 Watts
Standby Mode
0.80 Watts
Sleep Mode
0.80 Watts
Environmental (Operating)
Shock
30 G max at 2ms
Ambient Temperature (°F)
32°F to 140°F
Ambient Temperature (°C)
0°C to 60°C
Vibration
20-300 Hz, 0.75 G (0 to peak)
Relative Humidity (non-condensing)
5% to 95%
Altitude
-1,000 feet to 10,000 feet
Environmental (Non-Operating)
Shock
300 G max at 2ms
Ambient Temperature (°F)
-40°F to 158°F
Ambient Temperature (°C)
-40°C to 70°C
Vibration
20-500 Hz, 4.0G (0 to peak)
Relative Humidity (non-condensing)
5% to 95%
Altitude
-1,000 feet to 40,000 feet
Acoustics
Idle (Typical)
2.9 bels
Seek (Typical)
3.0 bels
Manufacturer provided specifications for Western Digital p/n WD1003FZEX UPC#: 718037786469
Warranty
The best warranty is one you never have to use - but should the need occur - we're proud to provide a superior level of support and service coverage to our customers.
90 Day OWC Replacement Warranty
OWC is proud to offer an extended replacement window of 90 days on new internal hard disk drives. Once a return authorization number has been issued and we receive the problematic drive back, you will get a brand new replacement drive, rather than a factory refurbished drive.
5 Year Western Digital Warranty
After 90 days, the drive is fully backed by the manufacturer to be free from defects in material and workmanship for the remainder of the five year warranty period.