Western Digital
1.0TB

Scorpio Blue Hard Drive
2.5-Inch | SATA 6.0Gb/s | 5400RPM | 8MB Cache
Performance. Efficient. Mobile.
Western Digital's Scorpio Blue Hard Drive offers high performance, low-power consumption and easy portability. Scorpio Blue doesn't just leave a small physical footprint, its cooling system and near-silent operation separate it from the crowd. It's perfect for people with notebooks or other portable devices that depend on high performance while on the go.

To make drive selection simple, Western Digital gathered all their popular 5400RPM WD Scorpio drives under one umbrella called "WD Scorpio Blue." Built to award-winning quality standards, these drives offer a full range of performance features.
Is This Thing On?
Scorpio Blue is so quiet, the person sitting at the next table in the café will probably wonder why you are tapping away while your computer is off. Meanwhile, you will be getting your work done without being bothered by the "whrrr" of an incessantly spinning hard drive.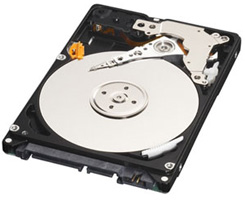 Highlights
Applications
Portable digital devices of all kinds
Notebook computers
External storage
Digital media players
WD's exclusive WhisperDrive makes Scorpio Blue one of the quietest 2.5" drives on the market. The same technology that makes it run so quietly also significantly improves its energy consumption. Not only will your drive be nearly silent, your notebook will have an immense battery life.
Big Capacity for Your Big Ideas
Scorpio Blue SATA drives are available in capacities up to 1.0TB for notebooks and external devices. The drive is perfect for users who depend on robust software for their livelihood but still need enough room for their music, photos and video files.
Brains With a Side of Brawn
Scorpio Blue is rugged enough to pass the test of time. WD's ShockGuard technology protects the drive's components from electrical shocks. Their SecurePark technology ensures that the drive's recording head never touches the disk surface, resulting in less wear and tear and long-term reliability.
So Fast You're Never Furious
Even the most demanding professionals will be pleased with Scorpio Blue's performance. Its 5400RPM spin speed will keep your software running smoothly, and its 6Gb/s SATA interface speed make transferring data a breeze.
Plays Nice with Others
WD does not put a product on the market until it is thoroughly tested in their FIT Lab and Mobile Compatibility lab. Scorpio Blue is no exception. Before it works its way into your notebook or mobile device, you already know it has been tested on hundreds of systems and a plethora of platforms. You can be confident Scorpio Blue will get along with your system as easily as an old friend.
1.0TB Western Digital Scorpio Blue Specifications:
Specifications
Form Factor
2.5″ HDD
Interface
SATA 6Gb/s
Capacity1
1.0TB
Formatted Capacity2
931GiB
Rotational Speed
5400 RPM
Cache / Data Buffer
8MB
Manufacturer Model Number
WD10JPVX
Format
Physical
Height (max)
9.5mm (0.374″)
Width (max)
69.85mm (2.75″)
Length (max)
100.2mm (3.94″)
Weight (typical)
0.11kg (0.24 lbs.)
Guaranteed Sectors
1,953,525,168
Performance
Transfer Rate (Max)
6.0 Gb/s
Average Latency
5.50ms
Power
Read Power
1.4 Watts
Write Power
1.4 Watts
Idle Mode
0.59 Watts
Standby Mode
0.18 Watts
Sleep Mode
0.18 Watts
Environmental (Operating)
Ambient Temperature (°F)
32°F to 140°F
Ambient Temperature (°C)
0°C to 60°C
Altitude
-1,000 feet to 10,000 feet
Environmental (Non-Operating)
Ambient Temperature (°F)
0°F to 149°F
Ambient Temperature (°C)
-40°C to 65°C
Relative Humidity (non-condensing)
5% to 95%
Altitude
-1,000 feet to 40,000 feet
Acoustics
Idle (Typical)
2.4 bels
Seek (Typical)
2.5 bels
Manufacturer provided specifications for Western Digital p/n WD10JPVX UPC#: 718037800936
Warranty
The best warranty is one you never have to use - but should the need occur - OWC is proud to provide a superior level of support and service coverage to our customers.
2 Year Western Digital Warranty
OWC is proud to offer an extended replacement window of 90 days on new internal hard disk drives. Once a return authorization number has been issued and we receive the problematic drive back, you will get a brand new replacement drive, rather than a factory refurbished drive. After 90 days, the drive is fully backed by the manufacturer to be free from defects in material and workmanship for the remainder of the two year warranty period.