Western Digital
4.0TB

WD Black Performance Desktop Hard Drive
3.5-Inch | SATA 6.0Gb/s | 7200RPM | 256MB Cache
Inspiring Performance. Demanding Capacity.
Performance for power users
WD Black™ performance storage is designed to enhance your PC experience across heavier computing tasks whether you are a digital artist, video editor, photographer, or gamer. Available with an impressive 256MB of DRAM cache, the WD Black PC drive is optimized for drive performance so you can spend more time experiencing the things you love most. Enhance your PC's performance even further when you combine a WD Black drive with an SSD for a dual drive con guration, allowing you to benefit from the additional caching of your operating system onto the SSD for increased performance.
For Creative Professionals
When it comes to storing your creativity and entire digital portfolio, look no further than WD Black performance storage for your best solution. Use the WD Black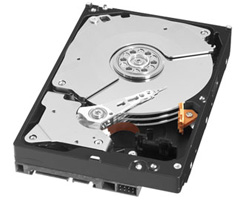 Highlights
Applications
Power computing applications
Video and photo editing
Maxed out gaming computers
Desktop / Consumer RAID Environments
(tested and recommended for use in consumer-type RAID 0 and 1 applications)
drive for storing your large multimedia files of photos, videos, games or applications and programs because with a WD Black drive, you get the best combination of speed, capacity and large cache sizes.
For Gamers
The WD Black drive is the perfect storage solution for your gaming machine by offering large capacities to store your game's downloadable content (DLC), large cache sizes, and it is the perfect compliment for maximum system performance when combined with an SSD. The WD Black drive also includes StableTrac™ Technology (2TB and larger models) for more accurate data tracking and help to reduce any impact due to vibrations from additional gaming hardware.
Increased Reliability
The WD Black drive is equipped with StableTrac Technology (2TB and larger models) by securing the motor shaft inside to increase reliability and help reduce impact due to system-induced vibrations from other components. By stabilizing the platters inside, the WD Black drive results in more accurate tracking in a particular sector during read and write operations, optimizing performance and reliability.
Increased DRAM cache
The WD Black drive delivers high-speed transfer speeds and read rates of your files with impressive cache sizes of up to 256MB of DRAM on the high capacity models. WD's Dynamic Cache Technology improves caching algorithms in real time to allocate and optimize cache between reads and writes. This movement of cache for read data helps to reduce congestion and increase overall performance.
Efficient dual processing
When it comes to processing power, more is always better especially for loading games or large multimedia files. The WD Black drive features a dual-core processor that offers twice the processing capability as a single- core processor to maximize drive performance for faster read and write speeds.
Industry-leading 5-year limited warranty
WD Black hard drives pass more strenuous and aggressive internal testing over a longer period of time, which is why the WD Black drive is backed by an industry-leading 5-year warranty.
4.0TB Western Digital WD Black Specifications:
Specifications
Form Factor
3.5″ HDD
Interface
SATA 6 Gb/s
Capacity1
4.0TB
Formatted Capacity2
3724GiB
Rotational Speed
7200 RPM
Cache / Data Buffer
256MB
Manufacturer Model Number
WD4005FZBX
Format
Physical
Height (max)
26.1mm (1.028″)
Width (max)
101.6mm (4.00″)
Length (max)
147mm (5.787″)
Weight (typical)
0.72kg (1.58 lbs.)
Guaranteed Sectors
7,814,037,168
Reliability3
Load/unload Cycles
300,000
Nonrecoverable Read Errors
<1 per 1014 bits read
Performance
Transfer Rate (Max)
6 Gb/s
Power
Read Power
9.10 Watts
Write Power
9.10 Watts
Idle Mode
5.80 Watts
Standby Mode
1.00 Watts
Sleep Mode
1.00 Watts
Environmental (Operating)
Shock
30 G max at 2ms
Ambient Temperature (°F)
41°F to 131°F
Ambient Temperature (°C)
5°C to 55°C
Vibration
20-300 Hz, 0.75 G (0 to peak)
Relative Humidity (non-condensing)
5% to 95%
Altitude
-1,000 feet to 10,000 feet
Environmental (Non-Operating)
Shock
300 G max at 2ms
Ambient Temperature (°F)
-40°F to 158°F
Ambient Temperature (°C)
-40°C to 70°C
Vibration
20-500 Hz, 4.0G (0 to peak)
Relative Humidity (non-condensing)
5% to 95%
Altitude
-1,000 feet to 40,000 feet
Acoustics
Idle (Typical)
2.9 bels
Seek (Typical)
3.6 bels
Manufacturer provided specifications for Western Digital p/n WD4005FZBX UPC#: 718037856001
Warranty
The best warranty is one you never have to use - but should the need occur - we're proud to provide a superior level of support and service coverage to our customers.
90 Day OWC Replacement Warranty
OWC is proud to offer an extended replacement window of 90 days on new internal hard disk drives. Once a return authorization number has been issued and we receive the problematic drive back, you will get a brand new replacement drive, rather than a factory refurbished drive.
5 Year Western Digital Warranty
After 90 days, the drive is fully backed by the manufacturer to be free from defects in material and workmanship for the remainder of the five year warranty period.