XFX
Radeon RX 580 GTS Black Edition


PCIe AMD Graphics Card
PC / DisplayPort / HDMI / DVI / PCIe
1405MHz OC+, 8GB 256bit GDDR5, DX12 VR Ready
Next Level Graphics Performance
Get future ready technologies, optimized game performance, and game changing control in the latest Radeon™ RX 580 Series Graphics. Radeon RX 580 Series Graphics feature the latest Polaris architecture which includes the 4th Gen GCN graphics cores, a brand new display engine, new multimedia cores, all on the revolutionary Next FinFET 14 process technology for enhanced performance and efficiency.
Unprecedented efficiency on nextgen GPUs
The Next Gen FinFET 14 process technology puts more transistors in less space, enabling dramatic increases in processing power and power efficiency. This helps provide better processor performance while using less power and enabling better transistor efficiency than previous generation technology.
Equipped for gaming and mining
XFX knows enthusiasts like options, so their RX 570 and 580 graphics cards are shipped with a Dual BIOS. If you want optimal gaming performance just install it and go. For cryptocurrency mining, simply shut the system down and flip the BIOS switch on the card. The mining BIOS is already tuned to give increased mining hashrates without hassle.
BIOS controlled overclocking
Software controlled clock speeds can be hindered by overall computer performance. XFX's True Clock however is hardware controlled clock speed performance optimization, so your card is always running at an optimized performance level.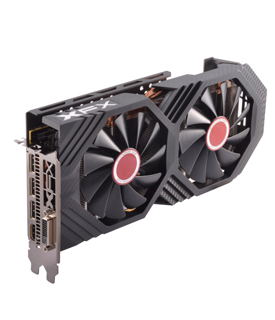 Highlights
FinFET 14nm Technology
GCN 4th Generation Architecture
Advanced GDDR5 Memory Technology
Vulkan and Mantle Ready. Next Generation APIs
1405MHz OC+ Core Clock Speed
8000 MHz Effective Memory Clock
HDMI 2.0b
Displayport 1.4
Power when you need it and quiet when you don't
XFX fans are equipped to run at the highest possible performance, while their Zero DB Fan System will also keep your fans running at efficient RPM in order to minimize annoying fan noise by lowering RPM all the way down to Zero RPM. When the heat is on during intense gaming, the fans will speed up as needed.
Exceptionally comfortable VR
Experience beautifully rich and immersive VR experiences with advanced comfort and effortless compatibility. Avoid nausea and motion sickness, made possible by the AMD LiquidVR™ initiative, featuring ground breaking Asynchronous Shaders. The Radeon™ RX 500 graphics cards, combined with AMD LiquidVR™ technology already in use by leading head-mounted display (HMD) vendors, provides an exceptional platform for a fully immersive and comfortable VR experience.
AMD FreeSync™ 2 Technology
No stuttering. No tearing. Just gaming. Gaming shouldn't be a choice between choppy gameplay and high performance. With XFX Radeon™ RX GTS Series graphics and FreeSync technology, it doesn't have to be. Transform the most demanding games into a liquid-smooth, artifact-free, 4K cinematic experience with the highest performance at virtually any frame rate. FreeSync works at the speed of your game for incredible responsiveness and uncompromising smoothness. Every gamer deserves perfectly smooth gameplay and peak performance. Unlike the competing technology, you don't have to choose with FreeSync technology.
Multidisplay technology for gaming, productivity and entertainment
Expand your territory and customize your field of vision. Connect up to six displays on a single GPU for dynamic, panoramic multi-screen gaming. You'll get an expansive experience that's truly out of sight. (additional displays may require the use of MST hub).
Expand the range of colors
Premium HDR - High Dynamic Range (HDR) is a state-of-the-art technology for gamers and cinephiles that care deeply about the display quality of their TV or monitor. Modeled after the acuity of human vision, HDR vastly expands the range of colors and contrast ratios that can be shown by compatible displays. HDRready games and movies played on an HDR display appear strikingly sharp, colorful, and vivid, with enhanced contrast and sophisticated nuance compared to even the most stunning SDR content.

The Radeon™ RX 500 Series graphics card's brand new display engine and HDR ready capabilities equip you for the new wave of HDR displays, content and the future of gaming.
Ready for the latest displays
Radeon™ GPUs with the Polaris architecture support HDMI® 2.0b and DisplayPort™ 1.3 for compatibility with a new generation of monitors that would make any gamer excited.
Great performance, even on the go
Should a PC gamer on the go buy a gaming notebook that's tough to carry, or a thin notebook that's tough to game on? AMD XConnect™ unlocks the best of both worlds on systems designed for Thunderbolt™ 3 eGFX enclosures. Finally you can use a desktop graphics card on a notebook.
Product Specifications:
XFX Part Number
System Requirements
Interface
Resolution
DisplayPort 1.4: 4096 x 2160 maximum resolution per display
Dual-link DVI: 2560 x 1600 maximum resolution
HDMI 2.0b: 4096 x 2160 maximum resolution
Ports 1
(1) HDMI
(3) DisplayPort
(1) Dual-Link DVI-D
GPU
1386 MHz Core Clock
1405 OC+ Clock (MHz)
14 nm Chip
2304 Stream Processors
Video Memory
8GB Size
256-bit GDDR5
8000 MHz Effective
Dimensions
Height: 27.0 cm (10.6 in)
Length: 12.4 cm (4.9 in)
Width: 4.0 cm (1.6 in)
1. Audio output through HDMI or DisplayPort will not work in a Mac. For PC, use HDMI 2.0 or DisplayPort for best audio quality.
Manufacturer provided specifications for XFX p/n RX-580P828D6 UPC#: 778656075399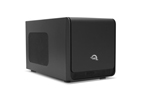 OWC Mercury Helios FX
Thunderbolt 3 PCIe
eGPU chassis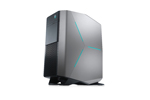 PC Desktops
Compatible with Intel / AMD Processor based PCs running Windows, which meet the specifications listed.