XFX
Radeon RX 580 GTS XXX Edition


PCI-E AMD Graphics Card
PC / DisplayPort / HDMI / DVI / PCIe
1366MHz and 8GB 256bit GDDR5
Next Level Graphics Performance
Extraordinary performance and efficiency
Get future ready technologies, optimized game performance, and game changing control in the latest Radeon™ RX 580 Series Graphics. Radeon RX 580 Series Graphics feature the latest Polaris architecture which includes the 4th Gen GCN graphics cores, a brand new display engine, new multimedia cores, all on the revolutionary Next FinFET 14 process technology for enhanced performance and efficiency.
FinFet 14nm Technology
The Next Gen FinFET 14 process technology puts more transistors in less space, enabling dramatic increases in processing power and power efficiency. Helps provide better processor performance while using less power and enabling better transistor efficiency than previous generation technology.
Designed for Vulkan Cross Platform Graphics
Vulkan is the new generation, open standard API for high-efficiency access to graphics and compute on modern GPUs. This ground-up design, previously referred to as the Next Generation OpenGL Initiative, provides applications direct control over GPU acceleration for maximized performance and predictability.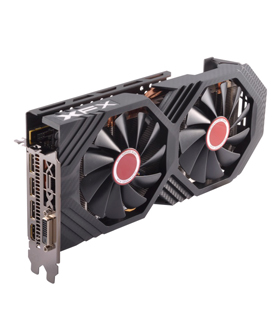 Enhanced VRM and Memory Cooling
After countless hours of research, development, and testing XFX's engineers have developed all new VRM and Memory cooling technology, reducing temperatures VRM by up to 30° C and GDDR temperatures by 20° C, all while reducing dB noise by an additional 5%. Best in class for the GPU enthusiast.
XFX Dual BIOS Mining
Enthusiasts like options, which is why RX 580 graphics cards are shipped with a Dual BIOS. If you want optimal gaming performance just install it and go. For cryptocurrency mining, simply shut the system down and flip the BIOS switch on the card. XFX's mining BIOS is already tuned to give increased mining hashrates without hassle.
Latest Display Connections
Radeon GPUs with the Polaris architecture support HDMI® 2.0b and DisplayPort™ 1.3 for compatibility with a new generation of monitors that would make any gamer excited.
Product Specifications:
XFX Part Number
System Requirements
Interface
Resolution
DisplayPort 1.4: 4096 x 2160 maximum resolution per display
Dual-link DVI: 2560 x 1600 maximum resolution
HDMI 2.0b: 4096 x 2160 maximum resolution
Ports 1
(1) HDMI
(3) DisplayPort
(1) Dual-Link DVI
GPU
1366 MHz Core Clock
1386 OC+ Clock (MHz)
14 nm Chip
2304 Stream Processors
Video Memory
8GB Size
256-bit GDDR5
8000 MHz Effective
Dimensions
Height: 27.0 cm (10.6 in)
Length: 12.4 cm (4.9 in)
Width: 4.0 cm (1.6 in)
1. Audio output through HDMI or DisplayPort will not work in a Mac. For PC, use HDMI 2.0 or DisplayPort for best audio quality.
Manufacturer provided specifications for XFX p/n RX-580P8DFD6 UPC#: 778656074644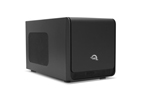 OWC Mercury Helios FX
Thunderbolt 3 PCIe
eGPU chassis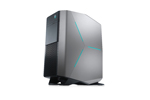 PC Desktops
Compatible with Intel / AMD Processor based PCs running Windows, which meet the specifications listed.