Dual Thunderbolt 2 | RAID Ready | 4 Drive Bays | Mac & PC
The Speed You Need
Four 3.5" drive bays
Incredible Thunderbolt 2 performance up to 858MB/s
Ultra quiet, heat dissipating aluminum chassis
Rigorously pre-tested with multi-hour burn-in
Plug and play RAID Ready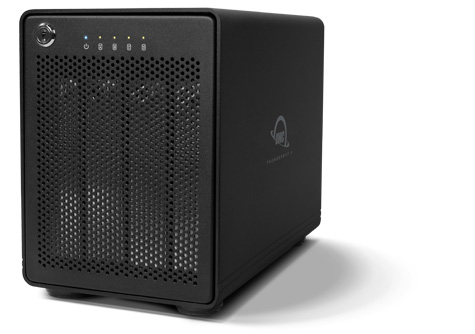 UP TO
858
MB/s
READ / WRITE
Also see OWC ThunderBay 4 RAID Edition with RAID 5
up to 48TB from $479.99

Edit, view, stream, and produce more with ThunderBay in your 2K, 4K, and audio production workflow.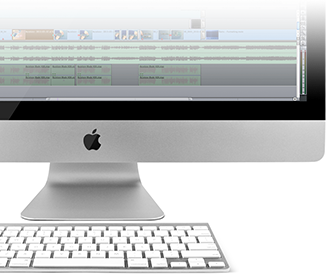 Designed with performance in mind and engineered to harness the power of Thunderbolt 2, ThunderBay 4 is an incredibly flexible external drive with the throughput to support multi-stream compressed 4K video and other bandwidth-intensive operations. Highly configurable to perfectly match your performance needs. Use each drive independently, or in the RAID configuration of your choice for the optimal balance of performance and data-redundancy. Get the most out of your storage, take the brakes off your workflow, and do more with a ThunderBay 4.

Each ThunderBay undergoes OWC's multi-hour drive "burn-in" performance certification procedure prior to shipping. This ensures your ThunderBay arrives operating properly and ready for demanding use.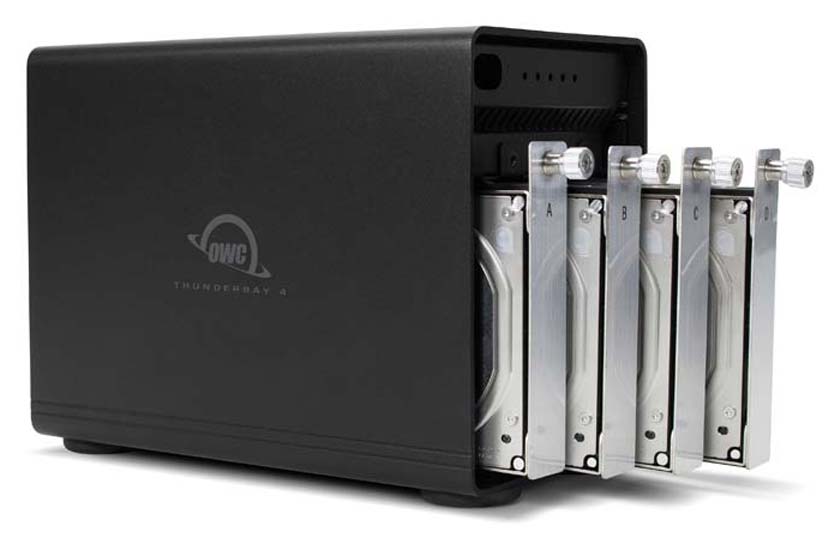 Time-Tested Cooling

Built on OWC's time-tested enclosure cooling technology, ThunderBay utilizes an open "flow-thru" vented design with an oversized 92 mm, low-turbulence, noise-quieting fan to keep the drives running cool and reliably.

Vibration Dampened

ThunderBay's drive isolating design reduces sonic resonance, and is aided by over-sized, rugged, vibration-absorbing, non-skid feet.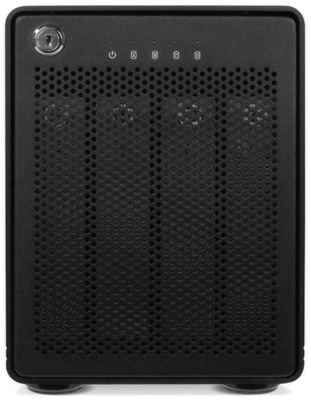 Multi-Drive

Daisy-chain up to six ThunderBays for massive storage capabilities and increased performance, or connect multiple ThunderBays to multiple Thunderbolt 2 ports to achieve exponential speed capabilities.

DisplayPort 1.2 Support

Dual Thunderbolt 2 ports let you connect the display of your choice that your computer can support, including 4K displays.

OWC Thunderbolt Cable

ThunderBay 4 comes with a certified OWC Thunderbolt cable, with other lengths from 0.5 meter to 30 meters available separately.
Connect to Thunderbolt 3 Systems with Ease
The OWC ThunderBay 4 harnesses the power of Thunderbolt which provides upwards compatibility with Thunderbolt 3 (at Thunderbolt 2 speeds). Whichever interface your workflow demands, it's easy to integrate OWC ThunderBay 4's massive capacity and performance capabilities. Add a
Thunderbolt 3 (USB-C) to Thunderbolt 2 Adapter
and you're all set.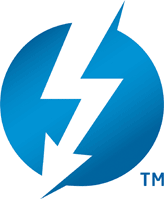 "OWC's ThunderBay 4 brings to the market capacities that have yet to be seen in such a compact medium, as well as the performance and data security that only RAID 5 can provide!"
– Les Tokar, The SSD Review
OWC ThunderBay 4 Family
Explore the full ThunderBay 4 family of high-performance external storage with incredible Thunderbolt transfer speeds.