External Storage
High-performance storage solutions perfect for everything from Time Machine backups to Hollywood film production.
Looking for drive enclosures?
Shop now »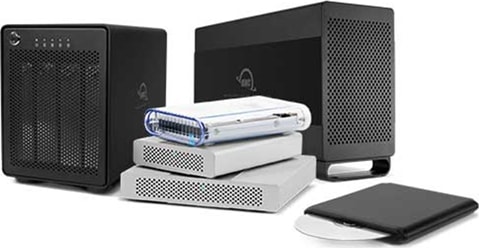 External Hard Drives for Mac and PC
Do you need to expand the storage capacity on your Mac or PC? External hard drives make it as easy as plugging in a cable. You can use them to backup large files, documents, photos, and other vital data, and they come in handy when you need to transfer files between computers. They're available in various sizes, from portable models you can transport in a bag to larger, standalone devices designed to sit on your desk. Some can even provide data transfer speeds that are much faster than even your existing internal hard drive, allowing you not only to store more data but transfer and retrieve data from the drive much more quickly.
Connectivity options
When shopping for an external hard drive for Mac or PC, you'll want to be sure that the interface is compatible with your computer. Most Macs and some higher-end PCs are compatible with Thunderbolt connectivity, which provides fast data transfer rates of up to 40Gbps. You can also connect drives via USB 3 and USB-C ports, eSATA, and FireWire interfaces. While not as fast as Thunderbolt, USB 3 and C interfaces can provide up to 5Gb/s or 10Gb/s data transfer speeds, respectively, and handle most of your demanding tasks. But suppose you're looking for something offering different connection types. In that case, you'll find some external hard drives with multiple connection options available in one device.
Choosing the right external storage solutions
Thunderbolt can support audio, data, power, and video in one port, so it's very convenient. And if you're working with large data files, such as video, one with Thunderbolt connectivity can provide you with the faster performance your workflow demands. So, which is the best external hard drive?
External SSD hard drive
If durability is one of your top priorities, an external SSD hard drive may be your best option. There are various models designed with blazingly fast Thunderbolt connectivity. SSDs don't have any moving parts and are much lighter, faster, and use less energy than traditional hard drives.
RAID drives to protect your data
Suppose you're a videographer or creative professional working with tons of data. Can you imagine losing all your hard work? In that case, a RAID drive can provide you with the data protection you need. RAID drives incorporate drive redundancy by saving your data multiple times across multiple hard drives. Having multiple copies on the RAID ensures that you'll be able to recover your data even if a drive fails.
Portable hard drives
Are you a creative professional that carries videos or photos to clients or is often handing off files to colleagues to make their changes or edits? If you need to access data on the go regularly, you'll want to consider hard drive designed with portability in mind. A good portable hard drive design strips away the weight, so they're easy to carry along with you.
External storage enclosures
But maybe you need an external drive and don't want to spend too much money on a new one. In that case, you can install an existing internal hard drive that you already have into an external storage enclosure. Using an external enclosure can become an ideal external hard drive for MacBook Pro and other laptop models while saving you money.
ThunderBay Flex 8
FLEXible 8-Bay Storage + 8-Port Connectivity + PCIe Expansion »