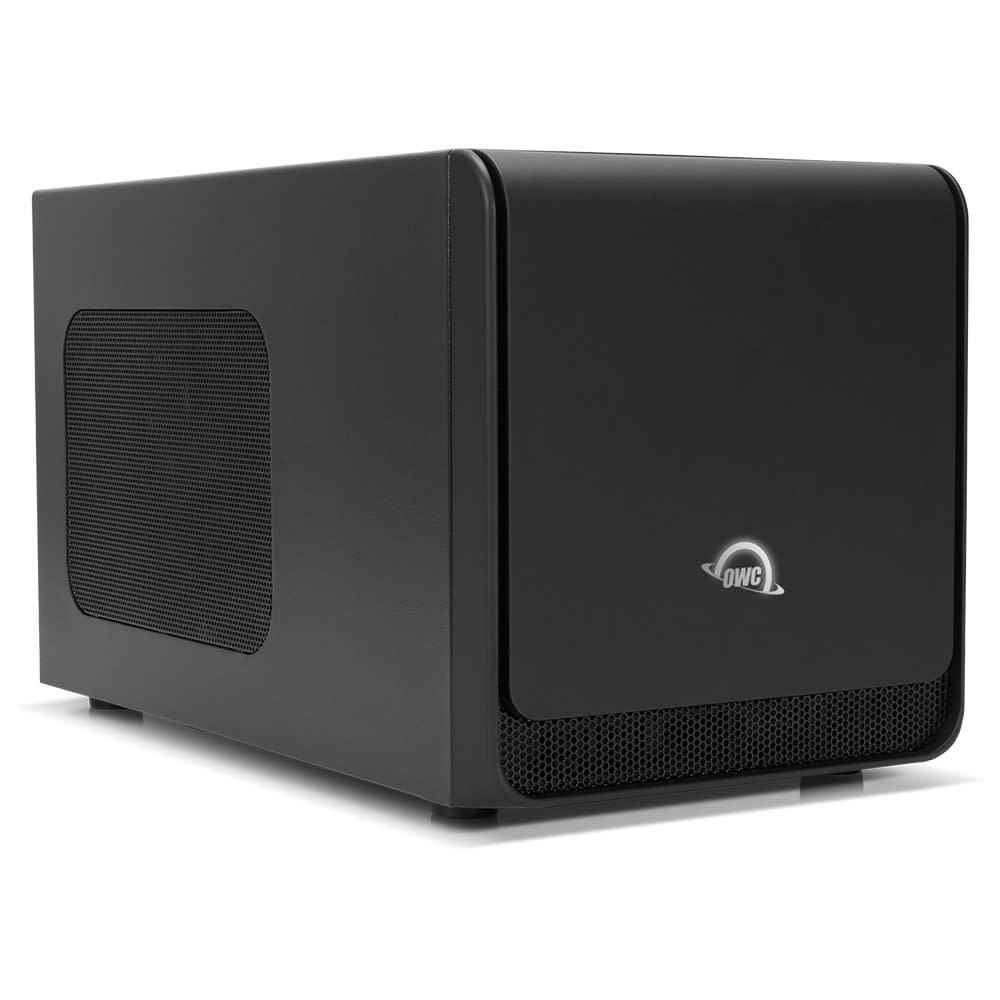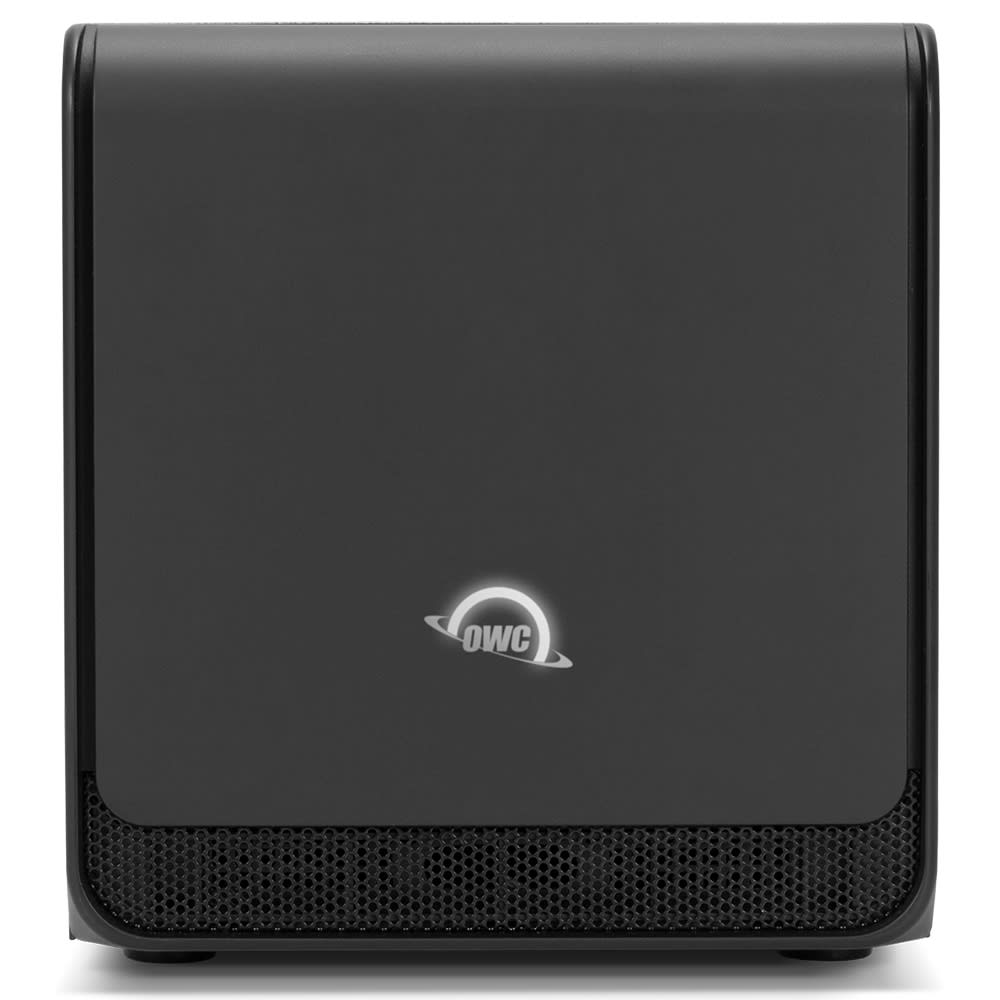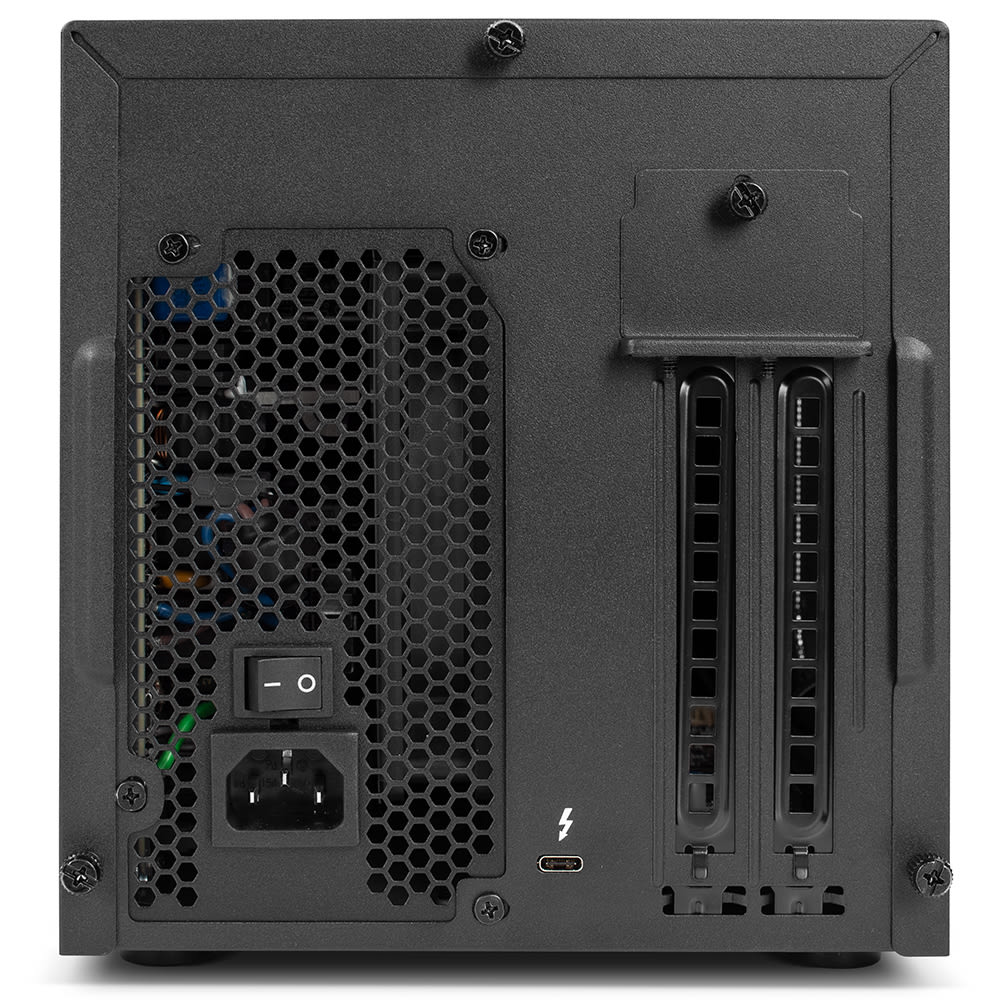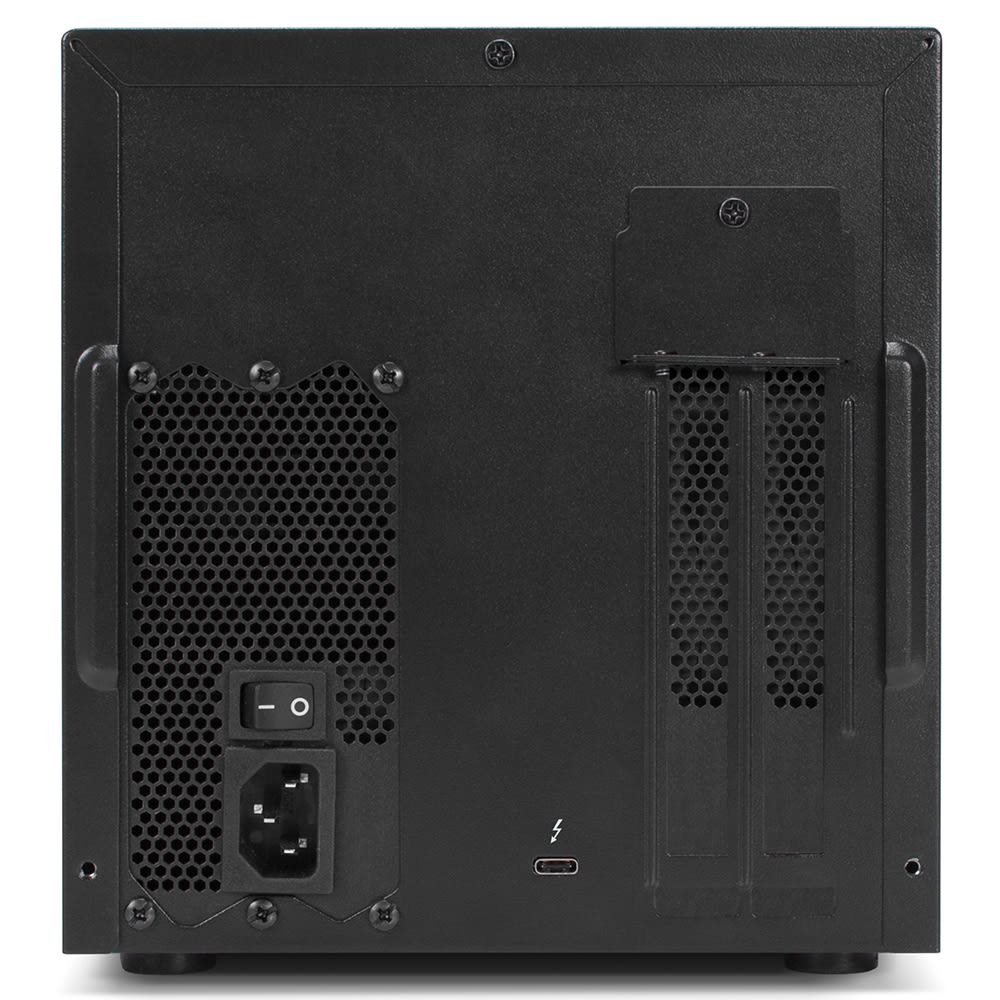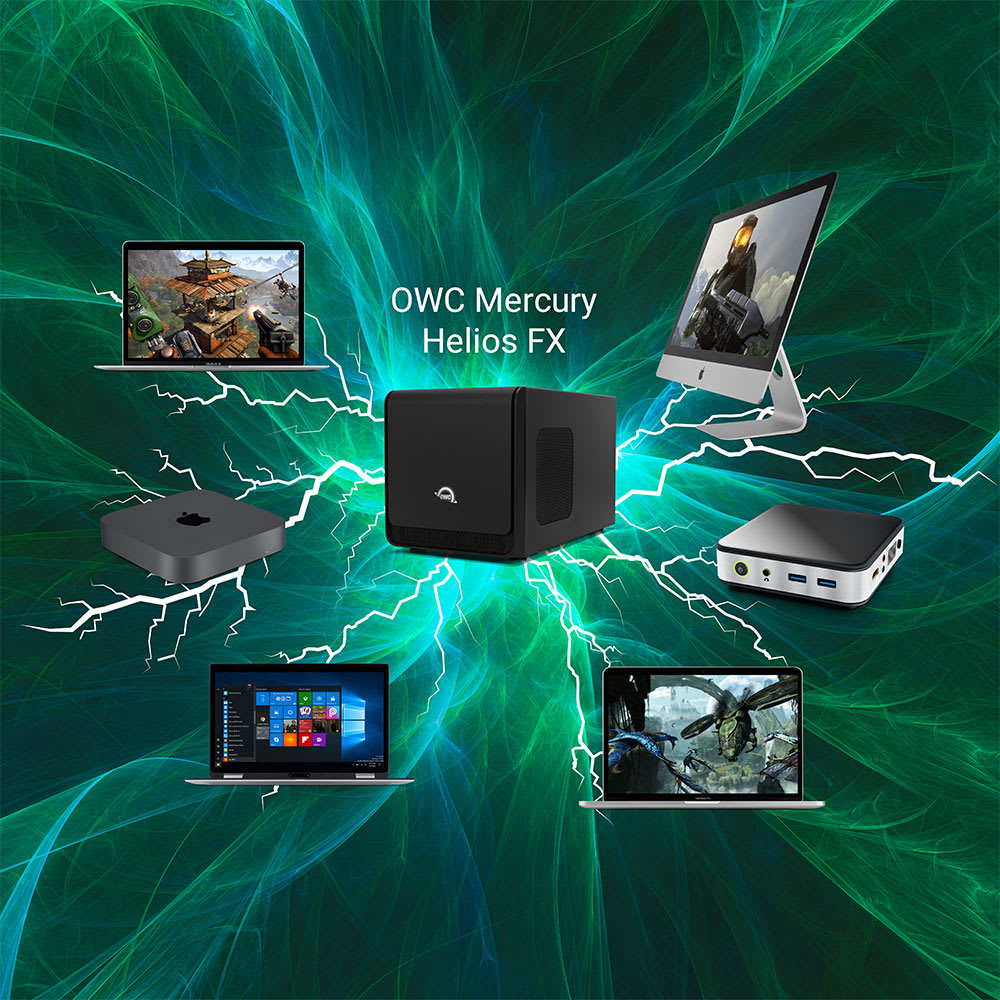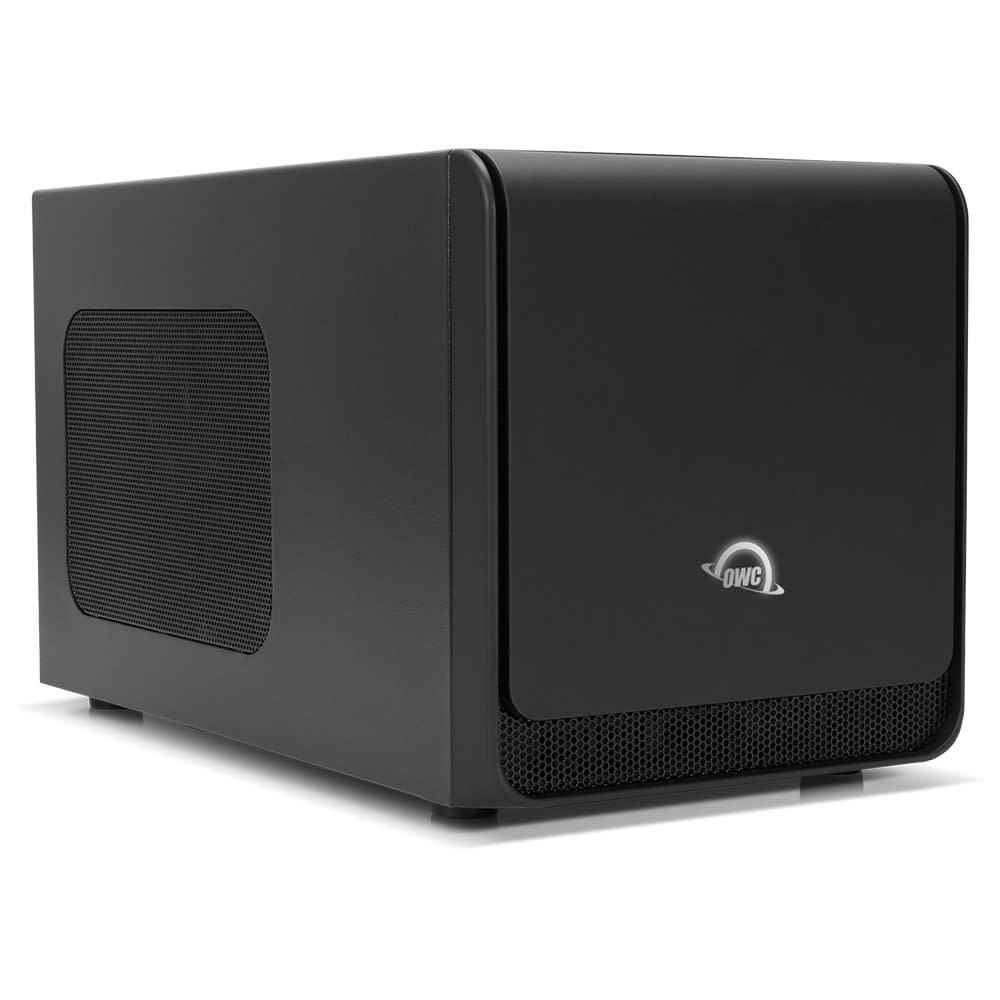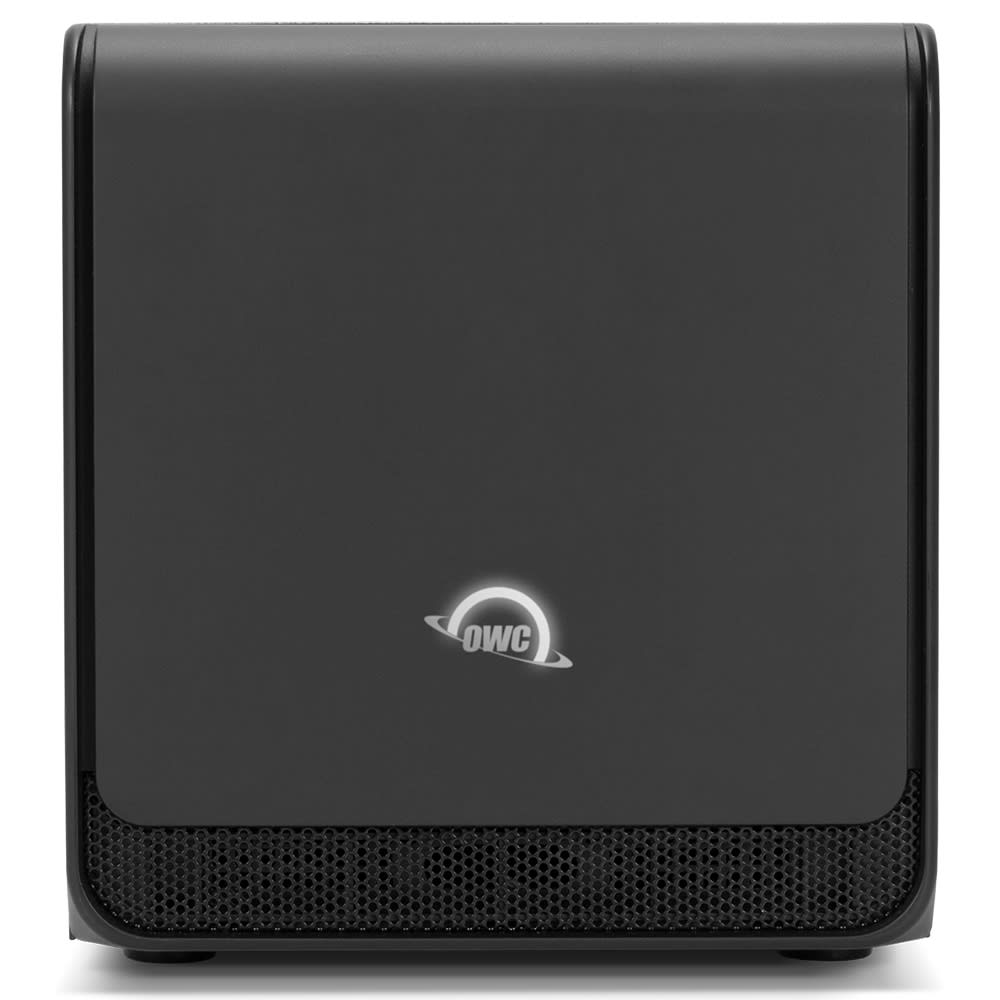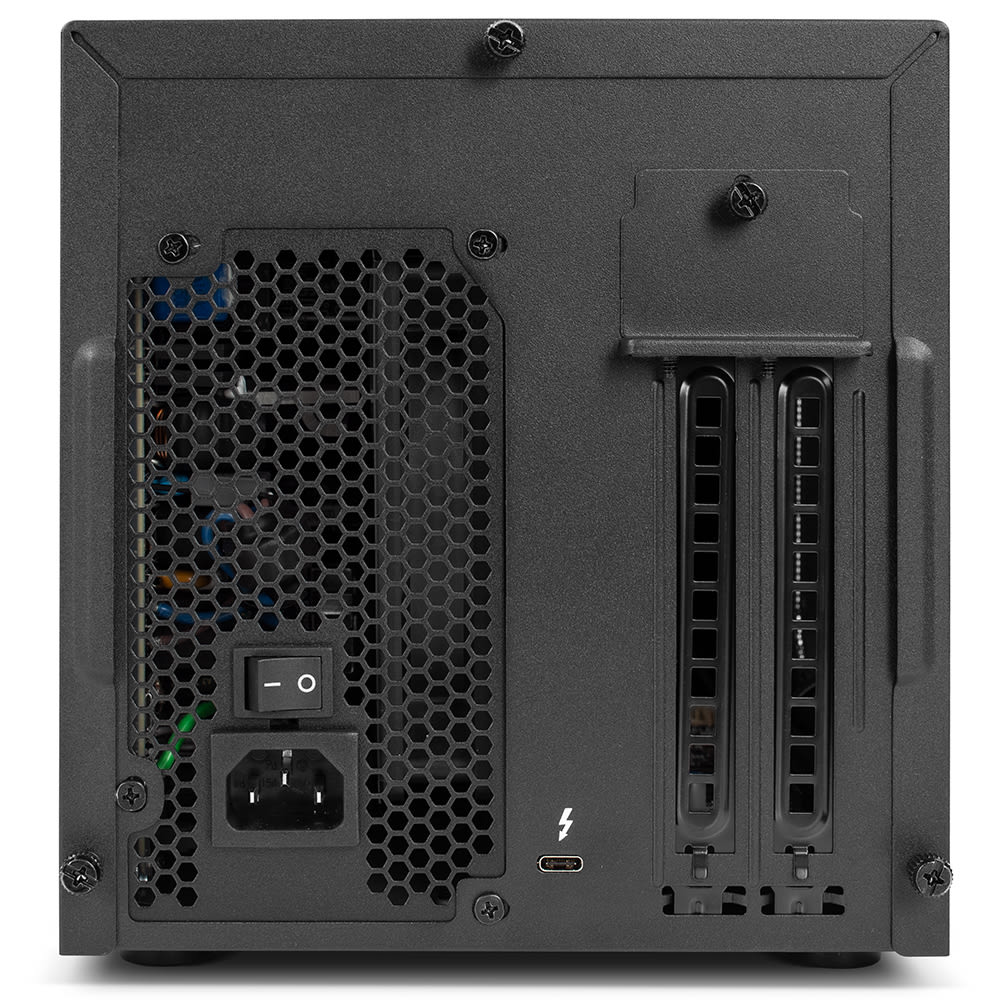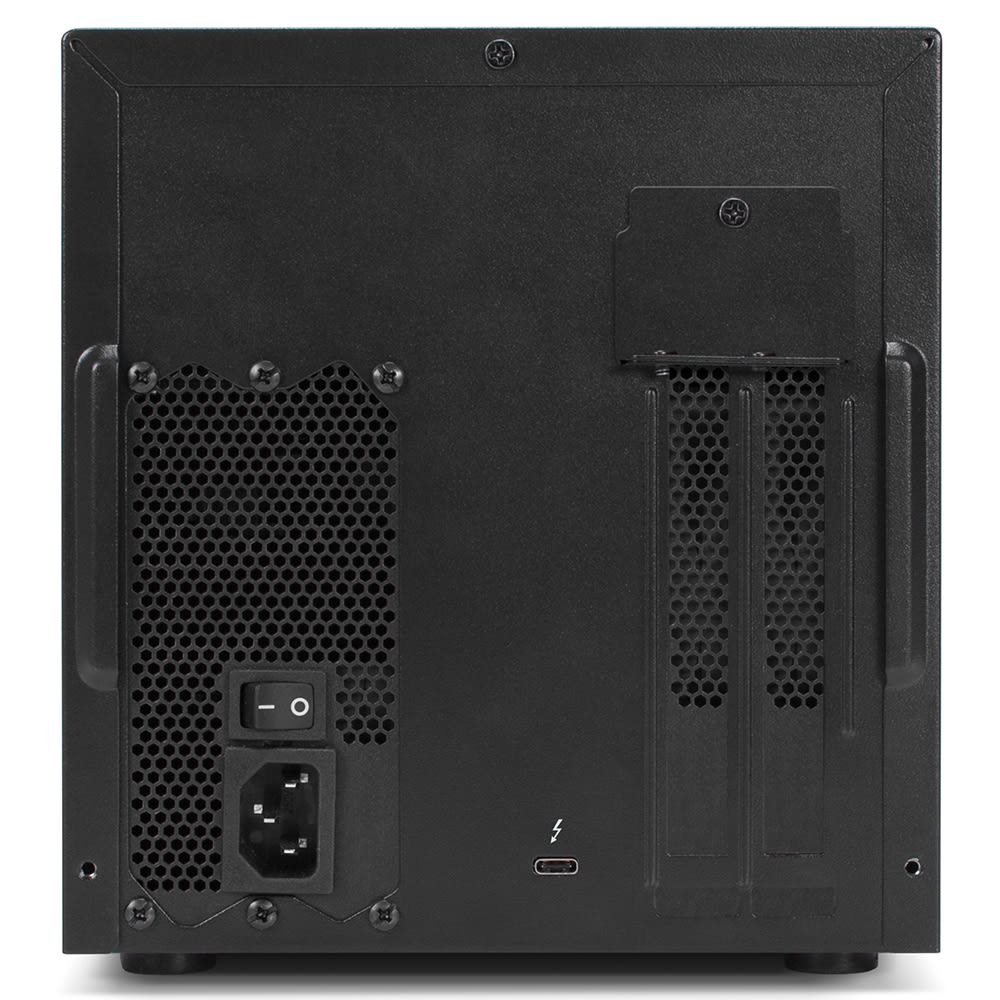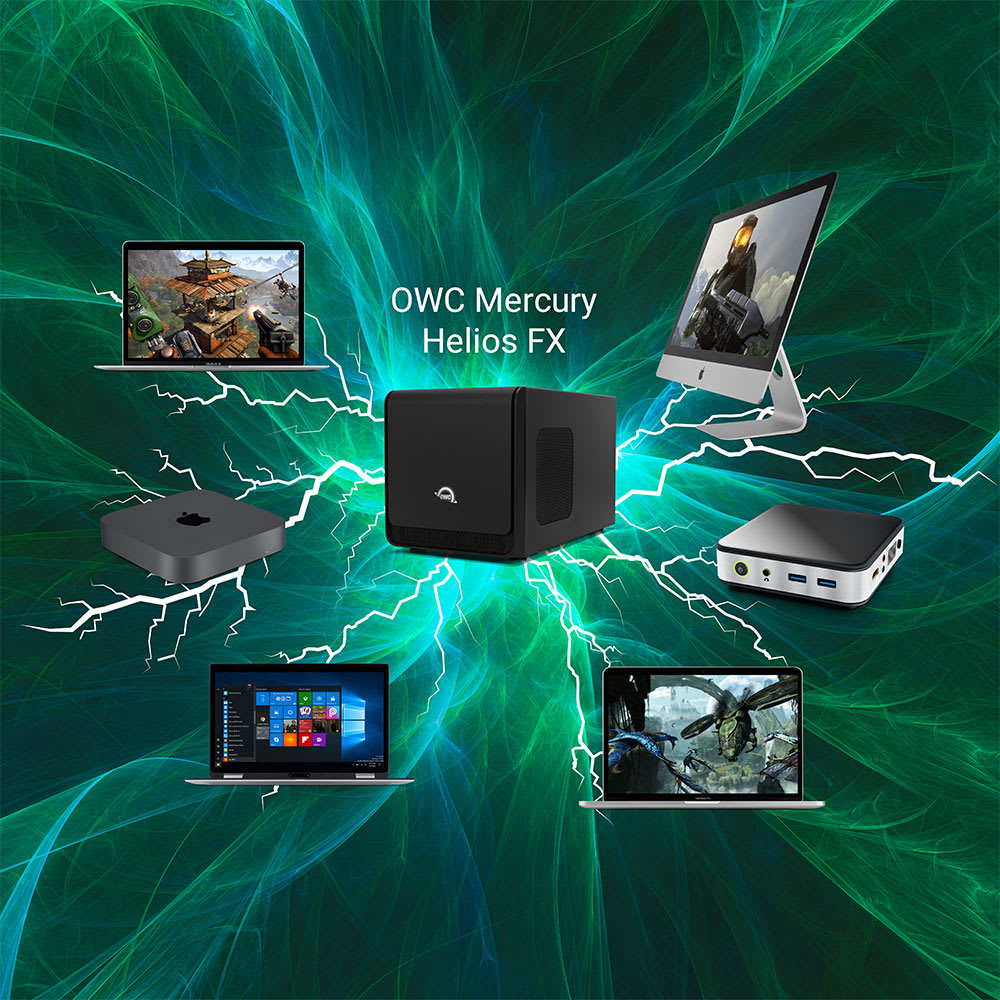 OWC Mercury Helios FX
---
1
External GPU Slot
Instantly add graphics power with one cable
Quick Specs:
Thunderbolt 3
Mac & Windows
The eGPU chassis built to empower.
Connect a GPU via Thunderbolt 3
Mac and Windows compatible
Elevate graphics performance
Utilize multiple displays
GPU power + notebook charging
Thunderbolt cable included
---
Performance & reliability at an exceptional value

Wide array of models & options

Top review ratings

Industry-leading warranty & support
OWC Mercury Helios FX 650 & GPU Bundles
Upgraded 650W power supply for the most demanding GPUs. Provides 100W charging power to a connected notebook.

The eGPU chassis built to empower.
Add the power of a high-performance GPU to your Mac or PC via Thunderbolt 3. Whether you're bringing a creative vision to life, crunching research data, playing the latest hardware-punishing game, or connecting additional displays – the OWC Mercury Helios FX is built to empower everything you do.
The Power to Do More
Achieve smoother frame rates, encode faster, edit in greater resolutions, add displays, utilize VR and AR, elevate gaming performance, or take advantage of the complex data crunching GPUs excel at. You'll have plenty of options with support for most Thunderbolt-compatible AMD Radeon and NVIDIA GeForce, TITAN, and Quadro GPUs.
Transformative Notebook Performance
Change the way you think of notebooks. Utilize the greater portability and flexibility of lighter laptops while taking advantage of easy-to-upgrade desktop-class GPUs. With an OWC Mercury Helios FX in your arsenal, performance is plug and play, and upgrades are easy.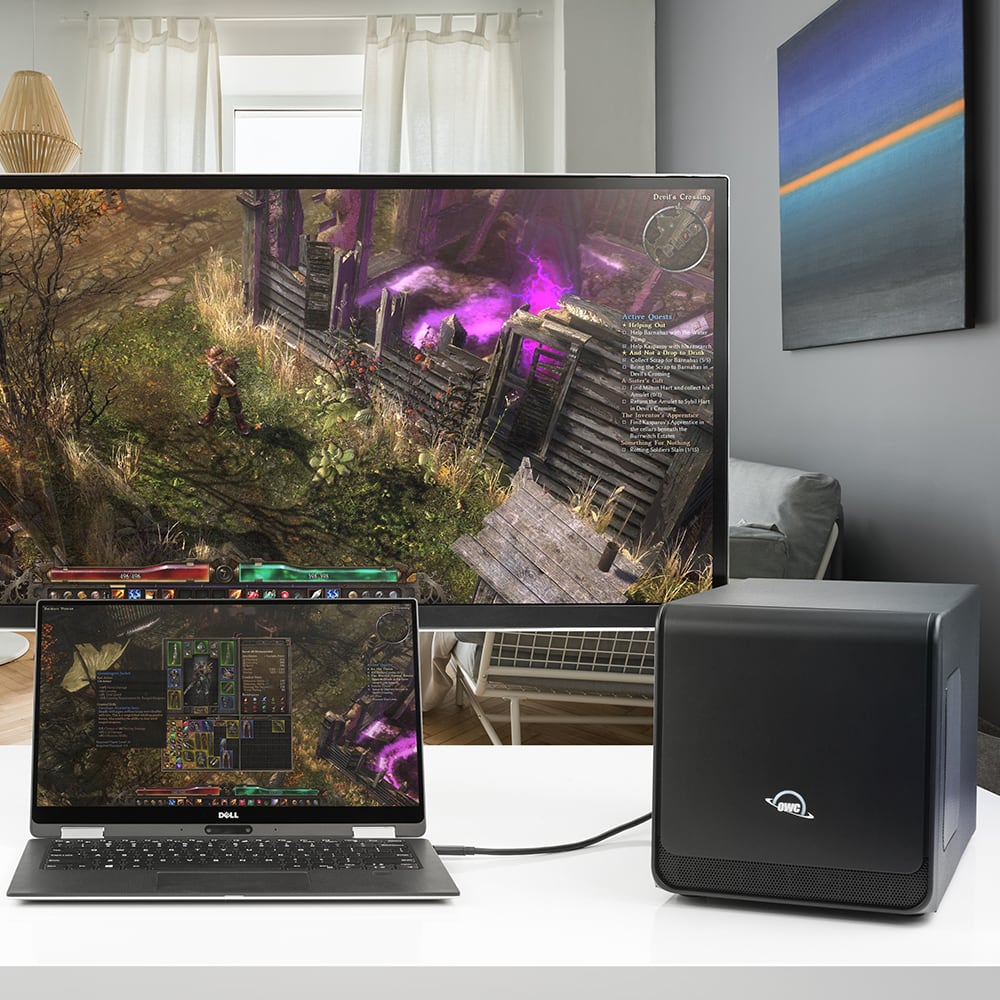 Multi-Platform Flexibility
The OWC Mercury Helios FX provides an exhilarating performance boost to both Macs and Windows PCs featuring a Thunderbolt 3 interface. Whether in a single-platform environment or a mixed-platform environment, the OWC Mercury Helios FX can easily be moved between computers to enhance workflows wherever it is needed most.
Powerful, Cool, and Quiet
The OWC Mercury Helios FX is built to handle the most power-hungry GPUs and simultaneously charge your notebook. It stays cool with a whisper-quiet, temperature-controlled fan, making it perfect for noise-sensitive environments.
Beyond GPUs
It's easy to quickly swap out cards as needed with the OWC Mercury Helios FX. In addition to GPUs, it has the cooling, room, and power to support virtually any Thunderbolt-compatible PCIe card – including popular RED ROCKET and AVID Pro Tools | HDX PCIe cards.
OWC ClingOn
Stabilize Thunderbolt 3 and USB-C Cables at the Connection Point.Unexpected disconnnects during file transfers or a work session can be devastating. This quick and easy add-on reduces – if not completely eliminates – cable strain on USB-C and Thunderbolt 3 connection ports.
---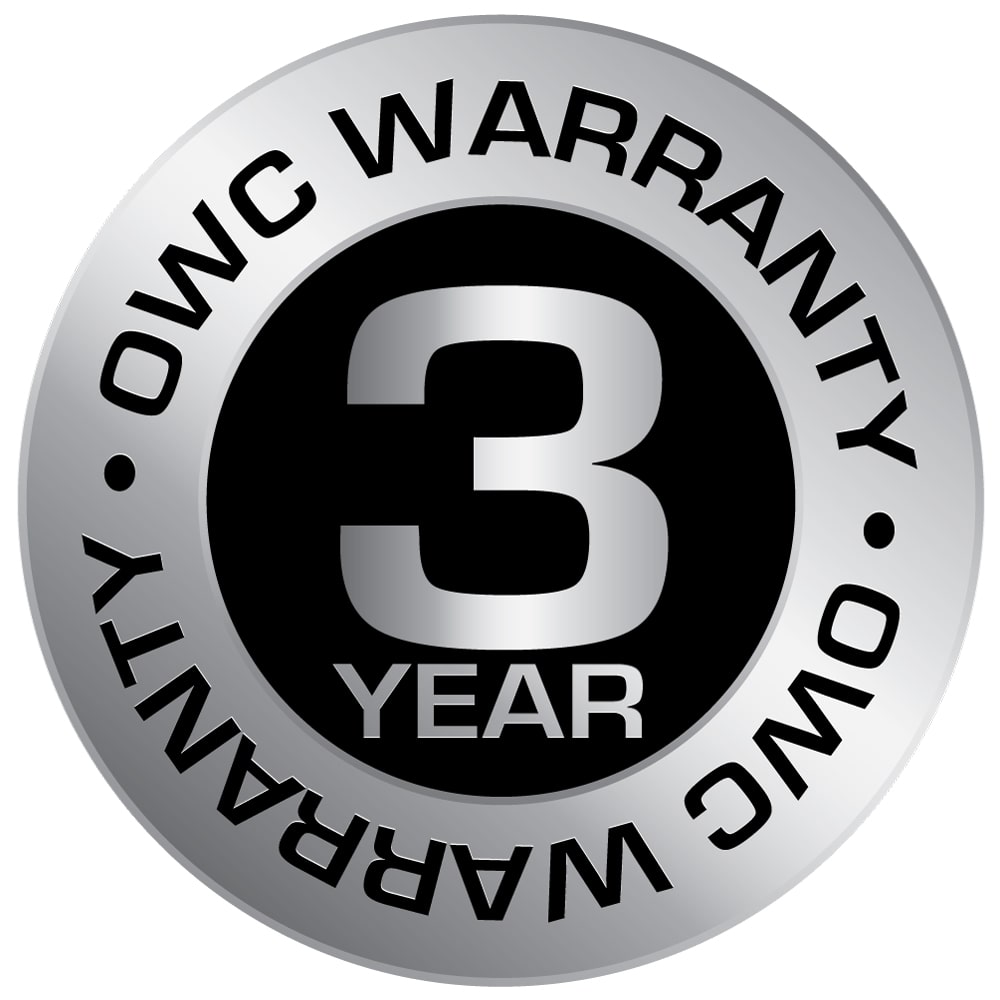 OWC, Trusted by Pros & Enthusiasts the World Over
We build our hardware to the highest standards of reliability and performance. Because 100% reliability is always the goal, we rigorously quality test and back our hardware with a 3 Year OWC Limited Warranty and award-winning customer support.
Learn More